Growing up, Amber Williams didn't understand why she had to go to school on Martin Luther King, Jr. Day.
"I grew up in a very predominantly white community where it was not a day that was reserved as a holiday," the Ivy Tech Kokomo psychology professor said.
There were conversations with her parents, who explained that her going to school actually honored the Civil Rights activist more than not being at school. How she might not even be able to be at the school she was at or have the friends she had were it not for the things he started.
"They said go to school, and be a light and be who you are," Williams said. "Because that is what he was all about."
So each year, on that day, she went to school.
One year, because her school didn't do anything to celebrate the day, she decided to do something.
"I actually started a program in junior high, myself on my own," Williams said. "I came up with what I wanted to do, I recruited students to help me, and I did it. That was one of the most rewarding things I've ever done in my life. And if you talk to junior high teachers now and principals that were there when I was there, and even students, they will remember that event.
"That's really special to me. Being involved with something that if there weren't people pushing and fighting for it to happen, it probably wouldn't happen."
Years later, Williams has carried that seed into her adult life, where her passion for the late Dr. King continues to flower and bloom with her work for Ivy Tech's "Doing the Dream" program.
For the past six years, she has helped spearhead the 10-member committee that honors Dr. King's legacy with the annual events including a keynote speaker visiting with area students and culminating with a community banquet.
Now in its 15th year overall, the school will welcome civil rights leader Kenneth Morris from Jan. 29-31. Morris is the great-great-great grandson of Frederick Douglass and the great-great grandson of Booker T. Washington.
"Every year the speaker is different, the tone is different, everything is different," Williams said. "That's one of the things that I love about it. That it's not the same.
"It often brings in different crowds, too, depending on interests of the community, what the person will be speaking about. I feel like all the topics should be relevant to everyone."
It's not just the genealogy Morris shares that will make for an interesting experience this year. It's the way he's updated the message of slavery to the present day with human trafficking issues. Morris continues his family's legacy of anti-slavery and educational work as co-founder and president of the Atlanta-based Frederick Douglass Family Initiatives.
Morris is set to speak on Jan. 29 and 30 at Kokomo, Logansport and Peru, three high schools in Ivy Tech's Kokomo Service Area. On Jan. 31, he will speak at a free student convocation for students from other area high schools and college students from around the state. His visit will culminate with the annual community banquet beginning at 6 p.m. at Bel Air Events as the event has evolved over the years from one day to several days of events.
"It's kind of changed and evolved over time but still the same message, how can we get this message out to as many people in the community as possible and then can we get it to schools," Williams said. "This has gone from an event where we bring in a speaker for a day 15 years ago, or a group, and then we've kind of expanded it to two days and now it's three. Kokomo has been so receptive and hospitable to the speakers that we rarely have trouble bringing them here."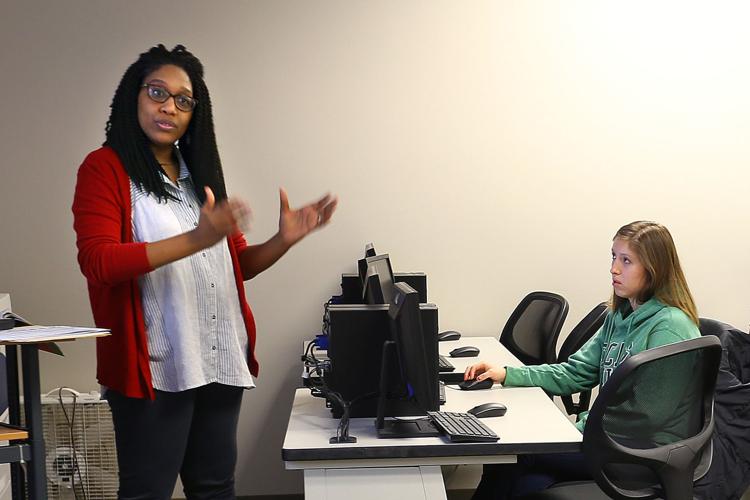 Williams gets suggestions from the committee each year, and said they work closely together. They have worked with an agent for the past six years who also helps with suggestions. Williams usually brings three or four ideas to the table and then the committee decides based on what they want the theme to be and who they think can really speak to the community in particular.
"I think that's what's important," Williams said. "Lots of different messages and action points that we can get involved with our community."
Williams has been teaching at Ivy Tech in Kokomo since 2010. She would go to the annual "Doing the Dream" events as a faculty member, encouraging her students to attend.
In 2013, she went with her father to see Dr. Henry Louis Gates Jr.
"Every year since then my dad has come," Williams said. "It's kind of been our thing now, to share the 'Doing the Dream' event together."
That year was also part of Ivy Tech's 50th year kickoff celebration, and in lieu of that, the event evolved into more of a big speaker event with a sit-down dinner. Following the success of that event, the committee was formed and Williams began working to bring in speakers for the following years.
In that time, she has helped to bring in best-selling author Wes Moore (2014), actor LeVar Burton (2015), Emmy Award-winning co-anchor of ABC newsmagazine Primetime John Quiñones (2016), best-selling author and Emmy Award-winning television host Iyanla Vanzant (2017) and civil rights activist Peggy Trotter Dammond Preacely last year.
"They all have something to bring to the table as far as their life experiences," Williams said. "How Dr. King had impacted their own lives, how that message of peace and justice and equal rights has really impacted their own lives. And then to get them kind of where they are or why they do what they do."
"And then to be able to connect that with their own missions and their own passions, to take those things and activate them and actually do the dream, do the things that Dr. King stood for. So it's neat to look back over the years and see the different messages that have all been important and have all been impactful. And I don't think that this year will be any different."
The process of bringing in Morris this year, however, was different.
"This year was special," Williams said. "It was a little different."
With this year being the 200th anniversary of the birth of Douglass, one of King's most significant predecessors in the fight for racial equality, Conner Prairie did a bicentennial event that featured a play about Douglass' second trip to Indiana. In the play, he shares a train ride with one of the founders of Indiana's Roberts Settlement in Atlanta.
Williams' sister and father are direct descendants from Roberts Settlement, an African-American pioneer farm settlement founded in 1835 by freed blacks of mixed racial heritage who migrated mostly from North Carolina and Virginia to escape deteriorating racial conditions in the South.
"We went as a family and I really enjoyed the play," Williams said. "I saw them advertising that Kenneth Morris was coming to speak in person. I'm always thinking about 'Doing the Dream.' It's always on my mind."
When she went to see Morris, it was a no-brainer.
"We loved what he did," Williams said. "I was immediately texting my agent. When we brought it back to the community it was pretty much unanimous. This year, it was just kind of all meant to be. All of this happening right here in our own state, the connection with Indiana history with slavery and the abolition movement and how can we connect to it today. I really loved his message."
Williams added that not often can someone connect something from so long ago and distant to the present, as Morris does in stressing the modern abolitionist movement of labor and sex trafficking.
"Ultimately, it's about how we can take what they are saying and put it into action," Williams said.
The free open student convocation on Jan. 31 will begin at 11 a.m. in the Kokomo Event & Conference Center, 1500 N. Reed Road (Ind. 931). To get more information and to reserve a seat, contact Allison Toren, program chair of General Studies and a lead on the "Doing the Dream" activities, at 765-252-5518 or atoren@ivytech.edu.
The banquet is set to begin at 6 p.m. Thursday, Jan. 31, at Bel Air Events, 3014 S. Webster St., in Kokomo. Reservations for the dinner and presentation are $50 each and can be made through Jan. 25 by going to ivytech.edu/kokomo/doingthedream or calling 765-252-5500.