Kokomo First Church of the Nazarene will be hosting a record number of vendors for the annual Chocolate Celebration benefiting Samaritan Caregivers today.
Of the 47 vendors scheduled to attend, patrons will be able to expect a wide variety of chocolate-inspired desserts, drinks and even spa treatments.
The 2018 event marks the 16th year for the Chocolate Celebration organized by Samaritan Caregivers, a nonprofit that aims to help seniors "age in place."
A lot of seniors want to maintain their independence, even though they can no longer do some things themselves, like drive to an appointment or to the grocery store, said Jamey Henderson, the nonprofit's executive director. That's where Samaritan Caregivers step in.
"For many of the people we serve, they have few or no resources, in terms of human resources like friends and family, and in terms of finances," she said. "We are here to provide a little bit of help so that people can have independence and dignity and quality of life for as long as they can in their own home."
In addition to providing about 2,500 rides for seniors in the past year, Samaritan Caregivers began a partnership with Kokomo Urban Outreach and Crossroads Community Church after learning some of their clients couldn't afford both groceries and medication.
"We became aware that some of our clients were saying things like 'I only take my pills every other day because I can't afford to take them every day,'" Henderson said.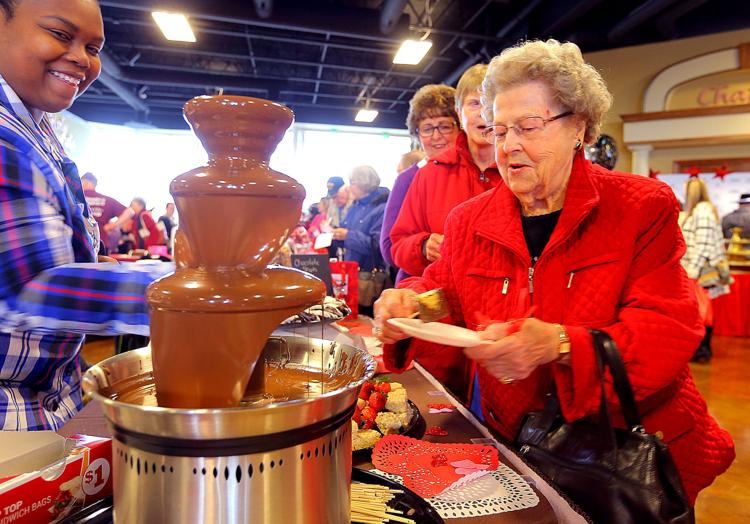 Now, volunteers are able to "shop" for seniors at the Kokomo Urban Outreach food pantry once a month, and Crossroads Community Church is delivering food from the church's food pantry.
Like any other nonprofit organization, Samaritan Caregivers needs good fundraisers to make services like these available. For years the largest fundraiser for the organization was the Duck Derby, Henderson said, but the numbers went down despite several attempts to change the event. The annual Chocolate Celebration is now the biggest fundraiser for the nonprofit and is expected to bring in about $20,000, or 12 percent of its budget for the year.
Henderson remembered how the event started, shortly after she joined the organization in 2001.
"I think it was kind of a God thing. I went to the Penrod Art Festival and at the festival, the Young Audiences of Indiana was distributing flyers about their Chocolate Fest and they had had it for many years," Henderson said. "I said to myself 'Hmm, it looks like they know what they are doing and it's chocolate!'"
Henderson and Bill Snow, a Samaritan Caregivers board member at the time, went to the Chocolate Fest in Indianapolis that same  year. One of the organizers was very helpful by answering questions about the logistics of the event, Henderson said. The take away for them? "We can do this!"
The first year for the Chocolate Celebration only had about 12 participants that were set up at Markland Mall. It has since grown both in vendors and popularity.
Some vendors, like St. Vincent Hospital Kokomo and Jefferson Manor, have been involved with the event since its inception. After several years of participating, vendors now have regular customers coming back for high-anticipated desserts, such as Create-A-Cake's famous Turtle Cake and huge Chocolate-Dipped Rice Krispie Treats, Henderson said.
The celebration, sponsored by J. Edwards fine chocolates, gourmet cakes and unique gifts and Haynes International, is also a competition between the businesses for best table display, and Critics' Choice in baked goods, candy, beverage and miscellaneous. There will be first, second and third place winners from each category. The most coveted award, however, is the People's Choice — awarded to the vendor that redeems the most tickets.
Kokomo Confectioners' Company, a group of Kokomo High School Career Arts students, will be facing off in a new competition to create a chocolate masterpiece, using chocolate candy. The student competition was inspired by all of the competition baking shows, Henderson said, and will begin at 11:30 a.m.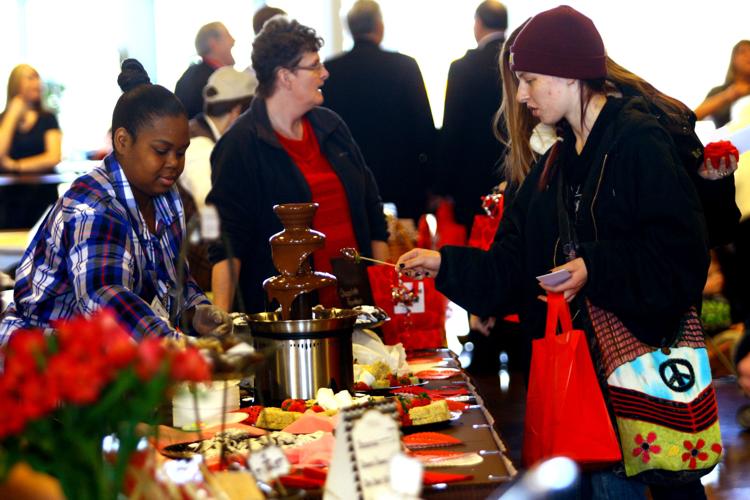 There will be a panel of judges including several local media members and Joe Hooper of Community Howard Regional Health, Margaret Johnson of St. Vincent Kokomo and Marilyn Skinner of Early Childhood Education. All of the judges will be separated into two groups before taste-testing half of the randomly selected desserts.
Maps will be available at the door, so patrons will be able to navigate their way through several parts of the First Church of the Nazarene campus. The women of Grace United Methodist Church will also be serving hot soups and sandwiches for lunch. For more information about Samaritan Caregivers or the Chocolate Celebration, visit www.samaritancaregivers.org.