Kokomo's Ink Master: Timothy Boor's world-class talent draws international clients to downtown shop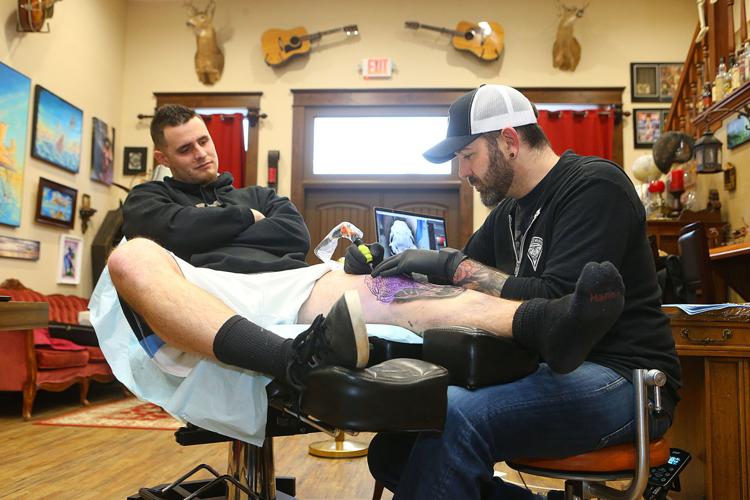 Timothy Boor has always been into art. But when he started dabbling in tattooing almost 20 years ago, it didn't feel like he was doing art. It felt like he was coloring with Crayons.
"All the tattoos I saw looked like some kid had just scribbled it in kindergarten," Boor said.
Fast forward to today, and there's no question that what Boor is doing inside his tattoo studio is art.
Watching him work inside his shop, the Bohemian Tattoo Club in downtown Kokomo, is like watching a painter – which he is. He's been doing oil painting since he was 11.
But now, instead of canvas, he's using people's skin.
Portraits, landscapes or cartoons. The macabre, the surreal or the sublime. You name it, Boor has tattooed it on someone. That's a fact he doesn't take that lightly.
"I'm more honored for someone to want me to tattoo them than to sell them a painting," Boor said. "With a painting, they could put in the closet after 20 years if they get tired of it. You can't do that with your arm. When you come here, you chose me to mark your body – forever."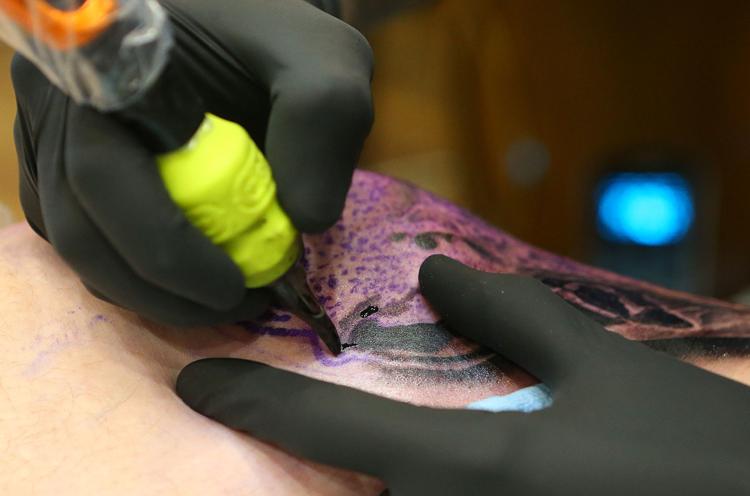 Now, over the last six years since Boor opened his shop on North Main Street, his knack for creating stunningly realistic images on the human body has gained him an international clientele – and a reputation as one of the best tattoo artists in the country.
He has a dedicated following of more than 71,000 people on Instagram. Clients from places as far away as Australia, Panama, the United Kingdom and the Dominican Republic have flown to the U.S. and drove into Kokomo just to get a tattoo from him.
Boor said even after all this time, it's still hard to believe.
"It blows my mind," he said. "I'm honored by it. We've tattooed people from everywhere."
But becoming a world-renowned tattoo artist wasn't something the 43-year-old Kokomo native ever imagined he'd be doing when he graduated from Northwestern High School in the 1990s.
THE FIRST TATTOO
Boor said he didn't grow up around tattoos and no one in his family had one. He didn't have one himself, either, when he was younger.
So when a friend, who knew Boor was a painter, asked him if he had any interest in putting his artistic prowess to use as a tattoo apprentice, he couldn't take it seriously.
"My friend said, 'You want to learn to tattoo?'" Boor recalled. "I said, 'No. No, not at all.'"
At the time, all the tattoos Boor saw were amateur and unrefined. As someone with a passion for true expression, the idea of simply tracing and replicating prefabricated images didn't appeal to him.
But then he gave it a second thought. Boor was working on the floor at one of the Chrysler plants in town, and decided it might be worth giving it a shot, so he agreed to take on the apprenticeship.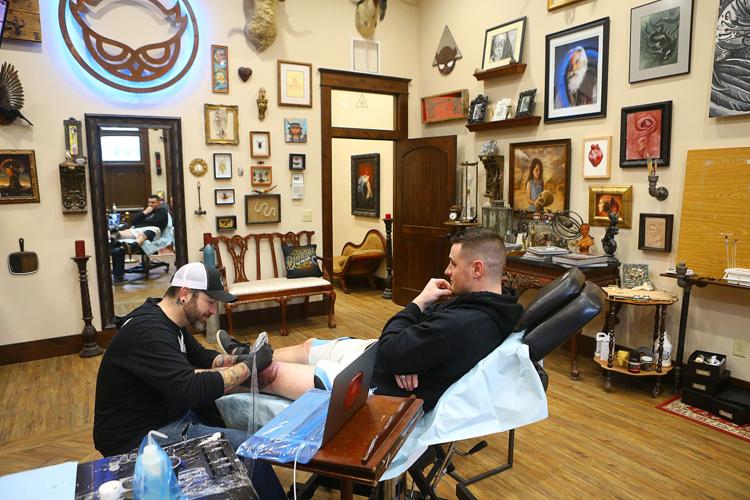 For six months, Boor tried his hand at tattooing. Then the guy he was working under left town and moved to Monticello.
Boor didn't do another tattoo for six years.
He was still working at Chrysler when another friend made him the same offer to come on as a tattoo apprentice. This time was different, though. Boor had become a father since the last time he started tattooing, and he was questioning whether he wanted to keep working a factory job.
"It was just too much," he said. "I didn't want to stay at Chrysler doing that my whole life … My passion was always art. I always knew I wanted to do something creative."
And by that time, tattooing had become just that. There were TV shows dedicated to tattoo artists, and people began to expect more than just a skull-and-crossbones or barbed-wire around their bicep.
"By the time I got into it, there were people tattooing who were real artists," Boor said. "There were guys out there who could have been hired on designing 'Shrek' movies or something, but they decided to get into tattooing. When I saw that, I thought, 'Now that looks fun.' It looked more like painting on skin than doing terrible coloring books."
By 2007, Boor had decided to consider tattooing a serious art form and started pursuing it with all his energy.
He started getting his own tattoos, many of which are portraits of the artists from whom he draws the most inspiration. That includes Leonardo da Vinci, Salvador Dali and Bob Ross, whose PBS show "Joy of Painting" inspired Boor as a kid when he watched it on TV with his grandma.
"I love Bob," Boor said. "It makes everybody laugh when they see it. There's no one I've ever met who hates Bob Ross. Everybody loves him."
Getting tattoos not only expressed his passions. It also allowed him to watch and experience firsthand how other artists did their work.
"I kind of felt like if I got tattooed by you, I absorbed your power," Boor said.
And it ended up being one of the guys who tattooed him in Fort Wayne who put him on the path to his first big break into the industry.
KICKSTARTING A CAREER
The guy from Fort Wayne had landed a guest spot working at a shop in New York City called Last Rites, which is operated by the legendary tattoo artist Paul Booth and is arguably the most famous tattoo shop in the world.
As his friend got ready to move to New York and start working as a guest at Last Rites, he asked Boor if he wanted to tag along for the ride. Boor said he wasn't sure at first, but decided to head out and see what happened.
What happened was he hit it off with Booth, who was the first tattoo artist to be featured in Rolling Stone magazine and whose dark, surreal tattoos can be found on heavy-metal musicians from bands like Slayer, Slipknot and Pantera.
After coming back to Kokomo from New York, Boor's friends urged him to submit some of his own work to Last Rites to see if he could land a guest spot working there. He did it, but he didn't think he had a chance – not by a long shot.
Then he got the call. After just a few years working seriously in the tattoo business, Boor had got a job at the infamous tattoo parlor known around the world for its dark, disturbingly gothic aesthetic.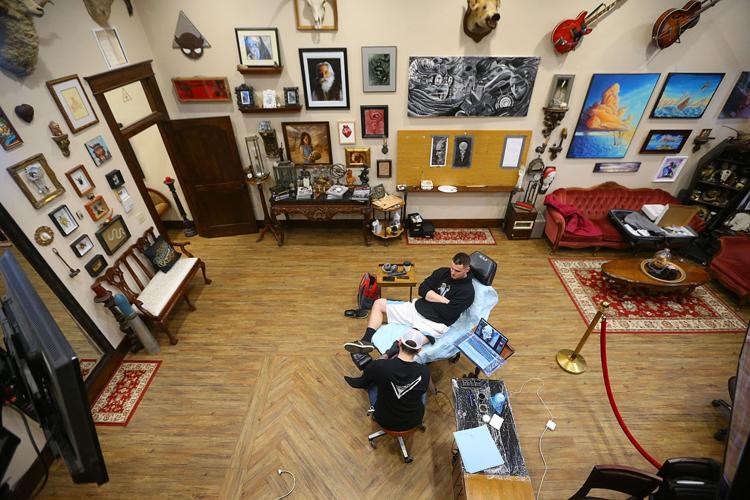 "Last Rites is a cool place, but it's really dark," he said. "The art is really dark, and the shop itself looks like you're tattooing in Satan's dungeon. … But going out there kick-started my career. It really shined a light on what I was doing."
That was in 2010. Within just a few months of tattooing in New York, Boor had gained thousands of fans on social media.
For the next three years, he honed his craft in the heart of the city under the tattoo tutelage of Booth, whose studio is located in Hell's Kitchen in Midtown Manhattan.
In an interview Friday from New York, Booth said he remembers Boor as one of the rawest talents that has come through his studio.
"One thing about Timothy is the originality in his work," Booth said. "He can interpret what the client is looking for and take it over the top. His work always impressed me. Timothy has always been one of my favorites. He could handle whatever came through the door."
Boor said he loved New York, but after three years living and working there, he decided to come back to Kokomo to be closer to his daughter.
"When you're from a small town, you're dying to leave," he said. "But when you decide to come back, it's different. You appreciate it more. New York is cool, but I'm good here in Kokomo. It's a little less crazy."
BOHEMIAN IS BORN
But Boor had no intention of dropping the art form he had grown to love when he moved back to Indiana. Instead, he hooked up with two friends he had cut his tattooing teeth with in Kokomo when he first started.
And in 2013, the Bohemian Tattoo Club was born.
"I had good momentum and had a good name for myself going into it," Boor said. "Coming back, it was having that momentum and then having the top two guys in town. It felt like we had a super team here. The day the doors opened, we were booked up for a month."
Today, you can find Boor's studio in the far back of the building, located at 206 N. Main St., which is home to five other tattoo artists and a piercer.
Walk inside, and the place feels more like an art gallery than a tattoo studio. Paintings and drawings litter the walls. Boor said they try to feature new, local artists whose work may be considered more fringe or underground.
As for Boor, his studio feels more like a curiosity shop housed inside a Victorian library. The walls go up two stories and are dotted with things like a mounted goat's head, vintage guitars from his grandpa and surreal art works. The ledge of the stairway leading up to some bookshelves is lined with high-end bottles of rum from all over the world.
Boor said he's decorated his room to be a kind of tastefully hodge-podge collection of oddities from which he draws inspiration.
"It's interesting," he said. "Once people see you have oddities and weird stuff, they start bringing more of it to you. I like it because it's cool inspiration when I'm working. If I'm free-handing some art on a person, you can look around and get textures and ideas for things."
Now, over the last six years, Boor's shop in downtown Kokomo has become one of the country's go-to tattoo parlors for people looking for truly unique, one-of-a-kind body art.
For Boor, that international reputation still seems a little too much to believe.
"Even now, I'm my own worst critic," he said. "You pick yourself apart. The artists I look up to are so, so far above me. At the end of the day, I can draw a cool picture on your arm. When the Pope calls me to work on the ceiling of the Sistine Chapel, I'll feel like I've made it."
But Booth said he's not surprised by Boor's success. He said the Kokomo native is truly one of the best tattoo artists around.
"He's world class, for sure," Booth said. "He's up in there in the ranks. There are so many tattoo artists out there now, and I don't know where I could rank Timothy, but he's a standout in the world of tattooing."