In an otherwise drab and dreary winter's day, a glimmer of joy can be found barreling down Webster Street — or blazing through Highland Park or sprinting past Kokomo Beach.
All you have to do is look for the cape.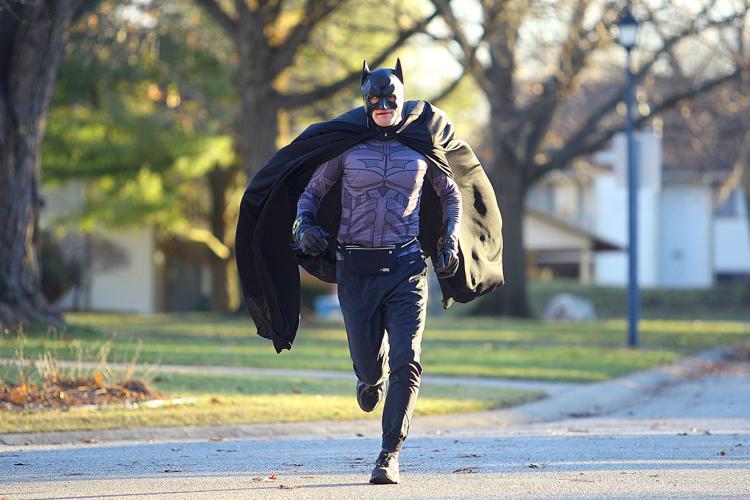 In a recognizable, pointy-eared mask and nondescript tennis shoes, Batman has been patrolling the streets of Kokomo. But he's not chasing after evil villains; he's just training for his next 5K or half-marathon.
Kokomo's very own Bruce Wayne is actually Kory Kennedy, a former Northwestern High School cross country standout, who remains one of the top runners in the area.
Despite his invincible appearance, Kennedy's life as a competitive athlete hasn't been without its challenges. When he was just 8 years old, he was nearly killed when a vehicle he was traveling in was T-boned. Kennedy suffered severe injuries and trauma, which left him legally blind. Although he has partial vision in one eye, he was unable to participate in many of the sports he enjoyed as a kid.
Yet instead of focusing on what he couldn't do, Kennedy instead turned his attention to what he could do: run.
By middle school, Kennedy was beginning to realize that he was actually good at running after beating his own personal records alongside the competition. So he kept at it, excelling in both track and cross country at Northwestern High School, in addition to competing at the International Blind Sports Association World Youth and Student Championships that garnered attention from the U.S. Paralympics organization.
"I've been blessed to work with a few athletes who have had difficulties in life, and Kory is by far the most inspirational person I've ever been with," said Dave Stevens, Kennedy's cross country coach at Northwestern in a previous interview with the Tribune. "He's overcome everything, literally, in order to become a superior athlete."
After graduating in 2009, Kennedy trained alongside hall-of-fame coach Rick Stucker and actually qualified for the 2012 Paralympic Games, although he didn't get to compete in London.
"(The U.S. Paralympics organization) doesn't take someone in every event like they do the regular Olympics because of finances," said Cara McKellar, Kennedy's mom. "He didn't get to go even though he qualified in two events — mission almost accomplished."
Kennedy continued to run, competing with many other Club Kokomo Roadrunners in area races and branching out to other races like the Meltdown Run — a total of three 5Ks all in one day — and the Indy Mini. In total, he ran in about 25 races just last year.
But in order to maintain his fast paces of a less-than-6-minute mile and a 17-minute 5K, Kennedy has to train year-round, even when the temperatures are too cold for most of us to run into the store from the car.
That's when the Batman costume started to make appearances around town.
"I just got the mask to start with," Kennedy said, noting it was additional layer of warmth during winter runs. "It was about a year ago that I decided to upgrade by adding the cape to it."
Although the getup does keep him warm, Kennedy truly is just a big fan of the iconic superhero in all forms, whether it's his favorite portrayal by Christian Bale or Val Kilmer's adaptation.
"I've been a huge fan of Batman, gosh, since I was a kid," he said. "I dressed up as Batman for a few Halloweens as a kid and even dressed up as him at a high school Halloween dance."
Now, transforming into Batman before his runs instills a sort of confidence and motivation.
"Right when I get everything on head to toe and first start my run, I get as dead serious as Christian Bale would when he plays Batman. That's when I really feel like I am Batman," he said. "I don't feel like myself much when I put that on — I feel like a DC comic hero and I'm out there doing the work."
Since first donning the signature look, Kennedy has become somewhat of a roving cultural landmark — as easily recognized as Big Ben or Kokomantis. He has been stopped by passing motorist for pictures, sometimes up to three a day. Batman spottings have also started to circulate on social media, from photos to scanner traffic.
"I saw myself on Kokomo Scanner and I was like 'Aw dern it!' he laughed.
"No you love it!" McKellar joined in. "It was just for fun for a while, but now he's been getting a lot of attention. He was even invited to a kids' birthday party dressed as Batman, so he did do that about a year ago or so."
Kennedy gave the birthday boy one of his prized Batman cards that he had had since he was a small child.
"As time went on, I've just started thinking 'Man, people are really into this and it catches a lot of people's attention,'" he said.
"There was a mom that posted about Kory making her son's day — he felt safer with Batman running the streets," McKellar said. "There's been a lot of positive feedback."
So while continuing to pursue something he loves, Kennedy hopes to make others smile.
"This is the one thing that I would like to do to make people happy," Kennedy said. "I really do feel bad about all of the horrible things happening in this country and this world, but a little thing like this is something I can do to make people's days better …
 "Batman could really exist — you don't need to be super."
Kennedy's words echo the ones of his own hero in "The Dark Knight Rises": "A hero can be anyone."