In an age in which school violence is a concern across the country, one question remains: How do you stop a school shooter?
For Kokomo Schools, that plan remains a secret. It's vital, says everyone from Superintendent Jeff Hauswald to a Kokomo Police Department spokesman, and even Indiana's top education official, to maintain a veil of secrecy around active threat responses.
But that confidentiality has led to a public dust-up with one Kokomo councilman and has reignited questions about an incident in February that might have involved a loaded gun and a now-infamous selfie taken inside a Kokomo High School bathroom.
The topic of school safety has been placed in the national spotlight following a rash of deadly shootings in 2018, from high schools in Parkland, Florida, (17 deaths) to Santa Fe, Texas (10 deaths). And after a May 25 shooting at Noblesville West Middle School – 34 miles from Kokomo's downtown and in a city that includes many local commuters – the threat is more visible than ever.
But it was four days before the Noblesville shooting when Kokomo Common Councilman Bob Cameron began to criticize school officials.
Cameron, who represents the council's 2nd District and is a weightlifting instructor at Kokomo High School, had tried for two months, he said, to get an update from Kokomo School Corporation officials about school safety measures. But he heard nothing.

Now, said Cameron during a May 21 council meeting, it's time to pull together his Public Safety and Welfare committee and discuss the topic publicly, with a group including Hauswald, Mayor Greg Goodnight and Kokomo Police Department personnel.
"I've talked to students here. They're scared. And it can happen," Cameron told council members before the meeting.
"It doesn't seem like there's a – I don't know how to put it – a concern with them about having school safety, even with what was pointed out to them about the gentleman that I saw that was up there on the second floor before he got stopped," he added, referencing a recent incident involving an adult male at the high school he says was caused by an unsecured back door during school hours.
But school officials say Cameron's statements are misguided. The schools are safe, they say. Plans are in place. And Cameron, through his insistence on having a public discussion, could put them in jeopardy.
"Councilman Cameron unfortunately appears to be jeopardizing school safety by publicly discussing detailed school safety plans while obfuscating facts, whether intentionally or unintentionally, through the limited information and knowledge Councilman Cameron has on this important topic," said Dave Barnes, director of communications for the school district, in an emailed statement. 
Cameron, just hours after an interview with the Tribune Wednesday, and after other officials had been contacted with questions, began to stress a similar focus on maintaining confidentiality about school safety during a second call with a reporter.
And, he added in follow-up comments, he's now been in contact with unspecified officials and expects future meetings "that's going to hopefully open my eyes and understand what's going on" with safety procedures.
His comments during the first interview, though, combined with those made to fellow council members, show unvarnished the concern and uncertainty that surround school safety during a time when the unthinkable has become the expected.
Where was the gun?
The shooting in Noblesville – at least the 21st school shooting incident of 2018, according to a list compiled by USA Today – was far from an isolated incident.
And it reminded Cameron, he said, of a situation in February that led to the arrest of a 16-year-old Kokomo juvenile for illegally carrying a handgun, which Cameron said took place inside Kokomo High School.
In fact, it was the Kokomo School Corporation that contacted KPD officers on Feb. 21 following an anonymous tip. A 16-year-old was charged that night – arrested in a north-side home – with carrying a handgun without a license, a level 5 felony, carrying a handgun without a license, a class A misdemeanor, and harassment by using a computer network or other form of electronic communication.
Indiana Code states that carrying a handgun without a permit is a level 5 felony if the offense is committed on school property, within 500 feet of school property, on a school bus or if the person has a prior conviction of carrying a handgun without a permit.
The next day, an image of a boy wearing a Kokomo Schools sweatshirt and holding a gun in a bathroom circulated on social media with posts claiming the photo was taken inside a KHS bathroom.
An anonymous tip led to the charging of a Kokomo juvenile with illegally carrying a handgun.
At the time, the Tribune was unable to independently verify whether the person in the photo was a KHS student, was the juvenile charged or if the picture was taken in a KHS bathroom.
But Cameron says he's familiar with the bathroom in the photo. Not only that, he was told by KHS students that the juvenile had been bringing the gun to school "off and on" since September 2017.
"And then the school tried, you know, to not say that happened," said Cameron.
"I told them about the kids in there, and they kind of, they didn't want to hear that. And I said, that kid could have went off and shot how many kids right there?" he added later.
Cameron believes school officials were attempting to "cover it down, trying to put it down" and made an effort to persuade people the picture wasn't taken inside KHS.
"In a way it was, trying to convince me. And I'm not the only one. I'm not the only one. [There were others] they were trying to convince that that wasn't Kokomo and he just did one of those little selfies and superimposed it.
"And I said, that's not true. That was right there in Kokomo High School. …It's just a little concerning."
In a statement Thursday, Barnes said he felt questions about the incident were "misdirected," noting that "any such scenarios you described would be police matters."
However, KPD Maj. Brian Seldon did not return a request for comment Friday about whether the picture was taken inside KHS. KPD previously refused to answer questions regarding the investigation or provide additional information on the incident, including whether the juvenile charged had a gun on school property.
In February, the school corporation would only say in a media release: "Per Indiana law, any student confirmed to have been in possession of a gun (weapon) on school grounds, receives an automatic 365-day expulsion," though officials did not specify whether the juvenile charged was a student.
Following the arrest, however, parents of KHS students expressed concern about school safety.
"That's crazy. It's just crazy. It's unbelievable," Molly Phillips, whose daughter was then a freshman at the school, told the Tribune's newsgathering partners at WTHR. "It makes you really question everything you do as a parent."
"I don't feel like we are different from any other school, so no...I feel like there are problems everywhere…as long as we have guns around," added parent Annette Tackett.
'Be highly vigilant'
Discussions about school safety between the councilman and school and police personnel started more than two months ago, said Cameron, when he tried to talk about the topic with Hauswald at a public "work station."
The superintendent declined to have a public discussion; instead a private meeting was scheduled.
Attending the meeting, just under two months ago, were Cameron, Barnes, Seldon, Cynthia Evans, the school corporation's director of social and student services, and KPD Capt. Kevin Summers.
But Hauswald, unexpectedly, wasn't in attendance.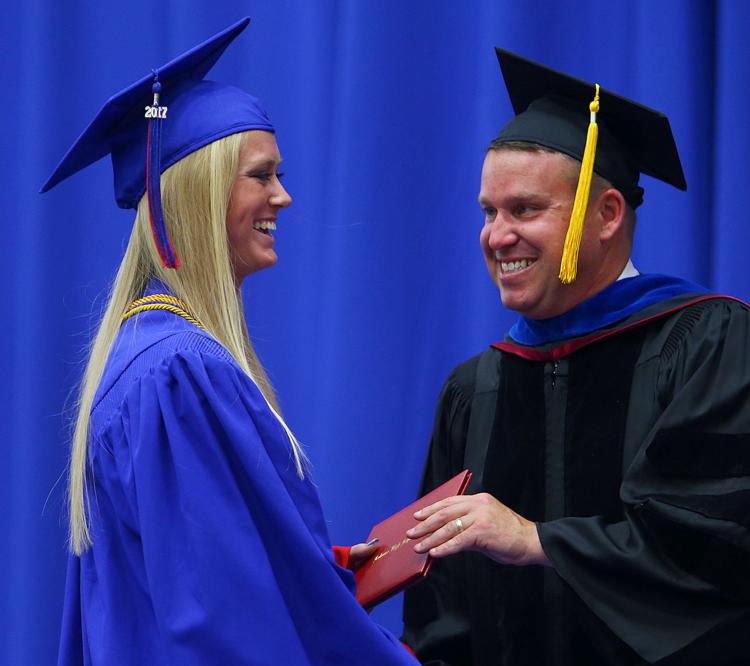 "You'd think the superintendent would have come to the meeting with two officers and myself and…take time to stop in and talk about it, if it was that strong toward him, safety," said Cameron.
"I don't know if it's one of his top priorities. To me, if it was a top priority, he would've had more going on than that, he would have been directing [the meeting]."
In an emailed statement, Hauswald said the school corporation "takes the health, safety and well-being of our students very seriously; as a matter of fact, it is a core component of our work. …School safety has always been, and continues to be, an important area of emphasis for Kokomo Schools."
And a plan has been implemented, stressed Hauswald, but it will remain private.
"Kokomo School officials, working with school safety experts, have created well-defined, written safety plans that are practiced, evaluated, and updated on an ongoing basis," he said. "Further, we take the confidentiality of such plans seriously, and we know that publicly discussing our plans, and specifics related to school safety efforts, actually can impede this important work."
Barnes acknowledged a "courtesy" meeting that school and police officials held with Cameron, where they listened to his "ideas and concerns, but limited discussion and dialogue, in accordance with standard operating procedures related to school safety."
Barnes also provided an email that was sent by Jennifer McCormick, Indiana superintendent of public instruction, to Hoosier superintendents after the Noblesville school shooting. Educators were reminded by the incident, she said, to "be highly vigilant" in protecting local schools.
On May 25, a male student shot and wounded a 13-year-old classmate and a teacher at the Noblesville middle school. The teacher, Jason Seaman, sustained three gunshot wounds but was not seriously injured and has since been hailed a national hero; the student, Ella Whistler, has been upgraded to stable condition. 
McCormick's email, sent the same day as the shooting, asked superintendents to spread awareness about anonymous reporting systems and "take time to once again review safety procedures with your staff and students."
But, the email stated, any school safety plan is exempt from public disclosure. Schools should not disclose details that "would compromise the integrity of the plan itself," said McCormick.
While Barnes followed McCormick's advice, he went on to thank KPD officials for "their continuous efforts, advice, expertise and assistance" in school safety. He noted that Kokomo School Corporation "safety specialists receive extensive training and work with [KPD], as well as school staff, regarding public safety."
Taking a similar stance was KPD Maj. Brian Seldon, who said Kokomo Schools and KPD have partnered on active threat plans. Seldon agreed that revealing specific safety tactics or plans with the general public or individual council members would constitute "a safety risk."
"We are constantly reviewing any potential safety issues and we consult with school officials on a continual basis. Councilman Cameron is well-intentioned but he does not have a background in safety, or active threat situations," he said.
Still, Cameron said his talks with students – he noted that after four years of interactions, they "tell you this stuff, and I ask questions" – have been far from reassuring.
"I don't think they're ready," he said about the school corporation in general. "When I talked to students about safety protocol, and they said, 'What do you mean?' … As far as if it happened right now, what would they do? I'm not sure. I'm not sure the kids would know what to do."