As last week's incident at Maconaquah High School showed clearly, when a juvenile male with a BB gun sent school officials into quick action, the 2018-2019 school year will be defined in large part by school safety efforts. 
To no one is that clearer than Howard County's leading education officials. 
The beneficiaries of recent state initiatives — including handheld metal detectors and thousands in matching grant funds — those officials spoke to the Tribune about their approach to school safety as another year in the age of heightened awareness kicks off across the county. 
Their comments addressed questions about active shooter drills, improvements made to school safety infrastructure and, yes, the handheld metal detectors that have been at the forefront of news cycles in recent weeks, with one detector made available for every 250 students in a school building. 
"Controlling what comes into our school buildings is just one important part of keeping our schools safe, and our efforts to assist school corporations must be ongoing and evolving," said Indiana Gov. Eric Holcomb in July.
"Local officials are best positioned to determine their school safety needs and the measures that make sense for their students and communities, and — for many — these handheld metal detectors could make a substantial difference."
Here is information from each Howard County school system, from four superintendents and one top-level school official:
Kokomo School Corporation
At Kokomo Schools, according to Cynthia Evans, the director of social and student services who also serves as the corporation's safety specialist, students will receive knowledge about school safety largely through the Kokomo Police Department.
"Kokomo School Corporation officials have a close working relationship with Kokomo Police Department officials and work together to plan a variety of safety-related drills throughout the school year," said Evans. 
"KSC officials are not running active shooter drills; however, KPD officials are planning to do a tabletop active shooter drill this year."
In an age in which school violence is a concern across the country, one question remains: Ho…
The corporation faced controversy in February after an image of a boy wearing a Kokomo Schools sweatshirt and holding a gun in a bathroom circulated on social media with posts claiming the photo was taken inside a KHS bathroom.
Kokomo Common Council member Bob Cameron, formerly a weightlifting instructor at the school, later said the photo was taken inside Kokomo High School. School officials have not confirmed that a gun was in the school. 
Now, the school will utilize metal-detecting wands obtained through the state program, but the exact details of their possible usage have not and will not be released. 
"The Kokomo School Corporation Board of School Trustees authorized use of these metal-detecting devices in June 2018," said Evans. "The wands will be available for use at all Kokomo school buildings; however, specifics regarding the use of these wands will not be shared publicly."
Within the school system are four full-time KPD officers, trained as School Resource Officers. The corporation also hired additional security personnel, said Evans, "who are thoroughly trained in school safety and work closed with [KPD] officers concerning school safety" within KSC. 
"This working relationship between Kokomo Schools and the Kokomo Police Department has been in place for more than 35 years, and we continually work together to improve safety and the well-being of Kokomo students and staff," she added.
While school officials cite state statute that exempts schools from disclosing specific safety plans — "Such disclosure would compromise the integrity of the plan; and therefore, could pose a safety threat," said Evans — they did acknowledge enhanced safety measures that include new locks at some schools, the relocation of some school building offices, additional cameras and other monitoring devices and the required use of student and staff badges at Kokomo High School.
"Throughout Kokomo School Corporation, monthly safety meetings are conducted," noted Evans. "However, other details related to new safety measures, and/or those being planned, are not discussed publicly."
Regarding funds received through the Secured School Safety Grant, the corporation has used the money to hire school safety staff and to purchase additional devices like radios. 
And Kokomo Schools, explained Evans, "continue to seek grant opportunities as they become available, and if a grant meets our district's needs, Kokomo Schools officials will continue to apply for such grants."
Eastern Howard School Corp.
Superintendent Keith Richie said that while state law allows for two drills per school year, additional training may occur within Eastern schools. 
"Eastern trains all staff and students in appropriate response to an active violent person," he said.
"We have safety plans posted in each area of the building, including all classrooms," Richie added later. "There is a section on Active Violent Person. Eastern is committed to the safety and security of all students, staff and visitors. It is the most important work we do."
The school, which employs one SRO and could add another in the "near future," will receive six handheld metal detectors through the state problem, said Richie. The detectors, he noted, "may be used in any school setting deemed appropriate."
Additionally, Eastern has added security cameras, a buzz-in system for main entrances, monitored exterior doors and the SRO program since 2012. 
"We have also notably invested in handheld portable radios for the majority of all instructional staff, and we have installed pushbutton door-locks on all classrooms," explained Richie. 
"The near future will include continuing to improve our interior and exterior signage, completing some fencing projects, and the addition of 'Knox boxes' for each of our school buildings, which are exterior safes allowing access for firefighter or other first responders.
While the bulk of the corporation's Secured School Safety Grant program money covers SRO pay, the funds will also cover projects like handheld radios, security camera maintenance and improvements, key-fob access points and the fencing and "Knox-box" projects.
Western School Corporation
At Western, much of the emphasis has been placed on the ALICE — Alert, Lockdown, Inform, Counter and Evacuate — training program that is being implemented this year, said Superintendent Randy McCracken. 
Interestingly, the school system is also conducting implicit bias training for staff members, added McCracken in response to a question about how the school is confronting bullying and potential threats.
Implicit bias, according to the Anti-Defamation League, is defined as "the unconscious attitudes, stereotypes and unintentional actions (positive or negative) toward members of a group merely because of their membership in that group."
Along with such training, the school has requested the handheld metal detectors, which "will be used on an individual basis as needed by our resource officers," noted McCracken. 
But it was ALICE that was placed at the forefront of a letter sent by the superintendent to parents of Western students. 
All Western administrators and staff have been trained in ALICE, which centers on a more proactive approach to "the threat of an aggressive intruder or active shooter event" in contrast to the traditional lockdown-only approach," according to the ALICE Training Institute's website. 
"Prior to ALICE, lockdown procedures often only involved the staff locking their doors, moving the students to a part of the room where they could not be seen, and quietly waiting there until an 'all clear' announcement was given," wrote McCracken.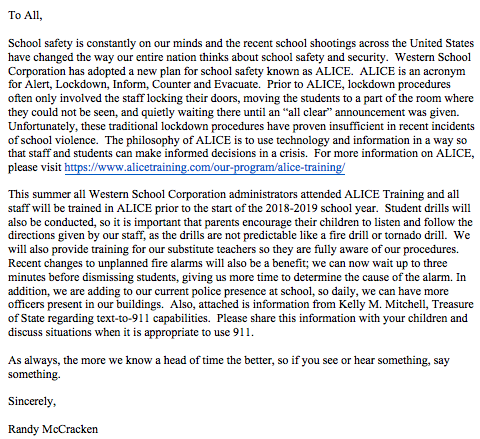 "Unfortunately, these traditional lockdown procedures have proven insufficient in recent incidents of school violence. The philosophy of ALICE is to use technology and information in a way so the staff and students can make informed decisions in a crisis."
McCracken explained in his letter that student drills, which are not predictable like fire or tornado drills, will be conducted.
"Recent changes to unplanned fire alarms will also be a benefit; we can now wait up to three minutes before dismissing students, giving us more time to determine the cause of the alarm," he wrote. 
"In addition, we are adding to our current police presence at school, so daily, we can have more officers present in our buildings."
Northwestern School Corporation
Superintendent Ryan Snoddy said Northwestern conducts active shooter drills for every grade level on a monthly basis and utilizes an SRO agreement with the Howard County Sheriff's Department. 
About handheld metal detectors, he noted "we will have to comply with federal and state statutes and develop a specific plan for use, however, we would presently use them based upon specific needs or threats."
The corporation, like Western, is implementing ALICE training. Two administrators, explained Snoddy have received certification as ALICE trainers, and they will train all staff in the ALICE best practices model.
But Northwestern, as is common across Indiana, does not provide specific school safety plans to the public, citing safety concerns. 
"Those procedures are rehearsed and reviewed with students and staff during our active shooter drills," said Snoddy. 
And the school, he explained, uses state grant money to offset SRO salaries and upgrades to the video cameras through the school corporation. 
"We will also be implementing staff building access and identification badges in the coming weeks," noted Snoddy.
Taylor Community School Corporation
Most notable in a discussion with Taylor Superintendent Chris Smith was his acknowledgment of the school system "looking at a possible building project around $2.4 million just to re-do our entryways, add more cameras and do different things."
Smith, however, like many school officials in 2018, thinks it is important for his school to maintain a level of covertness.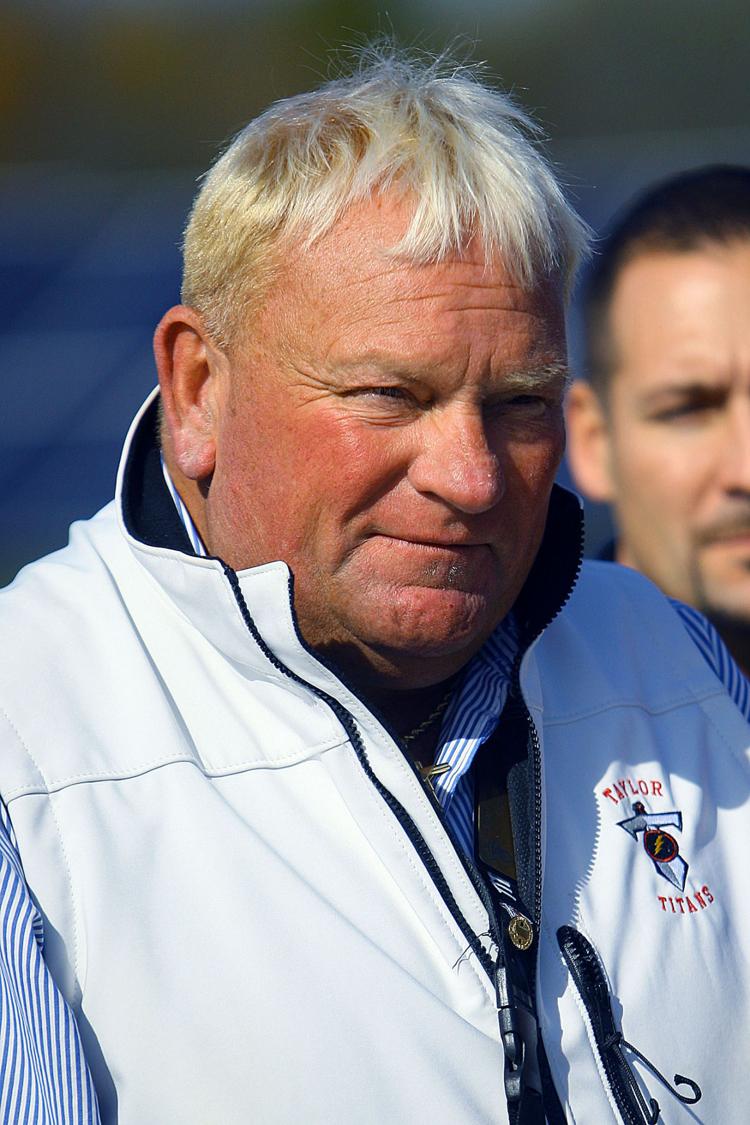 "But I'm not going to tell you everything we're looking at, because I don't want everybody out there to know what we're doing," he said.
And Taylor's staff, said Smith, will be trained on Sept. 19 by an outside agency. 
"And, yes, we plan to do some active shooter drills," he said, although dates are not set, like fire drills. Shooter drills will happen at all Taylor schools. 
About metal detectors, though, Smith struck a more careful tone, saying the school system needs to be "very, very careful by legal counsel on probable cause."
"You're not allowed to scan them every day. You have to have probable cause," he said. "I will make sure my SRO officers, which I have in all my buildings, I've got a total of five of them, they will be properly trained and will use [handheld metal detectors] with probable cause."
Probable cause could include one student telling a school official that another student has a knife or a gun or some kind of weapon. That could give the school reasonable cause to do a search and seizure, noted Smith. 
It's not possible, he said, to stick someone at the door and detect students and staff as they arrive in the morning. 
And, like mentioned by Kokomo Schools officials, Smith said Taylor cannot reveal its full school safety plan. 
"If we put our safety plan on the Internet, what are we doing?" he noted. "You're giving your enemy the opportunity to know what your plan is."
Regarding state grant money, Smith said Taylor "is looking at a lot of different products and systems and securities and things to do."