The word is overused, but in this case it's accurate: Jimmy Rayl is a Kokomo legend.
Rayl, the 1959 Indiana Mr. Basketball, died Sunday at 77.
But his impact on Howard County and across the state became obvious in the hours after his passing.
"There are so many thoughts that I have," Bill Fox, a retired Kokomo High School math teacher who worked as the scorekeeper during Rayl's years on the team, told the Tribune Monday.
"He was just phenomenal."
A death notice sent to the Tribune said arrangements are still being made for funeral services. Jimbo Rayl, his son, told the Indy Star that his father's kidneys had been failing and had worsened in the last three months. It followed a stroke and open heart surgery, both in 2011.
Rayl and his wife, Nancy, had three sons and one daughter. One of his sons, Timmy, died in an automobile accident in 1997 at the age of 25.
Nicknamed "The Splendid Splinter," Rayl won Mr. Basketball in 1959 after scoring more than 29 points per game in his senior campaign. He led Kokomo to the state championship game and earned the Trester Mental Attitude Award.
A great long-range shooter, he finished his high school career with 1,632 points. And that came before the 3-point line, which was not implemented until 1987. He finished as a two-time North Central Conference scoring leader.
Rayl, wrote Pacers.com writer Mark Montieth, "was one of the greatest long-range shooters of his era, a threat from beyond 30 feet more than two decades before the introduction of the 3-point shot. He also was one of the skinniest, weighing just 145 pounds as a 6-foot-3 guard at Indiana University."
That IU career would start after Rayl sat out his freshman season – an NCAA rule at the time – before going on to play three seasons in Bloomington.
Rayl was named All-Big Ten and All-American in 1962 and again in 1963, and he established an IU and then-Big Ten record when he scored 56 points in a game against Minnesota in 1962. He matched the feat in a game against Michigan State the next year.
Rayl, inducted into the Indiana Basketball Hall of Fame in 1989, finished his celebrated college career with 1,401 points.
"Jimmy Rayl was one of the greatest players in the history of IU basketball and an icon in the state of Indiana," IU athletic director Fred Glass said in a story on IU's website. "All of us with IU Athletics mourn his passing and offer deepest sympathies to his family and friends."
By then, Rayl was beloved throughout Indiana, and he would fittingly go on to play one full season and one partial season with the Indiana Pacers, including the team's inaugural season in the American Basketball Association.
Rayl averaged 12 points during the inaugural year, 1967-1968, and had a high game of 32 points. According to Montieth, Rayl scored 30 points or more three times in the final month and would be voted Most Popular Player by Pacers fans at the end of the season.
"He kept the trophy for that honor on display in his living room throughout his life," wrote Montieth.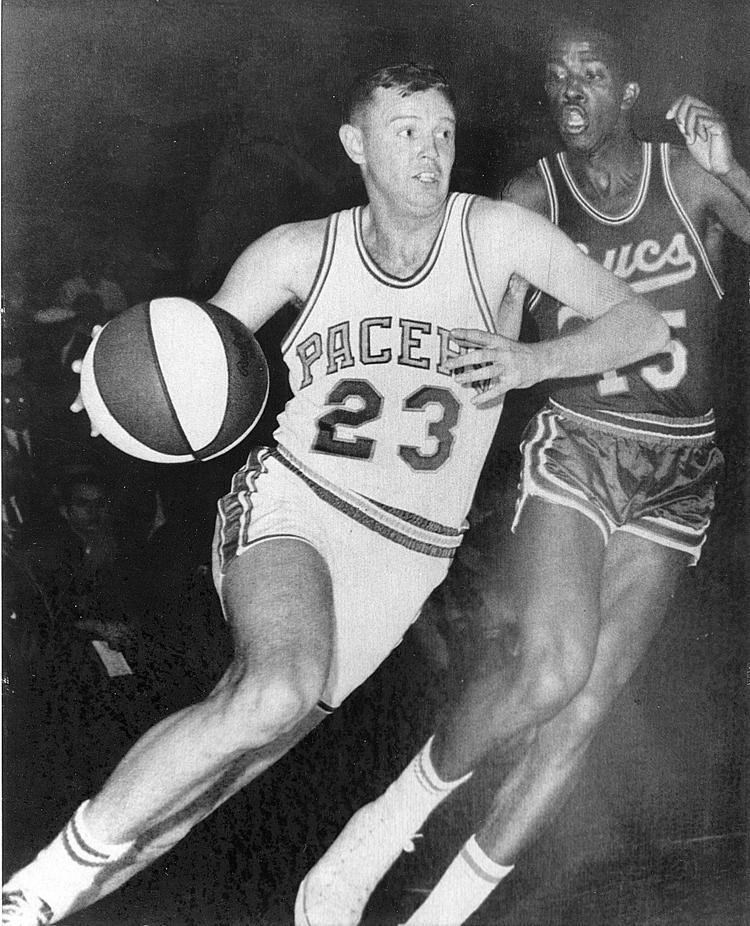 Despite that success, Rayl played in only 27 games the next season, averaging 8.9 points.
"Rayl had a rocky relationship with the Pacers' first coach, Larry Staverman, and was left behind on a road trip early the second season," according to Pacers.com.
"His career temporarily got a boost when Bob Leonard (now a beloved Pacers radio announcer) took over as coach. Leonard, like Rayl, was a former IU All-American and Kokomo resident, and the two occasionally shared rides to practice in Indianapolis."
But Rayl, who was honored before the Pacers' home game Sunday night with a moment of silence, would soon be cut by the team. At 27, it was the end of his professional basketball career.
Later in life, Rayl was given numerous accolades. He was named to the IU All-Century team in 2000 (one of 15 players), as well the Associated Press's All-Century High School Team in 2010, which coincided with the 100th year of the state tournament. He also was part of the Howard County Sports Hall of Fame's inaugural class.
It's a high-school exploit, in fact, that Rayl is possibly best remembered for. It came on Feb. 20, 1959, when KHS faced off against New Castle in the Church Street Gymnasium.
The game, referred to as the "Church Street Shootout," is etched into Indiana basketball history.
As recounted in "The Golden Age of Indiana High School Basketball," by Greg Guffey, the gym included 1,900 permanent seats, but only 130 went to visiting teams, meaning only a few Kokomo locals were able to witness his feat.
"It was the first time we had played there, and it was small," said Rayl in the book.
"I don't remember that big of a buildup," remembered New Castle star Ray Pavy about playing against Rayl.
"There was a lot of buildup for Kokomo vs. New Castle because the conference championship was still possible. It was the final regular-season game at Church Street Gym. You just want to go out winning."
While it may have technically been a contest between the two schools, history will show it as back-and-forth between Pavy and Rayl, who finished with 51 points and 49 points, respectively in a clash for the NCC scoring title. New Castle won the game, 92-81, and Rayl won the scoring crown.
"We were hitting a lot of shots," remembered Rayl. "We never had much of a chance to win the game. I knew [Pavy] was scoring a lot of points but didn't realize it was that many."
Later that year, Rayl led Kokomo to the state runner-up spot by scoring 114 point in the final four games of the state tournament, breaking a previous record held by basketball icon Oscar Robertson.
"He was just an unbelievable shooter," said Fox, the scorekeeper, referring to Rayl.
Rayl and Pavy both went on to IU and became roommates their freshman year. Tragically, Pavy was never able to play after being paralyzed during a car accident.
"I don't know what other people would think the best five Indiana high school games historically would be," Pavy told the Indy Star in May 2018 about the "Shootout."
"But that one would probably be one of the five."
Rayl, who ironically befriended Purdue University basketball coach Matt Painter in adulthood, later got a job with Xerox and worked 30 years on a sales route in central Indiana, according to a 2015 Indy Star column.
But now comes the time for memories.
He was a good person, said Fox, with a "super" family and real leadership skills.
And a sense of humor to boot.  
"For some reason, he found out my nickname. As I was growing up in the north end there, it was 'Bounce.' 'Bouncy Fox.' And he'd always see me in the latter years, and he would say, 'How you doin', 'Bounce?'" remembered Fox.
"And it just melted my heart when he would say that to me."
Tribune sports editor Bryan Gaskins contributed.