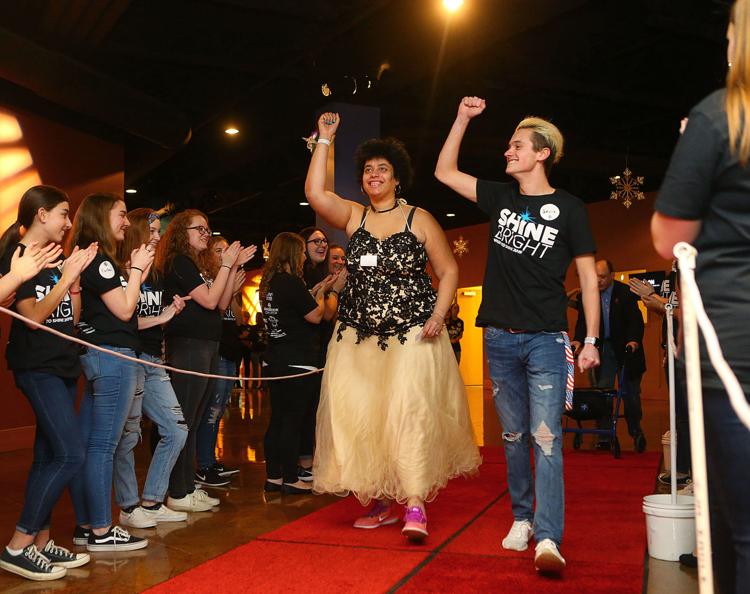 Imagine your high school prom. OK, now add 10-times the fun. That was the experience 200 guests of honor had during Night to Shine on Friday at Oakbrook Church.
After checking their coats, the guests went to the salon for a little bit of glitz and glamour. Ladies were able to get some sparkle in their hair, while the guys got their shoes shined.
Everyone was dressed to the nines, and for a good reason — there was a red carpet waiting for them.
For a moment, when they first stepped onto the red carpet, it was like time stood still as a roar of cheers erupted from the onlookers. Guests didn't just walk down the carpet — some danced, glided or practically floated through the throngs of people.
And that was just the beginning.
Night to Shine, created by the Tim Tebow Foundation, is a prom night for people with special needs ages 14 and older. According to the foundation's website, more than 500 churches participated in hosting the event last year in 16 different countries. Kokomo's own Oakbrook Church is one of the 23 churches that volunteer to host in Indiana.
Night to Shine organizer Pam Downing said Oakbrook has added different components to the evening each year. Now, during its 4th annual event, guests of honor are treated to a salon experience, red carpet, catered dinner, dancing, karaoke, photo booth, limousine rides and of course, snow cones.
"The red carpet is just so special and beautiful," Downing said, tearing up a little. "When do you walk down a place and everyone is just cheering for you and it's just beautiful. I know this sounds kind of cheesy, but this really is their special night to shine."
But would it really be a prom without someone to dance the night away with?
Each guest of honor was paired with a peer buddy to spend the evening with, whether they wanted to tear up the dance floor to the "Cha Cha Slide" or get up on stage and sing "Can't Stop the Feeling."
For Katrina, her favorite part was getting all dolled up, while Kyleigh loved breaking moves on the dance floor. Every guest had a different moment that made the night such a memorable experience for them.
Many of the peer buddies were dressed in their best too, with some girls wearing their prom dresses and guys in suits and ties.
Morgan Humphrey, a sophomore at Indiana University Kokomo, heard about the event through a friend and decided to sign up to volunteer. She was paired with a woman who was blind, so although she was nervous at first, Humphrey was excited for the opportunity to help.
"She's been awesome," Humphrey said, noting that she plans to volunteer again next year.
In total, there were about 300 volunteers assisting with the event throughout the night, from serving food to checking coats.
Gretchen Lee, who is a staff member at Oakbrook, volunteered for her fourth year in the coat check room.
"I'm always in the coat check room because I love seeing all of the guests of honor coming in," she said. "I get to compliment them and they are always very excited when they come and when they go home after the good time."
Lee said it has been great watching the community really rally around the event and help support it through sponsorships and volunteering.
For example, usually Downing had to find make room in the budget to pay for food to be catered. This year, however, when Downing reached out to The Local BBQ, they offered to cater the event free of charge.
"For my budget, it was just such a huge blessing," Downing said. "I know Mary Kay and Matt (Wyatt) and I know their hearts and they were just ready to do it."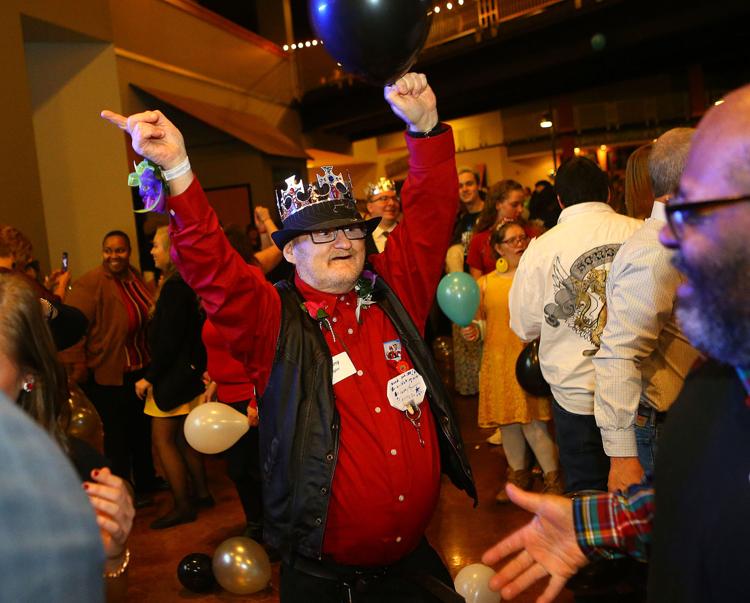 Another Oakbrook Church member, Jacob Jansen, donated his DJ and videography services for the event through his business Jansen Productions. Pizza Junkies donated pizza to help feed the volunteers, and students from schools all over Howard and Tipton counties came to serve as peer buddies and cheer squads during the hour-long red carpet.
Jessica Whited volunteered for the first time after hearing about Night to Shine at Oakbrook.
"I thought it was a really good cause and I'd never heard of it before. I think sometimes people with handicaps get left out and don't get to have some of the things that we take for granted," she said.
And of course, Whited's favorite part was serving on the red carpet crew.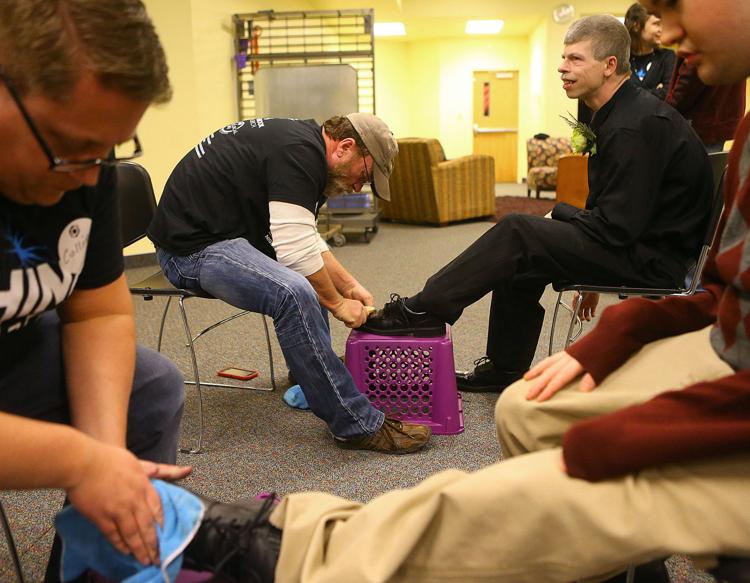 "Just how their faces that lit up as they went through…I mean there was a few that wen through one, two, three times just to get that cheer again. It was nice to be a part of that," she continued.
Night to Shine is just one of the ways Oakbrook Church is for the community, Downing said.
"A big part of tonight is just sharing that 'Hey, God loves you, and so do we,'" she said.