Just three years ago, Sam Prifogle would have balked at the idea of showing his artwork publicly, let alone in an exhibition at the public library. The very thought of people getting to look at, appreciate — and criticize — his creations was terrifying. At times, it still is.
But a push from a couple of influential people propelled Prifogle to share his talent with the world and he has since become one of the most locally recognizable artists.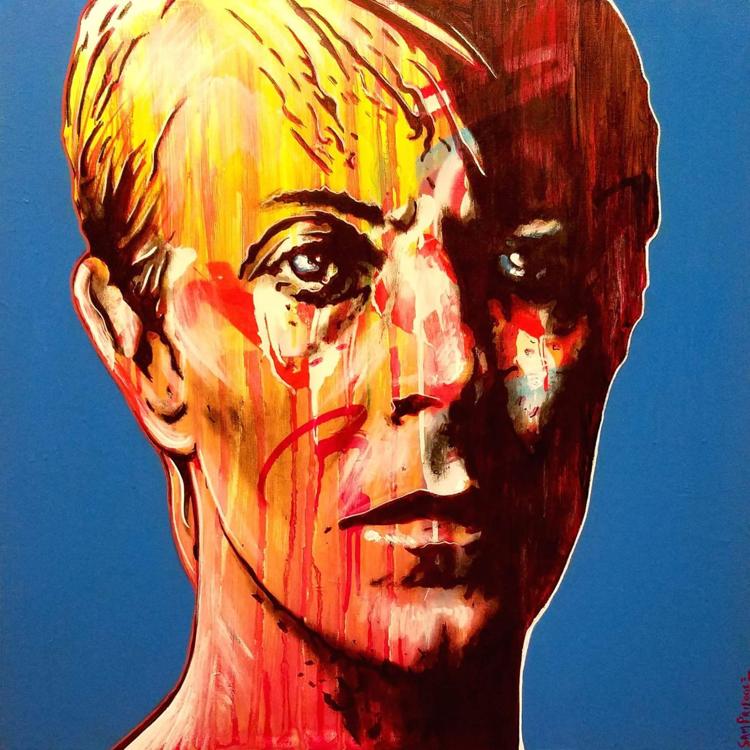 Starting with a base of abstract expressionism made popular by Jackson Pollock and completed with the pop art- and photorealism-influences of Andy Warhol and Roy Lichtenstein, Prifogle's artwork is a vibrant departure from traditional styles of painting. Many of his pieces depict female profiles, while others feature bright portraits of prominent men like David Bowie and James Dean.
Prifogle's paintings have been on display throughout downtown Kokomo, from Artist Alley to the Kokomo Art Center to LeaderOne Financial and Bohemian Tattoo Club.
While admitting that his ability to create is mostly self-taught, Prifogle said there were several people that helped him along the way as a young student. His elementary school art teacher, Mrs. McCarthy, really sparked his interest in art, while Mike Young, an art instructor for Northwestern School Corporation, encouraged him to pursue that interest.
"He wanted to be my mentor and that really stuck with me. I was like, 'Wow, somebody is actually taking an interest in me,' and that shaped who I was, both as an artist and as a person," Prifogle said.
Although he took a painting class in high school, Prifogle stuck to drawing because he wanted to become a comic book artist.
"I drew the comic for the school paper — it was so bad though, embarrassingly bad," he laughed. "I still have the originals and every now and again I look at them and say, 'Yeah I came from that.'"
After high school, Prifogle went to Purdue University to major in photography. He wasn't exactly sure what he wanted to do with that degree, just that he wanted to be a professional photographer.
"I ended up working as a student for Douglas Studios in Lafayette for about 5 minutes and realized how little money was in it," he said. "So I decided not to pursue that any longer."
After that, Prifogle put art on a back-burner. The only time he would create it is if he needed to fill a blank space on a wall in his own home.
"For the longest time — between abandoning photography at Purdue to where I'm at now — I just gave up on art," he said.
Then, about five years ago, Prifogle picked up the paintbrush again in hopes of generating some supplemental income with abstract art. Abstract art was fairly simple, but after he got started, Prifogle was drawn back in by the prospect of painting people.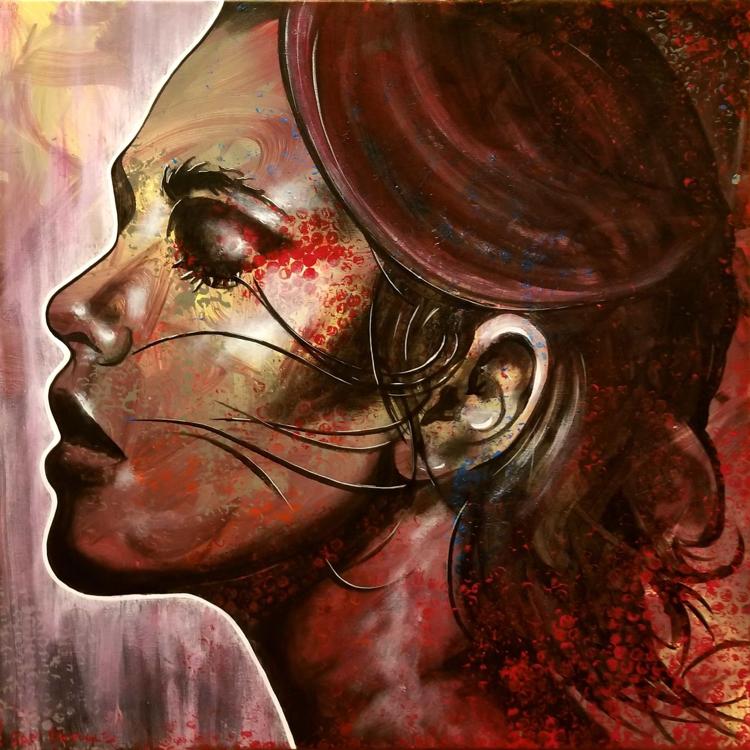 "I was never very good at it, but with the painting medium, I was eventually able to come up with a way to do it," he said. "I had many, many, many failures and I wanted to give up on art again because of failing miserably over and over. But I just kept at it and found different ways to successfully produce a person on canvas."
Although he began to create more and more art, Prifogle's paintings stayed in the dark until his Sam's Club coworker Deb Mumaw encouraged him to apply to have one of them shown in Artist Alley.
"I wasn't interested in sharing for the longest time," he said. "The first year I said 'No I don't want anything to do with that,' and then the second year Deb finally convinced me to go meet Susan (Alexander). That's really what kicked off me showing my work to people."
Prifogle's art first appeared in Artist Alley three years ago in the form of a massive and colorful James Dean portrait. Then, he started showing his paintings in actual galleries and local businesses.
"There's nothing scarier — you have these 20 or 30 paintings that you've spent hours on, you take them to this building and you hang them on a wall and then you leave — it's scary as hell because you don't know what's going to happen," he said. "When you paint you get so attached to your work — I don't have children, so those are my kids."
His first exhibit was at LeaderOne Financial, where he also completed his first live painting during a First Friday event. Branch manager Ryan Minick asked him to do a live painting, but first Prifogle said he needed to be able to do it fast — and that's how his signature style was developed.
"I use the background as the foreground, so that the background actually becomes the person," Prifogle said. "I made the backgrounds before I got there, and then was able to paint the person rather quickly."
To achieve the abstract background, Prifogle said he "makes a mess" on canvas and uses tools like spray cans, sponges and bubble wrap. Then he is able to sketch out the profile of the subject that he is painting on top. Now, instead of spending 10 hours on one painting, he can spend three hours and work on multiple pieces at once.
It was through that unique style created at First Friday that Alexander became familiar with Prifogle's work.
"Sam's work is amazing and I'm just so pleased that he's willing to share it with everybody," she said. "In the several shows that he's had, his work is always well-received and it seems to be very current, very cutting-edge and it's just great work. 
"He was one of our first artists in Artist Alley, so as we've created this momentum downtown for art, it's just great that he's leading the charge in that realm by participating with so many venues that are highlighting art."
As his work has continued to pop up around town and even regionally, Prifogle has moved on from feeling shocked to feeling humble.
"It's been empowering not complete crashing and burning in front of people — it's changed everything," he said. "These people don't think they have a lot to do with it, but the Deb Mumaws of the world, the Susan Alexanders, the Ryan Minicks have really propelled my craft."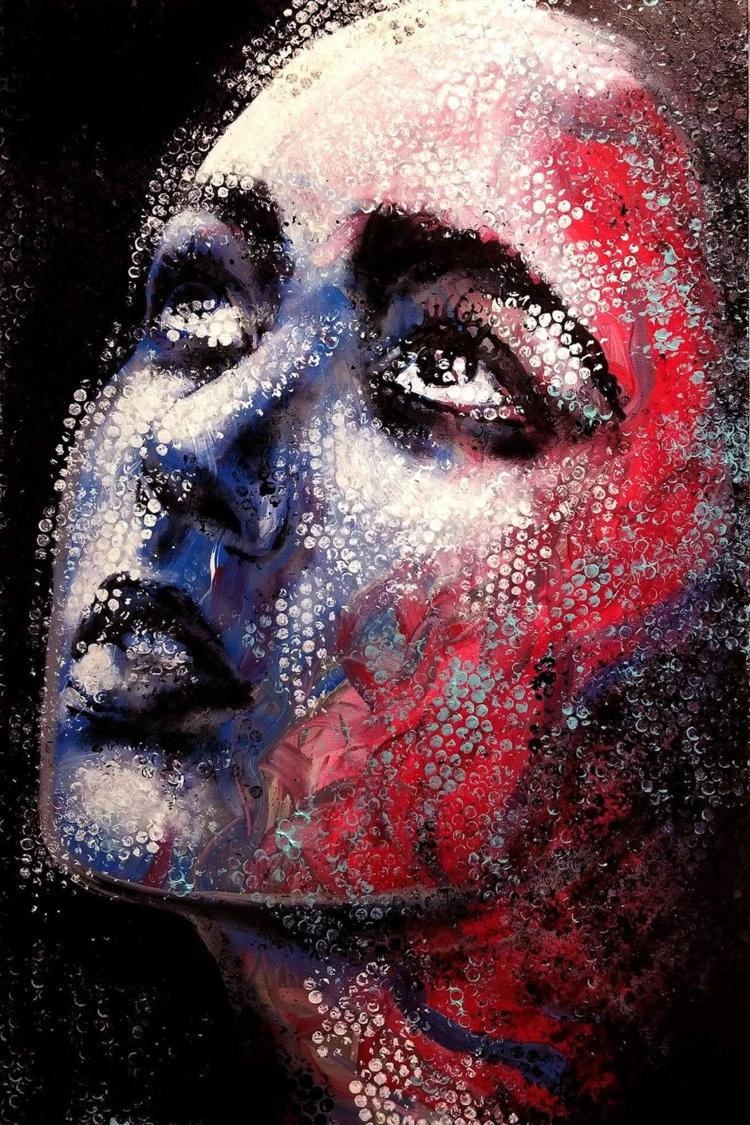 On Friday, during the February First Friday event, Prifogle will debut a new exhibit at Kokomo-Howard County Public Library's main branch. It will feature some of his largest pieces ranging from 4-foot tall paintings to 8-foot long works. He will be in attendance beginning at 5:30 p.m. to chat with guests visiting the exhibit.
"This Kokomo-fame is not really crazy, but it's also cool that people want to see my work," he said. "It definitely makes me want to keep going."
The KHCPL exhibit will run through Feb. 28. For more information, visit www.facebook.com/ArtOfSamPrifogle/.