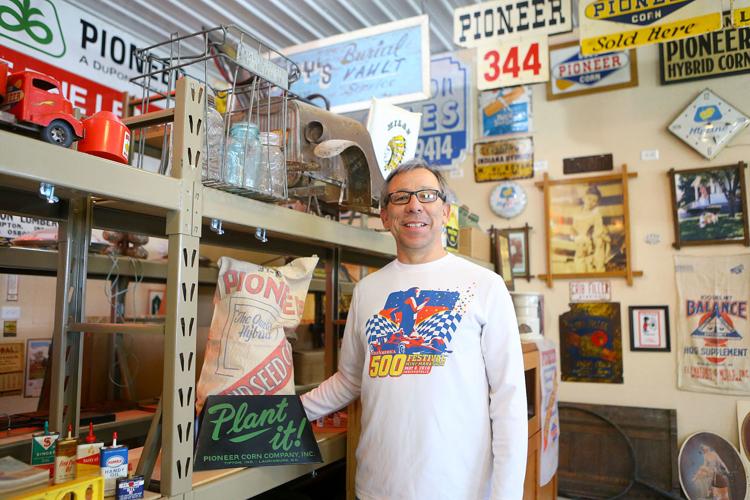 TIPTON - If you ever wanted an unofficial, hodgepodge look into the history of Tipton, head to the garage of Mauricio Gonzalez.
Inside, you'll find pens, buttons and silverware that all came from town or one of the many stores there that have come and gone.
There are signs hanging on the walls from gas stations and seed companies that have been out of business for decades.
A small cabinet that came from an old shoe store that was once located downtown sits in front of black-and-white pictures of Tipton High School students plastered on the wall.
And the list goes on and on.
Gonzalez is the proud owner of more than 1,000 historical items and antiques from Tipton. For more than 30 years, the 57-year-old has collected local objects that have struck his fancy. These days, he finds most of the items on Facebook or Craigslist.
And every one comes with a story.
Take a never-used porcelain toilet. It's still sitting in an old wooden crate on the floor. Gonzalez found that in the upstairs of the old Compton's Hardware store, after he saw a group of guys cleaning out the building.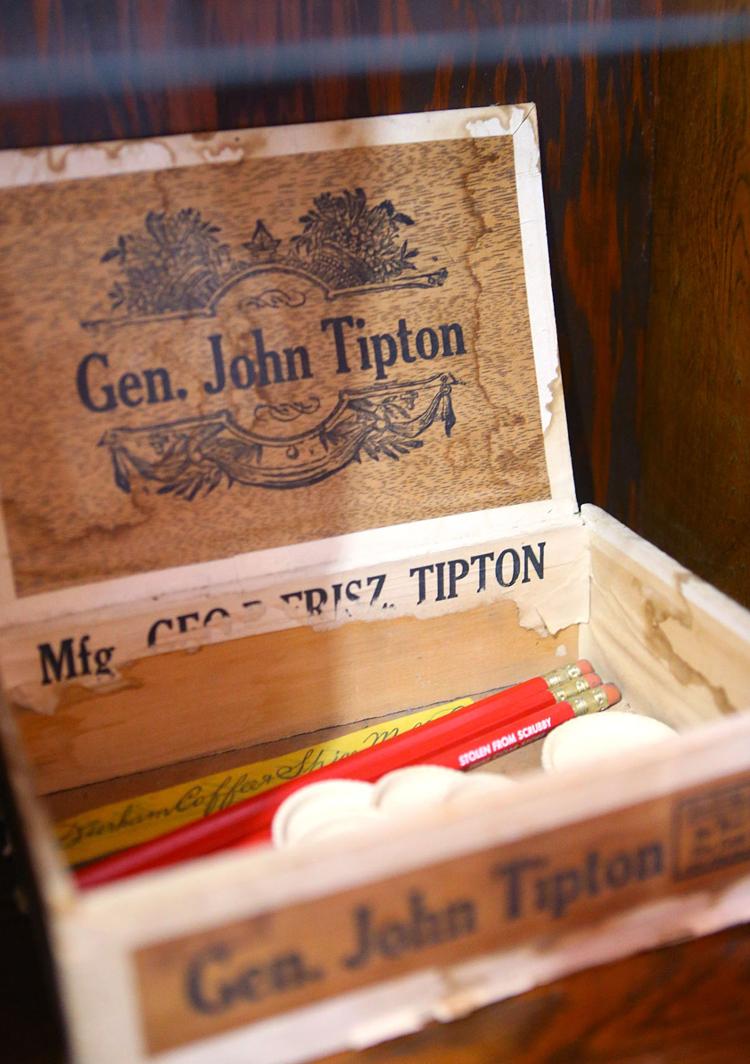 There's an old General John Tipton cigar box – a brand that was named after the namesake of the town. Gonzalez said he came into possession of the exceptional artifact by outbidding former Tipton Mayor George Foster.
Some of his most prized possessions in the collection include milk bottles from old dairy farms in the area. He's got bottles from Hillcrest Dairy, which was once open near Windfall, and Tipton Ice Cream.
But the rarest bottle of all comes from Grishaw Dairy, which existed near Tipton for only a few years until the early 1940s. Gonzalez recently got his hands on the one-of-a-kind artifact completely by chance. A man stopped by his garage to check out some of his collection and ended up just giving it to him.
"It was crazy," he said. "I'd been looking my whole life for one of those bottles."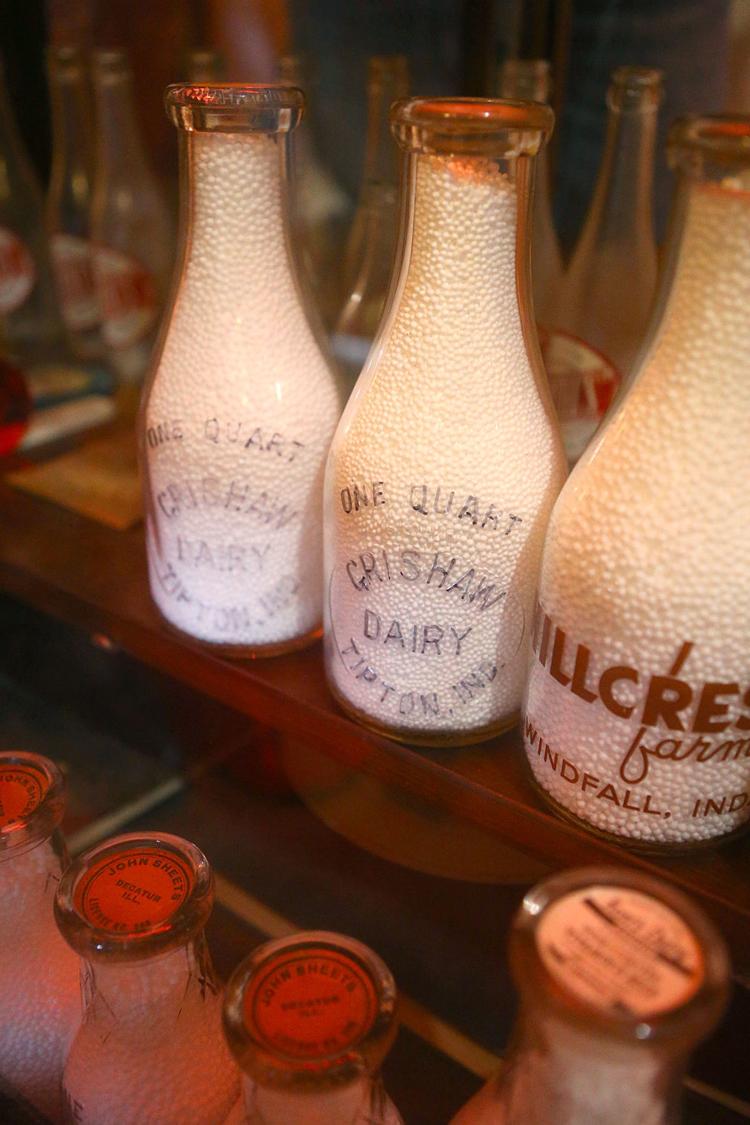 Gonzalez is a collector and picker by nature. He's always collected something. For a long time, it was antique furniture.
For the last three years, it's been vintage oil and gas signs. Gonzalez has turned that into a lucrative business. He even holds virtual auctions from inside his garage.
Not long ago, Robbie Wolf, a frequent guest on the popular History Channel TV show "American Pickers," stopped by the garage to buy one of the signs. Gonzalez said Wolf ended up selling it to Jay Leno's nephew.
"People in the sign world know who I am," he said. "And in the sign world, you've got to do good business."
But Gonzalez's Tipton collection isn't about the money. That collection is about the history and the nostalgia of his hometown.
Gonzalez came to Tipton from Texas in 1962, when he was just a year old. His parents were migrant farmers who traveled to the area every year to work in the fields. But the family put down roots in town, once his dad landed a job at Pioneer.
He wasn't born there, but Tipton is the only home Gonzalez has ever known. He graduated from Tipton High School and now lives a little ways outside of town with his wife.
For years, he worked at a pharmaceutical company in Indianapolis before taking a job at Integrity in Tipton. He retired from there after six years.
Now, thinking back on growing up in town, Gonzalez remembers many of the old businesses represented in his collection. He's got a few items from the old Walsh gas station, where his dad used to take him as a kid to buy a pop and Snickers bar.
"You'd have a running tab and the guy there wouldn't even charge you," he said. "I get goosebumps thinking about it."
His specialty is collecting old Pioneer signs and other paraphernalia from the company. He likes the stuff because that's where his dad worked. But Gonzalez loves all the things in his Tipton collection. After all, it's his hometown.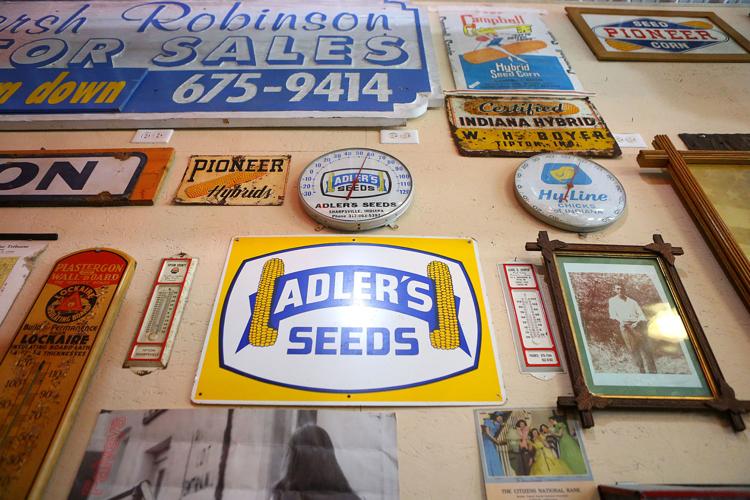 "I just like it when it says Tipton, Indiana," he said. "I'm one of those guys who go to all the high school football and basketball games."
Today, you can find his collection inside a new pole barn he built a year-and-a-half ago, after his wife told him to get all his stuff out of the garage. His Tipton items take up most of the back of the building.
And that's where the collection will stay. Gonzalez said he's had lots of people inquire about buying some of the items, but he tells them it's not for sale. He said, for the time being, it's his own personal collection he'll treasure for the rest of his life.
"I'm just the caretaker for this stuff," Gonzalez said. "When I'm gone, somebody else will like it and take care of it. But I won't sell it. I'll never sell my Tipton stuff."