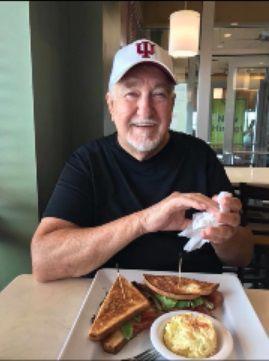 Archie "Jr." Whitton had just had his haircut at Jeff's Barber Shop at around 4 p.m. Tuesday. The next minute, he was lying face down in the parking lot, nearly dead after suffering a massive heart attack.
It was the lightning-fast action of Jeff Smith, his barber and the shop's owner, that ended up saving his life.
After his haircut, the 80-year-old Kokomo man had asked Smith if he could use the shop's outdoor faucet to get some water to put in his car's radiator.
Smith, 63, said sure. But after a few minutes, he noticed Whitton hadn't returned to his car.
"I thought, 'Where's he at? He should be back at his car by now,'" Smith said. "Something told me to go check on him."
He went outside, and when he rounded the corner, he saw Whitton on the ground, his eyes wide open. He wasn't breathing or murmuring.
Smith knew his long-time customer of 15 years had just suffered a massive heart attack.
"I could tell right off it didn't look good," Smith said. "Prayer and instinct took over after that."
Smith ran back inside and called 911 before rushing back out, immediately performing CPR on Whitton after pulling out his dentures, which had come loose when he fell.
"I was praying under my breath and just going by what I had learned 30-something years ago on CPR when I'd taken a class somewhere," he said. "You know how adrenaline is. In the moment, you're not really thinking about it. You just do what you feel like needs to be done."
A neighbor ended up coming to the scene and gave Smith encouragement as they waited for police and EMS to arrive. As chance would have it, a Kokomo police officer happened to be driving by when someone on the scene ran out and flagged him down.
Smith said the officer took over CPR then, using a machine to keep Whitton's heart going. A few minutes later, the ambulance, police and fire truck that had been dispatched to the barber shop arrived. Medics put Whitton in an ambulance and rushed him to Community Howard Regional Health.
Meanwhile, Whitton's granddaughter, Shelby Hulka, was out looking for her grandpa, along with the rest of her family. Whitton lives with them, and when he never came home, they all started to worry something had happened.
"We were kind of freaking out," Hulka said. "We thought maybe he had lost track of time, but we kept calling him and it kept going straight to voicemail, which is weird for him."
Then, about an hour later, Hulka's mom received a call from Community Howard informing them they had just resuscitated Whitton. But the doctor said the only reason he was still alive was because someone had performed CPR before medics arrived.
"The doctor kept emphasizing that if Papaw hadn't received CPR, he probably wouldn't have made it," Hulka said. "The doctor told us this was a miracle. He didn't think he'd pull through and couldn't believe he was alive."
But who had saved her grandpa? No one knew.
Hulka decided to make a post on Facebook to see if anyone had any clues. It didn't take long for someone to respond and say they knew it was Smith, his barber, who had performed CPR.
The family immediately called Smith and thanked him for what he had done.
"I feel like a lot of people in his situation wouldn't have reacted like he did," Hulka said. "I feel like if it were me, I'd freeze up and not know what to do. But Jeff was so quick to act, and we appreciate what he did so much. There aren't enough words to express how much it means to us."
Whitton ended up undergoing surgery on Thursday, when doctors put a defibrillator in his heart. He was released from the hospital on Friday, and Hulka said he seems to have made a full recovery.
But that never would have happened without the quick action from Smith.
"If Jeff hadn't performed CPR, he wouldn't have had a chance," Hulka said. "Papaw wouldn't be here if it wasn't for Jeff."
But for Smith, who has been a barber for 33 years, it was something he didn't even have to think about. He said, in his mind, he didn't do anything special. He simply did what had to be done.
"I don't consider myself a hero," Smith said. "I was just doing what I hope someone would do for me if I was in the same circumstance. I'm just glad Jr.'s still with us."