Indiana residents invited to attend Solarize ECI Zoom meeting
Indiana residents and business owners will learn how the federal tax credit of 26% has been extended through 2021 and 2022 for installing solar panels on houses, farm structures and places of business during the next Zoom meeting of Solarize East Central Indiana.
The Zoom meeting sponsored by Solarize ECI, a grassroots community group affiliated with Solarize Indiana, will take place at 6:30 p.m. Thursday, Sept. 23.
The Zoom meeting will involve a 30-minute presentation followed by an hour for questions and answers. There is no charge to attend the Solarize ECI Zoom meeting.
Prior registration is required. The Zoom link for registration, which is free, can be found at https://www.facebook.com/solarizeECI or by sending an email request to Carolyn Vann, cvann@bsu.edu, or John Vann,jvann@bsu.edu , who are co-team leaders of Solarize ECI.
One of the main benefits of working with Solarize ECI and the Indiana Solarize state organization is group pricing that reduces the costs of installing a solar system.
Adding solar panels to structures also permits more energy independence with less exposure to increasing utility bills, Carolyn Vann said. Net metering will be available through June 2022.
Next, adding solar will not increase the owner's property taxes. The addition of solar has the potential to increase property value, however.
Community foundation of Howard County awards grants
The Community Foundation of Howard County has awarded more than $39,200 in competitive grants during the first half of 2021.
"These grants follow the wishes of our donors by supporting Howard County," said Joe Dunbar, chairman of the Community Foundation of Howard County Grants Committee, in a release. "We thank them for having the foresight to anticipate that community needs should be supported now and in the future through endowed funds. Since our beginning in 1991, donor generosity has enabled the Foundation to grant approximately $13.3 million to nonprofits during its 30-year history. As we look ahead to the next 30 years, the Foundation will continue its charitable mission to help our communities."
The following agencies and programs were awarded grants during the first half of 2021:
• $2,500 to the American Red Cross for support for home fire relief efforts in Howard County. The funds will be used to provide response and recovery services to families this year by training Disaster Action Team members.
• $2,000 to Carver Community Center toward providing wireless internet access to the Carver Community Center for use by students doing their homework.
• $3,230 to Curtain Call Theater for Children for the summer production of Disney's Little Mermaid.
• $10,000 to the Howard County Historical Society for funding of the "Porte Cochere Repair" project. Funds will assist in raising $50,000 for a Historic Preservation Grant that requires a $1 for $1 match. The covered porch-like structure on the west side of the mansion, a National Landmark, requires repairs to ensure the integrity of the structure into the future.
$6,500 to the Kokomo Civic Theater to install an ADA compliant restroom and a new HVAC system for the theater space.
• $5,000 to the Kokomo Park Band for numerous community activities offered throughout the year including the July concerts, a Labor Day concert, a Winter Concert in February and four concerts in June 2022.
• $10,000 to Narrow Gate Horse Ranch for pasture fencing at their new property that will provide year-round availability to help at-risk students through therapeutic experiences with horses.
High Performance Alloys Inc. awarded 'Rural Small Business of the Year'
Governor Eric J. Holcomb today issued a proclamation declaring Sept. 13 – 17 as Small Business Week in Indiana, celebrating the more than 529,000 small businesses in Indiana and the more than 1.2 million hardworking Hoosiers they employ.
"This week, we recognize the small businesses driving our state's economy forward," said Gov. Holcomb. "The state is placing an increased focus on supporting Indiana's entrepreneurial companies, and with their persistence and entrepreneurial spirit, small business owners are creating careers and opportunities vital to every community across all 92 counties."
The Indiana Economic Development Corporation (IEDC) will recognize nine Hoosier small businesses that have worked with the Indiana Small Business Development Center (SBDC), a program of the IEDC, to start, grow or pivot their small businesses. These awards, presented in conjunction with the U.S. Small Business Administration's (SBA) National Small Business Week, honor the entrepreneurs' and small businesses' achievements and their contributions to help grow Indiana's economy and strengthen communities across the state. The local 2021 honorees are:
Rural Small Business of the Year, High Performance Alloys Inc.
Founded by Russ Kirchner in 1984, High Performance Alloys Inc. manufactures and distributes superalloys and super stainless steels to serve the needs of the aerospace, chemical processing, oil-gas, medical and food processing industries. With locations in Tipton and Windfall, the company employs more than 60 Hoosiers and serves a global customer base.
First Bank of Berne Named a Five Star Member of the IBA
First Bank of Berne has been honored as a Five Star Member of the Indiana Bankers Association. The award was presented on September 15, 2021 by Josh Myers, IBA AVP-Member Engagement, in recognition of First Bank of Berne's Association involvement throughout 2020.
The Five Star Member designation recognizes those IBA-member banks which demonstrate outstanding commitment to the Association in five areas: political awareness, issues advocacy, life-long learning, IBA volunteerism, and Preferred Service Provider utilization.
"We very much appreciate the dedication of First Bank of Berne and as a Five Star Member bank," said Amber Van Til, IBA president and CEO. "Our Association is strong, thanks to our supportive members."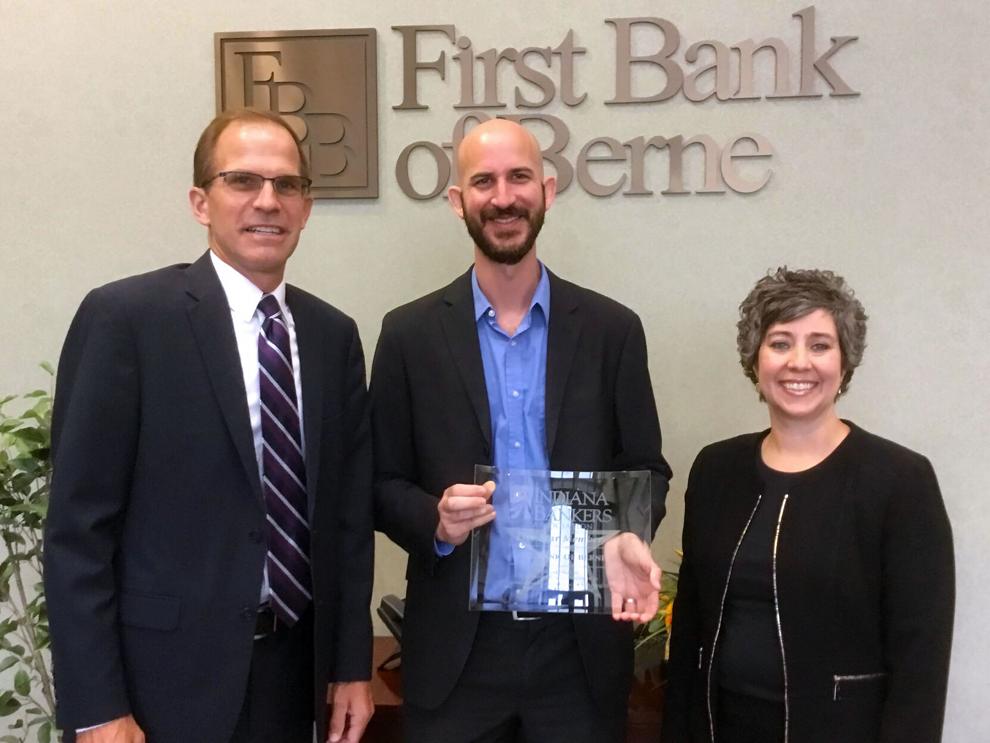 The Indiana Bankers Association supports Indiana banking through issues analysis, professional education, and products and services that enhance member banks' ability to serve their communities.
Established in 1891, First Bank of Berne has seven convenient offices, located in Indiana and Ohio. Since its beginning, First Bank of Berne has always been involved in the community and has devoted their efforts toward providing customers with the best possible service. The bank has been recognized as an ICBA Top Performer, a Five Star Bank, and has been rated Indiana's number one bank numerous times, as reported by Financial Management Consulting Group.
To learn more about First Bank of Berne, please visit http://www.firstbankofberne.com/