A project to turn Kokomo's former YMCA building into a mixture of market-rate apartments and commercial space has received the go-ahead.
The Kokomo Plan Commission unanimously approved the development plan for renovating the historic building constructed in 1911 and the construction of an additional apartment building on East Walnut Street.
Three commercial spaces will be located on the first floor of the existing building, at the corner of Union and Walnut streets, while 19 mostly two-bedroom apartments will be developed on the structure's second, third and fourth floors, Tori Tripp, of Converse-based Tripp Engineering and Consulting, told the commission.
An additional 10 mostly two-bedroom apartments will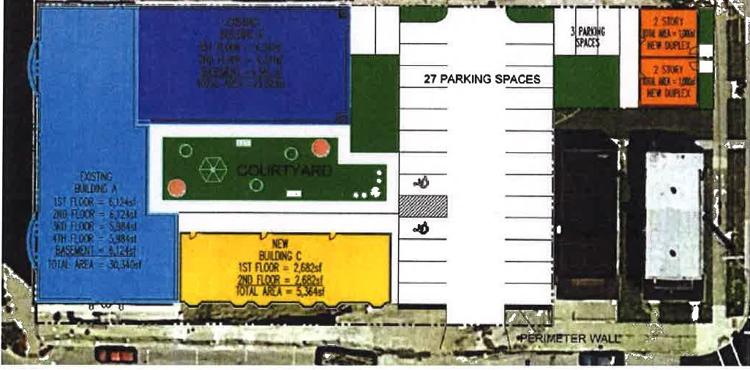 be built in the building's original gymnasium. A new, two-story building facing East Walnut Street and housing six two-bedroom apartments will also be built as part of the project.
A courtyard will grace the space in between the three buildings and parking will be located just east of the buildings.
Additionally, two two-floor duplexes will be built on the far east side of the property, near North Market Street.
The project is being developed by Fortune Companies, led by local developer Scott Pitcher.
Pitcher, in a Friday email with the Tribune, said construction is expected to last 18 months.
Plans to reuse the former YMCA building were originally announced in February 2017. At that time, the Indianapolis-based developer AP Development LLC was to lead the project, but they are no longer attached to it.
The Kokomo Board of Public Works and Safety awarded a bid in December 2017 for a demolition project at the former YMCA. The bid was awarded for $540,000 to Indianapolis-based Renascent Inc.
Months later, crews began the demolition and clearance of two blighted structures at the former YMCA, specifically the second gymnasium, constructed in 1957, and the swimming pool, built in 1965.
Fortune Company's new development plan for the old YMCA property first came to public light at the end of 2019.