After a few years of slower employment growth compared to other Indiana cities, Kokomo will outperform those same cities the next two years thanks in large part to the $2.5 billion electric vehicle battery plant, according to forecasts by the Indiana University Center for Econometric Model Research (CEMR).
The Kokomo Metropolitan Statistical Area, which includes all of Howard County, will see a more than 5% annual employment growth from the second quarter of 2022 to the first quarter of 2024 and see a decline in its unemployment rate, according to the CEMR projections that were included in Indiana University Kokomo's 2023 forecast for Kokomo.
That is a sharp reversal from the first quarter of 2021 to the second quarter of 2022 when the MSA saw nearly -2% annual employment growth and the county was often in the top three in highest unemployment rate in the state with unemployment rates ranging from as low 2.9% in December 2021 to as high as 6.9% in August 2022.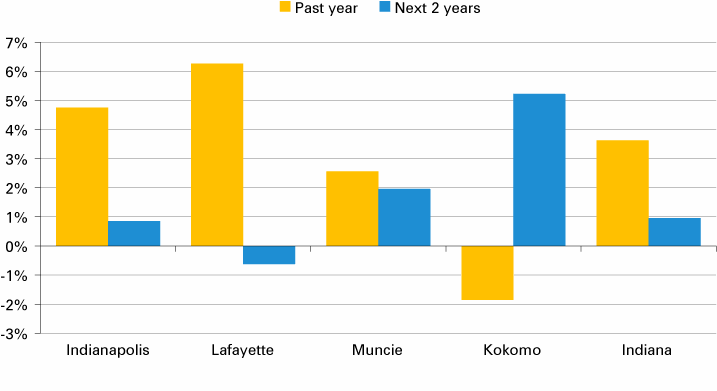 The county's December 2022 non-seasonally adjusted unemployment rate, the most recent available, was 4.3%. That's the second highest in the state, only behind Lake County's 4.4%.
According to the CEMR, the county's unemployment rate is expected to fall closer to 3% by the end of this year.
The model credits the investment by the joint venture between Stellantis and Samsung SDI, named StarPlus Energy, to build an EV battery plant on the city's far northeast side for the projected wage and employment growth even though the plant itself is not expected to begin operations until the first quarter of 2025.
That's because of the "multiplier effect," explained Dmitriy Chulkov, professor of economics and management information systems at IUK and author of Kokomo's 2023 forecast.
"A large business investment like this … means every dollar spent keeps being spent over and over in the community," Chulkov said. "People get paid construction wages first, then employment wages of this facility, and they go out and spend money on shops and restaurants, medical care, recreation and so on."
The plant is expected to have an initial annual production capacity of 23 gigawatt hours (GWh), with a possible increase to 33 GWh in the next few years, create 1,400 new jobs and will supply battery modulus for a number of Stellantis' domestic assembly plants.
Most notably, wages at the EV plant are pledged at an average of $32.07 per hour, or $66,705 a year assuming a 40-hour work week, by 2027. That is greater than the county's 2021 median household income of $59,238.
Because the Kokomo City Council approved 100% tax abatements for both personal and real property for the battery plant, it becomes important from a tax revenue generating perspective for as many of the plant workers to live in Howard County as possible.
When a worker works in the same county they live in, not only does that mean the worker will spend more of their disposable income in the county but the county will benefit from the income tax withheld from the worker's paycheck. That's because Indiana allocates income taxes based on what county someone lives in and not which county they work in.
That fact makes it not only important for communities to attract business but to develop communities people want to live in.
"It is important to diversify and make this city a diverse, inclusive and vibrant community because the engineers of this (EV) plant have a choice where they want to live," Chulkov said. "They may choose to live in Kokomo or might live in Hamilton County, for example."
WHERE'S THE DIVERSIFICATION?
While the IUK forecast pegs the $2.5 billion investment by Stellantis and Samsung SDI as a positive for the area, it also reinforces what has been known for decades: Howard County's economic health is still heavily reliant on manufacturing, specifically Stellantis.
The industry that has the largest percentage of county workers is manufacturing with 26%, according to the U.S. Bureau of Labor Statistics. The next highest is trade, transportation and utilities with 18% of the workforce, followed by government (which includes schools and hospitals) at 14%.
The percentage of workers employed in the manufacturing section is "relatively high" compared to other communities, according to Chulkov, and leaves the county vulnerable to the economic winds of the auto manufacturing industry.
"You don't want to be a single industry city because that is a lot of risk," Chulkov said. "The automotive industry, in particular, is risky. It looks like Kokomo is better positioned than most automotive cities with this new battery plant, but there's still a lot of risk in this industry."
Kokomo experienced firsthand that high risk in 2008 when Chrysler filed for Chapter 11 bankruptcy and eventually had to be bailed out by the U.S. government. The automotive crash paired with the economic crisis at the time led to a peak unemployment rate for Howard County of 20.6% in June 2009.
Local leaders for decades now have expressed the need to diversify the local economy but progress so far has been slow.
In 2021, the city of Kokomo was in the process of purchasing 140 acres to develop the city's first industrial park. Charlie Sparks, then-president and CEO of the Greater Kokomo Economic Development Alliance, said at the time he had a desire to see more recession resistant "non-durable goods" companies fill the industrial park.
"I think that would help diversify our economy and soften the blow during an economic downturn," Sparks said in December 2021. "I'd like to see us less dependent on Chrysler, not because of less Chrysler, but because we're able to attract other employers."
The 140 acres, and then some, is now the future home of the StarPlus Energy EV battery plant.
An industrial park for that part of the city is still in the works, though the scope is not as large as the original idea. Officials from the Alliance in October sought and received rezoning for a number of parcels around Touby Pike near the EV battery plant location to attract other suppliers for the battery plant and for a future industrial park.
MANUFACTURING ON THE DECLINE
Despite manufacturing investments garnering a lot of fanfare and large-scale announcements, manufacturing jobs both locally and statewide have been on a steady decline.
According to the Indiana Department of Workforce Development, Howard County has experienced a 19% decline in manufacturing employment between 2017 to 2021.
In real numbers, 12,110 were employed in manufacturing in 2017. In 2021, the most recent year where data is available, it was down to 9,806, a decline of 2,304.
So, if all 1,400 jobs at the EV plant came from new, unique workers, it would not be enough to replace the loss in manufacturing jobs the county has seen since 2017.
Chulkov said he expects there will be some job replacement in the new hires of the EV battery plant, meaning some of those hired to fill the open 1,400 positions will be filling other previously lost jobs from other area plants.
"I agree that some of the these jobs are already replacing other manufacturing jobs that have left, and we might see the same trend in the future," he said.
That all said, one positive is that local manufacturing jobs tend to be higher paying jobs.
The average weekly wage for a manufacturing job in Howard County is $2,247 as of the first quarter of 2022. That's an increase of 23.5% compared to the first quarter of 2021, according to the U.S. Bureau of Labor Statistics. Other industries seeing significant wage growth from that same time period were utilities (16.1% to $2,243 a week), health care and social services (12% $953 a week) and wholesale trade (13.6% to $1,349 a week).