Gone are the times when locally owned bait shops dotted Kokomo's business landscape. Places like Mal's, Martin's, Jack's, Bryant's, Hamler's, Alley Tackle, Mark's, S & S, Dave's and Jim's come to mind. This doesn't take into account the many mom and pop shops run out of back alley garages. Grabbing a bucket of minnows or a box of worms anytime of the day or night was an easy task. Also gone are all the guys you could see hanging out at these establishments.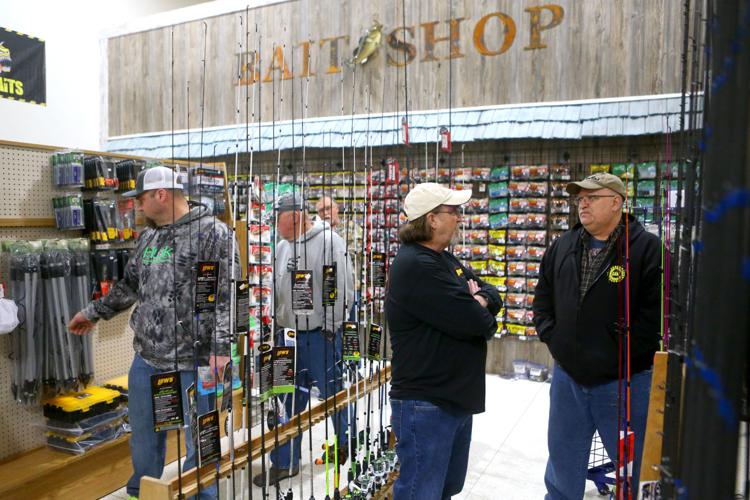 These special types of businesses represented much more than a place to buy fishing tackle. They offered first-hand information about area fishing opportunities. Every store seemed to have a table and old, worn chairs where people would gather. Kids and beginning anglers would stand close hoping to gather morsels of fishing knowledge. Each store had its own unique personality.
Several months back Kokomo's last remaining bait shop went the way of full service gas stations. But that will change beginning this week. SoreMouth Tackle, Kokomo's newest and only full-line tackle shop, will open its doors to the public, beginning today. The store will be located in the front of the Kokomo Event and Conference Center, 1500 N. Reed Rd.
The new business is the brainchild of Aaron Hochstedler. Since 2009 the Greentown resident and his wife Angie have operated a fishing tackle business where they sold product at outdoor trade shows several times throughout the year.
Before his passing their friend Mike Delagrange had encouraged them to open a brick-and-mortar business.
"I've always thought about since he mentioned it," Hochstedler said. "Then, when our last tackle shop closed I really felt bad for local fishermen."
As luck would have it, a chance meeting with Vernon Graves, his son Vernon Graves Jr. and daughter Tricia Frazier, owners of the Event Center, started a chain of events that would lead to obtaining space in the well-known facility.
"The Graves were great to deal with," Hochstedler added thankfully. "It all just seem to come together."
According to Graves, they were happy to provide retail space for the new business. "We are definitely honored to have the new tackle shop in our facility," he said.
Another big asset the location provides is ample parking. "You could have a handful of people pull in towing boats and there would still be plenty of space," said Hochstedler. That's an understatement considering the parking lot is measured by acres rather than spaces.
There were months of planning involved before the doors opened. Hochstedler knew taking on an endeavor like this would require a great amount of dedication and time. Luckily for him, area anglers Jason Kiser and Ty Kendall have purchased an interest in the fledgling business. Since then nearly every day is spent preparing for their Grand Opening. The three owners, besides having families, also hold down full time jobs. "With three of us as partners will hopefully give us a little personal time," said Hochstedler. "Both Jason and Ty bring a lot to the store and I am very thankful for their involvement." "I'm proud to be part of this, "added Kendall. "I think it will be good for area fishermen and the community."
Walking in to the store stands an impressive display of equipment and terminal tackle. Artificial lures of nearly every make line the walls and shelves. Racks are filled with hundreds of rods, almost resembling skinny soldiers standing sentinel. Display cases are filled with every type of fishing reel for the pro angler to the child. They will also carry a line of live bait including minnows, worms and beemoth. "If we have an interest in a certain type of live bait we will try to carry that as well," the owners added.
SoreMouth Tackle is hosting its grand opening today from 6 a.m.-5 p.m.. Store hours are: Wednesday and Thursday 5:30 a.m.-5 p.m.; Friday and Saturday 5:30 a.m.-6 p.m.; Sunday 5:30 a.m.-4 p.m. The store will be closed Mondays and Tuesdays.
Although online stores and mega marts may provide fishing tackle, they don't provide the camaraderie that evolves at places that sell hooks, bobbers and sinkers individually, below rows of pegboard shelves and the sound of gurgling minnow tanks and chirping crickets. And the table where people gather around sharing fishing knowledge for free.
BASS CLUB BEGINS TOURNEY SEASON
A strong contingent of City of Firsts Bass Club anglers descended on Lake Lemon for its first tourney of the season. Calvin Fitch and Dave Parkhurst ran away from the field taking first place with five largemouth bass dropping the scales at 18.1 pounds. Parkhurst also landed the big bass award with a fish nearly hitting the five-pound mark. Second place went to Jim and Josh Petrowski with two fish weighing 4.13 pounds. Rob Armstrong and Stan Rebber snagged third with one fish tipping the scales at 3.6 pounds.