PERU – When John Cardwell opened Hidden Creek Campground three years ago, he thought it would take at least four years before all of the facility's 137 camping sites would fill up for the season.
Then the COVID-19 pandemic hit. That changed everything.
Cardwell said within a few weeks of opening the members-only seasonal campground north of Peru, every single camping site had been booked for the season. In fact, he already has a waiting list building up for next year's season.
"My phone is ringing off the hook with people calling and trying to get in or signing up for next season," he said. "I've never seen the demand this high before. COVID has definitely sped up our business."
It's the same story at campgrounds all around the area, which report a huge uptick in traffic as people look to escape to the great outdoors as a safe way to travel and socially distance during the pandemic.
"People don't want to stay in hotels and fly on airplanes, but they still want to get out and do something with the family," Cardwell said. "They feel like they can do that in a safer way at a campsite."
Theresa Rody, interpretive manager at Mississinewa Lake, said the state recreational area has also seen a dramatic increase in the number of campers coming this year.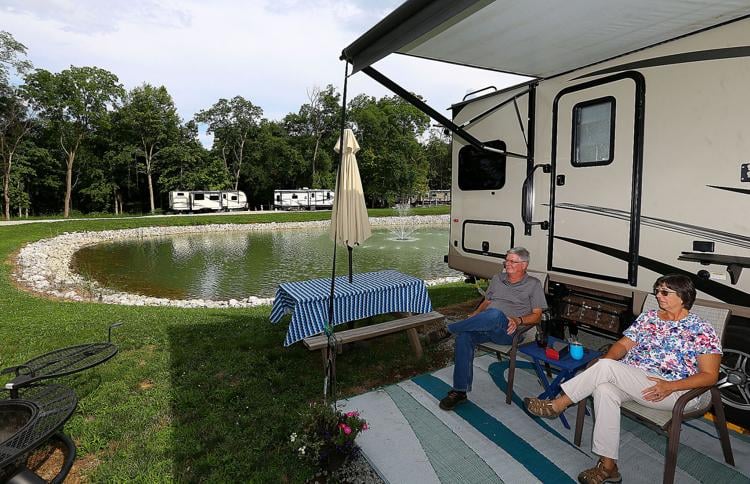 She said during most seasons, the camping areas are completely booked up only a few times a year, mostly during holiday weekends. This year, the nearly 500 overnight camping sites at the lake have been booked up almost every weekend.
On top of that, Rody estimated up to 40% of those people are first-time campers looking for a safe way to get outside and do something fun in the midst of the outbreak.
"I think people are hesitant of traveling to other states where you don't know what's going to be open or what you're allowed to do, so this is a way to stay close to home and enjoy time with the family," Rody said.
Bob Billetz, owner of Honey Bear Hollow Family Campground, said the maxed-out camping at Mississinewa Lake has led to a boost at his facility located northwest of Peru.
"Most people around here, the state park is their first choice," he said. "If they can't get in there, they'll call us and see what's available."
And on most weekends, there isn't much available. Billetz said he has been operating at no more than 75% capacity in order to keep campers apart, and he has reached his limit on campers on most weekends.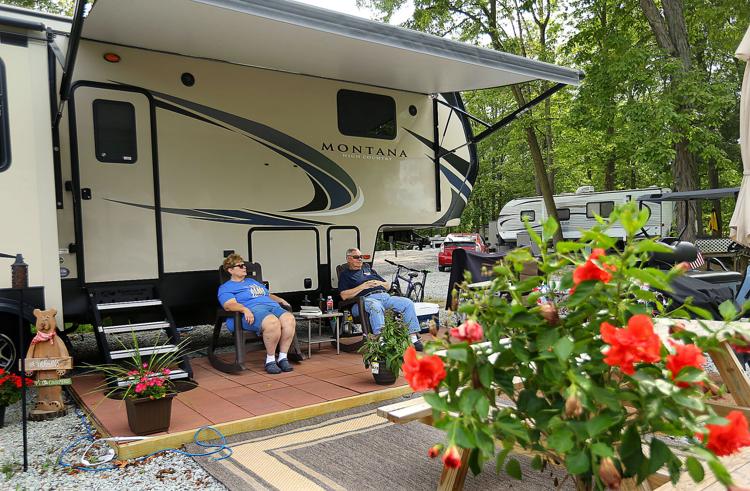 "People have been pretty well conscientious about staying apart from each other," he said. "Being in a campground, the whole idea of social distancing plays well with people."
But the trend goes further than the surge in camping. Outdoor activities at campgrounds, such as boating, fishing and hiking, have also seen a huge spike.
Billetz said his facility has been flooded with people coming to play on the campground's disc-golf course, which is located on more than 20 acres of thick, hilly woodlands. The course was installed in 1978, making it one of the first five to be built in the country.
Ron Geyer, owner of Springhill Campground in western Howard County, said his four overnight camping spots have been booked solid almost every weekend, but the biggest trend at his property is the crowds showing up to fish at the campground's pond, which costs $8 to use for four hours.
He said he's been allowed to keep the pond open throughout the entire pandemic, and it's been "gangbusters" all season long.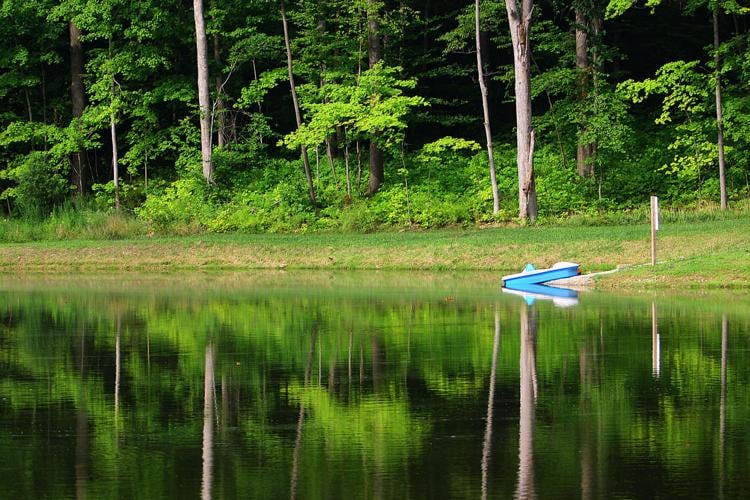 "When people couldn't go to the bowling alleys and bars and casinos and figured out they could go fish, they started fishing," Geyer said. "A lot of them have taken to it and have been coming back even when they could go other places."
Mississinewa Lake's Rody said beyond packed campgrounds, the park also has seen a huge uptick in the number people boating, kayaking and playing disc golf at the park.
But the increase in traffic has been a double-edged sword for many campgrounds.
Rody said with huge crowds at the park every weekend, it's been a challenge to stay on top of maintaining the grounds and keeping the property in tip-top shape.
And, of course, there's still the pandemic to consider.
Hidden Creek's Cardwell said even though camping is a good way to social distance, having packed facilities means campers still need to take precautions to avoid spreading or contracting the virus.
"At the campground, people tend to forget about COVID because everybody's enjoying the outdoors," he said. "But we do have to remind people about the virus and to be mindful of hygiene and social distancing and staying home if they don't feel well."
The pandemic has led to the increased interest in camping this year, but campground owners don't believe the trend will end once the outbreak is contained.
Rody said for starters, people who purchased new RVs or camping gear will want to use their high-ticket items at least a few more times. But more than anything, she thinks once people get a taste of camping outdoors, they'll be back year after year.
"I think people are discovering we have these gems right here in our state, and they'll want to spend more time enjoying them," Rody said.