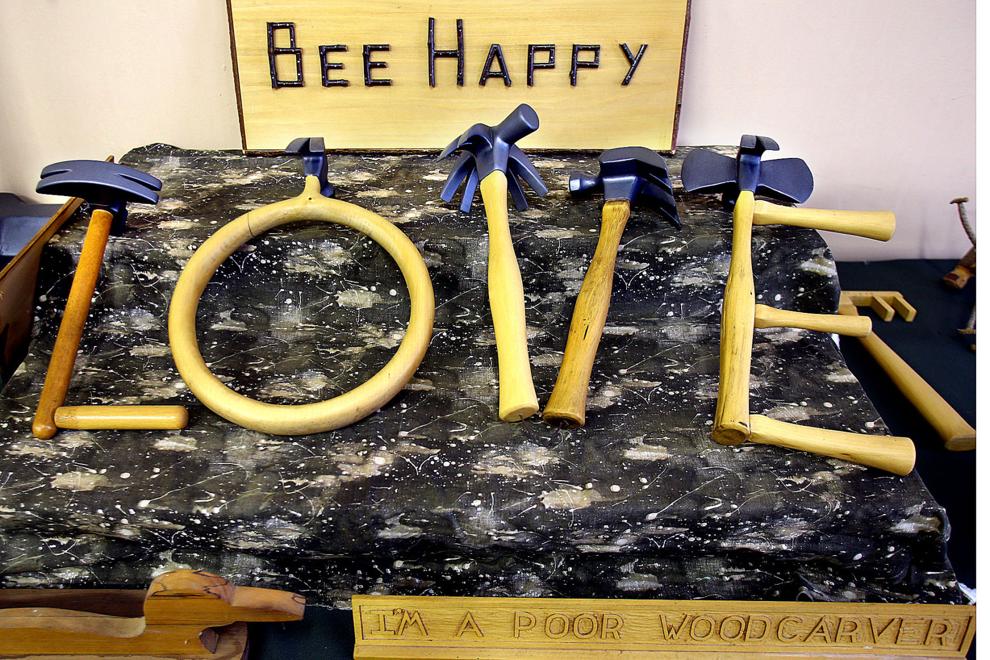 CONVERSE – There's a room in Converse that's filled with hammers. Hundreds and hundreds of them. But the room isn't in a tool shop or hardware store.
It's on the second floor of the three-story building that's home to the Eastern Woodland Carvers Club.
And that's the perfect place for them, considering they're all made of wood.
Wooden hammers. All carved, sanded and painted by hand. They're all different. Most of them border on the strange, and some are outright weird.
And they're all on display in what's become known as the "hammer room."
Gary Freeman, a member of the carvers club who serves on its board, said it's a kind of museum that you have to see to believe.
"You tell people we have a hammer room, and they don't have a clue what you're talking about," he said. "You have to see it to understand it."
It's almost sensory overload when you walk into the room. Hammers are everywhere, and they're all unique.
There's a hammer with nine heads on it instead of one. There's a hammer that's curved so you can nail around corners. One has a hammer-head shark on the end. Another one has a handle that's made from walnut shells. There's one that's a few feet tall and looks like a sledge hammer.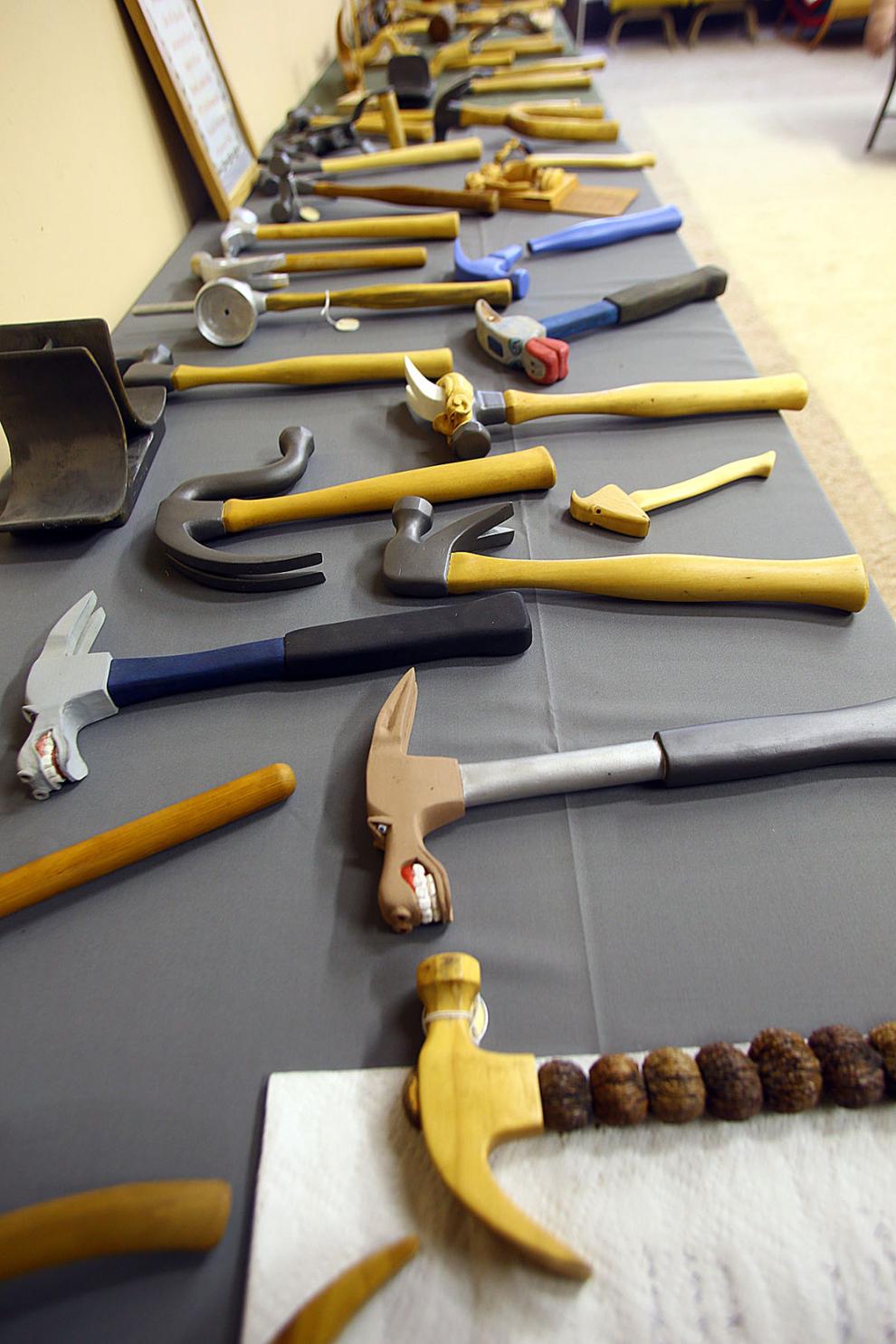 And that's just the tip of the iceberg.
But before you can understand what the museum is all about, you have to understand the man who created the hammers – all of them.
His name was Dale Brosman. To those who knew him, he was the "Hammer Man."
Brosman lived his entire life in Brown County, and he spent a good chunk of that life doing woodcarving. His specialty was carving wooden hammers.
Freeman and other members of the carvers' club first met him in the early 1990s at a carving show. The crew was fascinated by his creations, and asked him if he wanted to come to one of their shows up in Converse.
Brosman agreed, and after that, he ended up joining the Eastern Woodland Carvers Club and making the drive up for every one of its big carving shows held in July.
Freeman said Brosman was a one-of-a-kind guy with a twisted, left-field sense of humor. He fit right in at the club.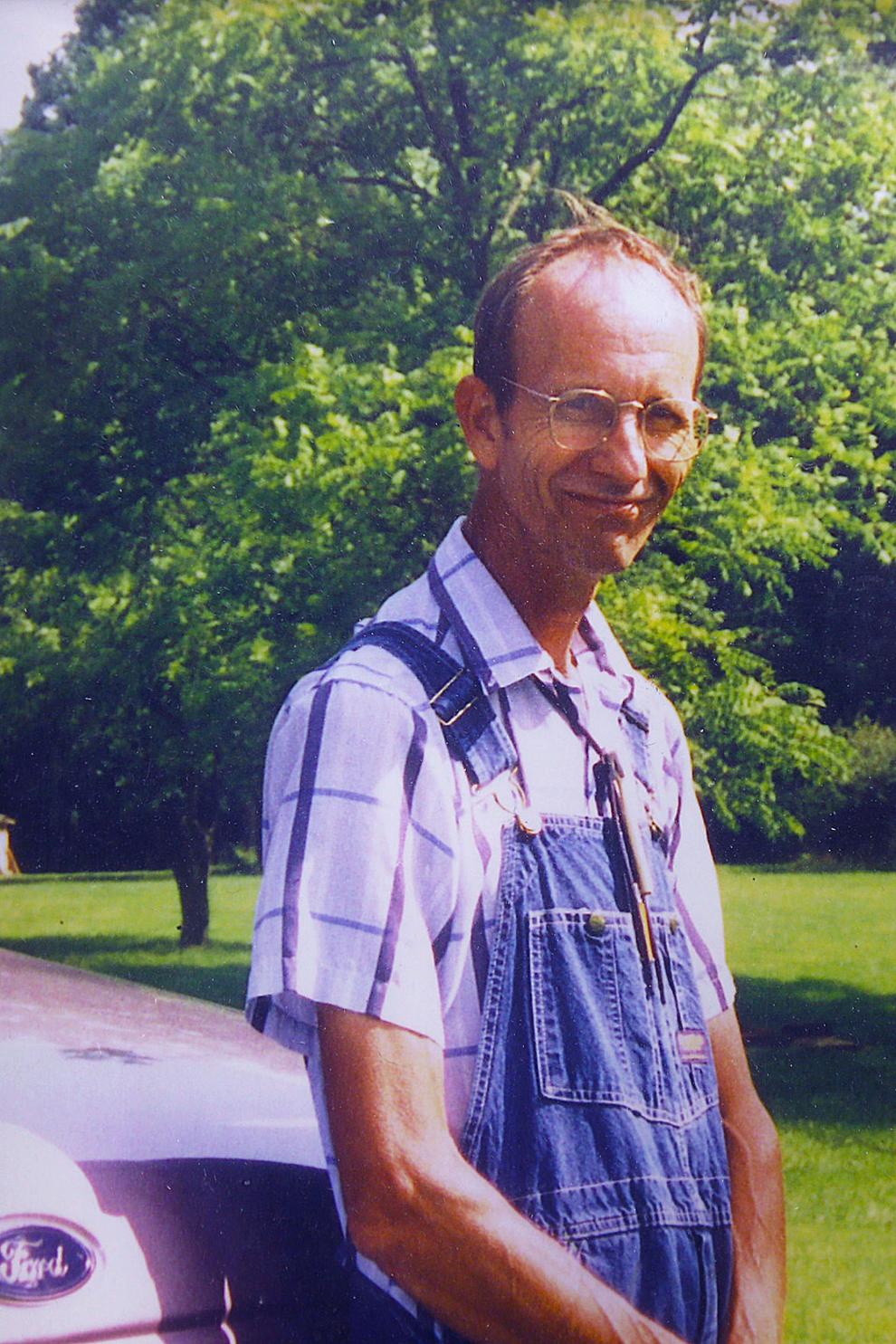 "He was a laid-back hillbilly," he said. "He was skinny as a rail and smoked way too much. And that's what did him in."
Brosman died in 2005 from lung cancer. But before he passed away, he asked Freeman and other members of the Eastern Woodland Carvers Club a question: If he left all his hammers to them in his will, would they put them on display?
Of course, the club members agreed. Not long after that conversation, they received a phone call that Brosman had passed away. And just like he'd said, he left all of his wooden-hammer creations to the club in Converse.
A group drove down to Brown County, where Brosman had all the carvings on display inside a barn he was given in exchange for cutting firewood. They packed a horse trailer full with his hammers, and drove them back to Converse.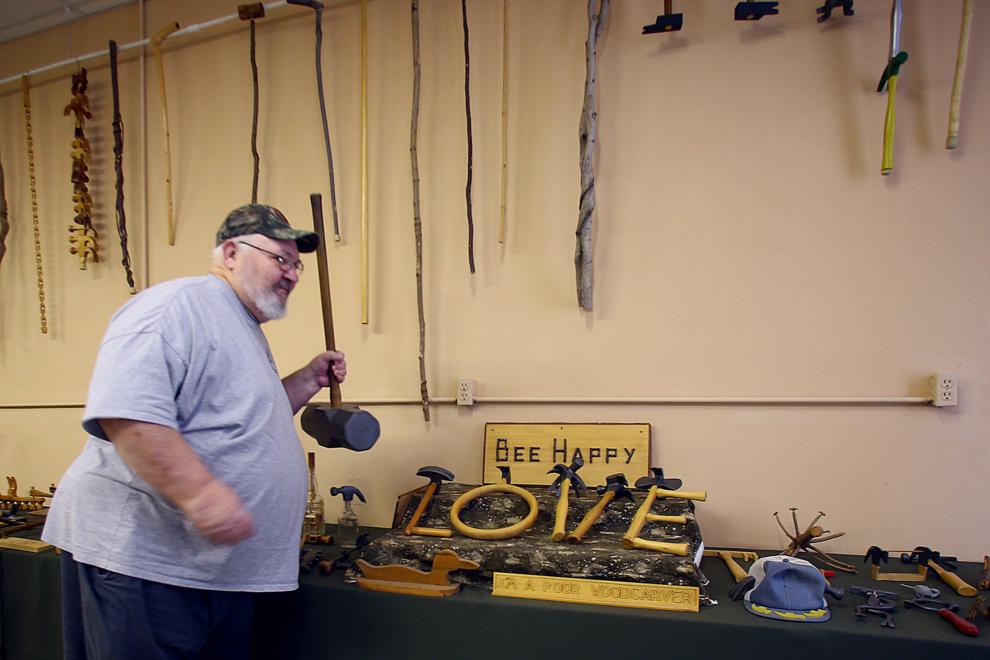 Not long after that, the carvings were on display on the second floor of the building, and the hammer-room was born.
There's a lot going on in the museum, but what ties it all together is the subtle tongue-in-cheek wit that Brosman brought to the carvings.
"The man had a sense of humor that was out-of-this-world," Freeman said. "It was twisted. Just look at his hammers."
A good example is the one with "Indiana University" carved in the handle. It's painted gold and black – the colors of Purdue.
Then there's the hammer that's carved from poison ivy.
"You hand that to somebody and they take it and you tell them, 'Yeah, that's made out of poison ivy,' and they're like, 'Ahhhhh!'" Freeman said. "They don't realize it's the oil in it that makes you break out. These hammers are perfectly safe … He got a kick out of stuff like that."
Maybe the most morbidly funny piece is the hammer with a coffin on the end of it. Open it up and you find three cigarettes inside. Brosman was poking fun at the very thing that killed him.
Although most of the room is filled with wooden hammers, there are other pieces that highlight just how talented of a carver Brosman was.
The museum has a few mechanical pieces in it where you turn a level to make a hammer go up and down or do some other kind of trick.
There are also a number of chains that he carved link by link.
One corner of the room is dedicated to the miniature outhouses Brosman carved, some complete with small, wooden toilets inside. He constructed one outhouse inside a glass bottle – his take on building a ship in a bottle.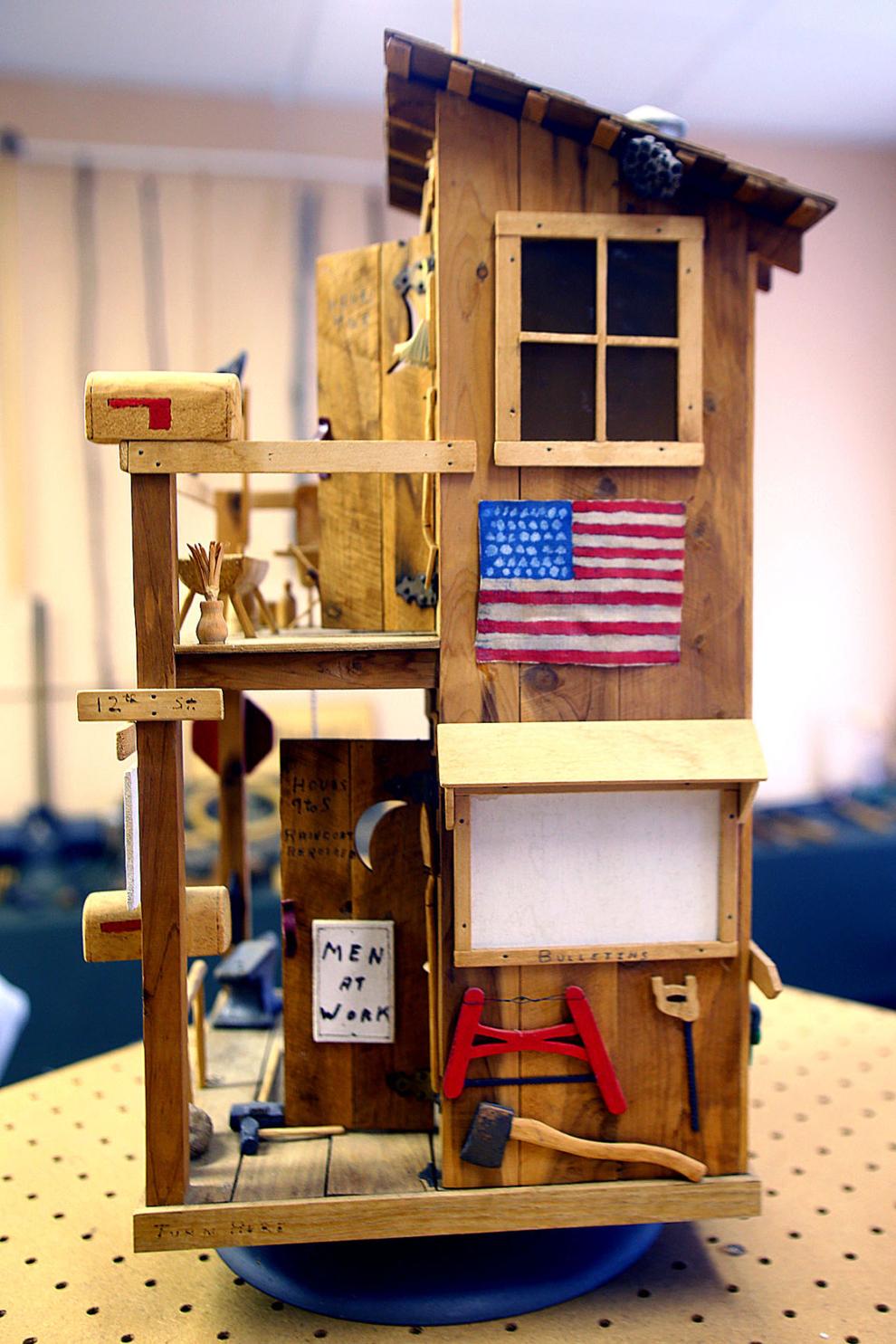 "Some of these carvings are really hard," Freeman said. "But for a lot of them, it isn't the carving that's the hardest part. It's thinking it up in the first place."
The hammer room has existed for over a decade now, and in that time, it's gained a level of notoriety within carving circles around the country.
That's despite the fact that the club doesn't advertise the room. They just show it to whoever happens to show up to one of their shows, workshops or meetings they hold throughout the year.
But enough people have seen the hammer room now that it's gained a small amount of popularity just from word of mouth.
Freeman said he's been at a carving show in Cincinnati, Ohio, when someone saw he was from Converse and asked, "Hey, isn't that the place that has the hammers?"
He said although Brosman is gone now, he'd love to know that his wooden hammers are getting some attention and gaining a reputation. After all, that's why he gave them to the Eastern Woodland Carvers Club in the first place.
"He knew that we'd show them to people, and I'm sure he's happy with this room," Freeman said.