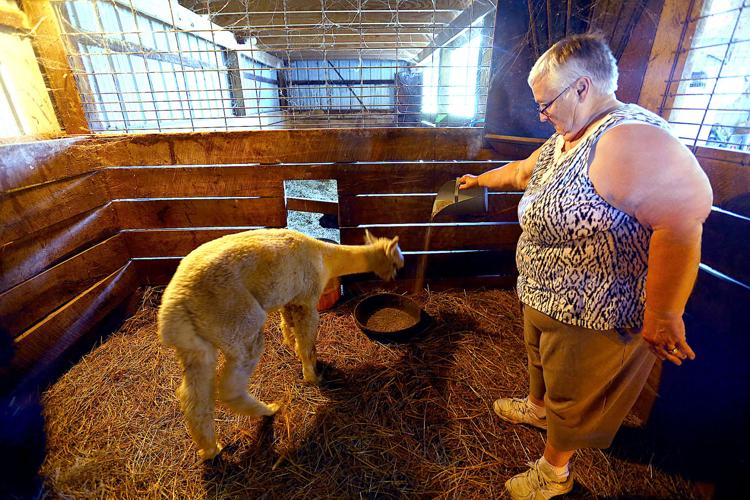 PERU – Most people look forward to retiring soon and taking it easy when they turn 60. But not Andrea Hammersley.
When she turned 60, she bought a pregnant alpaca and two other young alpacas, and launched a whole other career while still working as a medical technician.
Today, the 74-year-old has retired from the medical profession, but she's working as hard as ever running her farm north of Peru called Circus City Alpacas.
Now, those three alpacas she bought 14 years ago have turned into 30 – with six more babies on the way. And Hammersley has turned what started as an intriguing experiment into a full-on business.
Once a year, she hires someone to sheer the animals, and then turns most of the fur – known in the industry as fiber – into a slew of products she sells inside a small building called the Fiber Barn.
There are hats, scarves, gloves and other clothing all made from the astoundingly soft alpaca fiber. It's that downy softness, along with its ability to keep wearers warm in the winter and cool in the summer, that makes the fiber so desirable to customers.
The other side of the business involves breeding and selling alpacas to anyone interested in buying them. In just the last year-and-a-half, they've sold seven of the animals. They also breed other farmers' alpacas using the males in their herd.
And then there's the meat side of the farm. Hammersley said she culls her herd about every year, when some of the animals are butchered and turned into jerky, sausage or ground meat that they store in a large freezer on the property.
She said most people haven't tried alpaca meat, which tastes like a mild beef, but when they do, they usually like it.
"It's very healthy with lots of protein and lots of iron," she said. "But it's not greasy. We use the ground meat just like hamburger."
Hammersley may be running a successful farm these days, but there was no guarantee her venture into alpacas would go anywhere when she first decided to buy a few animals in 2005.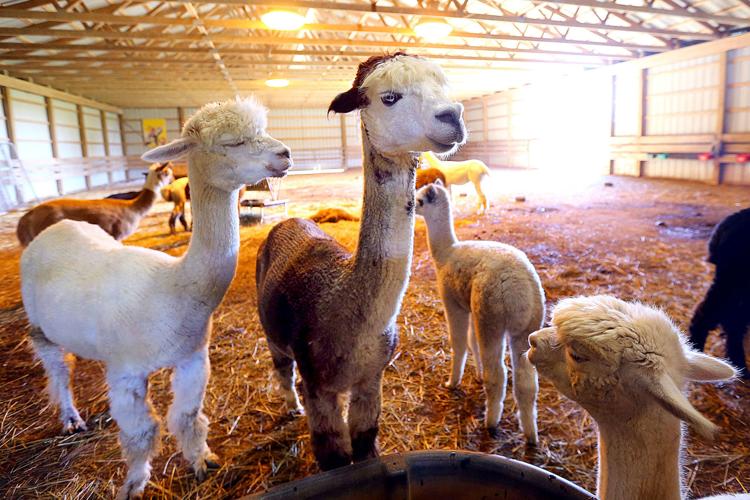 "I didn't know anything about alpacas when I bought them," she said. "But I don't ever do anything on a small scale, as a general rule. I had in my mind that I wanted to raise them, but I just didn't know how long it would take, or if we would even like them."
The idea to start an alpaca farm came from her grandpa, who once owned guanacos, which are wild animals native to South America that are similar to alpacas.
Hammersley also had a lifetime of experience raising and breeding horses. She started working with the animals when she was just 2 years old, and ended up owning a good number of them that she turned into a small business while she worked as a medical technician.
But, Hammersley said, she quickly learned that alpacas aren't quite like other animals she'd been around. The biggest difference is that pregnancies last 11-and-a-half months. That means it takes a long time to build and breed a herd with good fiber.
Now, though, Hammersley knows just about everything there is to know about the animals. In fact, she currently serves as the president of the Indiana Alpaca Association, which promotes ethical conduct in the alpaca industry and public awareness of and interest in the animals.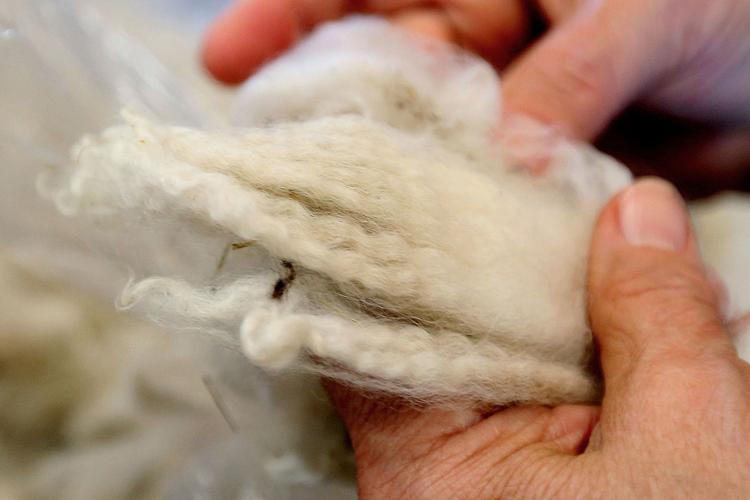 And in February, Hammersley received her master's certification to sort, grade and class alpaca fiber. The certification took over two years to complete and came from the State University of New York.
"The main point in doing the certification when I started was to know what kind of fiber I had here with our animals," Hammersley said. "Most people don't know. They just think they're cute, but they don't know if they've got good fiber or bad fiber."
Today, she uses that knowledge to teach others about alpacas during private tours of the 77-acre farm she owns with her husband. About 17 acres of that are used for the alpaca business. Hammersley said they usually get a call once a week from a family or group who wants to take a look at the farm.
While they're there, the groups get to meet Hammersley's two donkeys, 30 chickens, a mule and some horses that also call the farm home.
They can also see some rare, one-of-a-kind circus posters that her son in-law recently came across inside a tool box. One massive poster depicts a scene of lions, tigers, trapeze artists and other acts that were part of the Cole Bros. Circus.
And the posters are a perfect fit with her farm. After all, Hammersley used to train some of her horses to perform in the annual Peru Amateur Circus, which is running this week. During the act, she would lead the horses around the arena under the Big Top in downtown Peru while kids performed tricks on top of the horses' bare backs.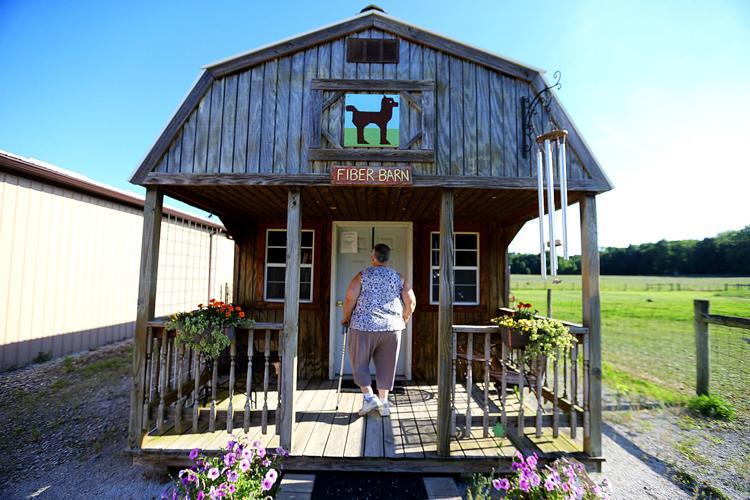 Hammersley said she did the act for about seven years before giving it up once she started the alpaca farm. But the experience gave her the perfect name for her new enterprise – Circus City Alpacas, which pays homage to Peru's catch phrase as the "Circus Capital of the World."
Today, Hammersley can be found feeding and watering the animals outside in her large barn every day. She said she plans to keep her herd around 30, which is a manageable number for one person.
And although she operates her farm as a business, the real joy of working with alpacas doesn't come from earning a profit – it comes from the animals themselves.
"It's fun," Hammersley said. "The animals are very entertaining. They're just hysterical. The little ones get to running and playing and acting nuts. They're just too funny."