When Jerry Heady walked into the ER at Ascension St. Vincent Kokomo on April 4, he didn't think he'd be walking out again.
Heady had COVID-19. His chest was tight. He couldn't breathe. And he thought he was a dead man.
"When I walked in there, I thought it was my march of death, my last trip," Heady said. "I didn't think I was coming out of that hospital. I really didn't."
The 64-year-old Kokomo man ended up on a ventilator for 12 days, totally incapacitated and oblivious to what was happening to him. For 12 days, Heady fought for his life. A few times, he was close to dying.
"The nurses told me I should be glad I don't remember, because they were throwing all kinds of drugs at me and trying different things to keep me alive," he said.
But on April 17, Heady came off the breathing machine, becoming the first COVID-19 patient on a ventilator at St. Vincent to recover from the virus.
And on Sunday, four weeks after leaving the hospital, Heady finished up his physical therapy and other exercises, marking a full recovery from an illness that has killed more 1,700 people in Indiana and over 90,000 in the U.S.
"I'm totally amazed I'm alive," he said. "It changes your perspective on a lot of things. Things that used to be important don't seem so important anymore."
50/50 CHANCE
When Heady went to see his doctor on March 14 for a bad cough, the idea that he could have COVID-19 didn't even cross his mind. He didn't exhibit any other symptoms, so he was given some medication for bronchitis and sent home.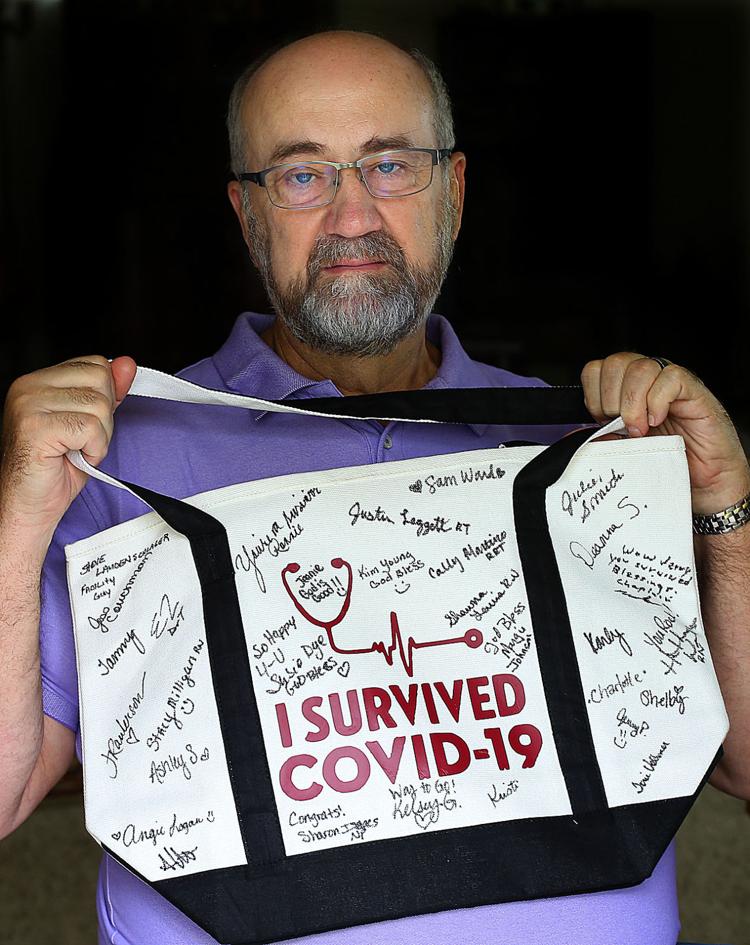 "All I had was a bad cough," he said. "No other symptoms. No other problems … I have no other health issues, and never have, besides bad knees. I had nothing that would put me at that high-risk category other than my age."
After the doctor's appointment, Heady felt better for a while. But two weeks later, he took a turn for the worse. His cough was still there, and now he was also struggling to breathe. Heady went back to the hospital, where they put him on oxygen and kept him overnight for observation. They also decided to test him for COVID-19.
The next morning, his heart was stable and his oxygen levels were good, so they sent him home with an oxygen machine.
Then, on Tuesday, Heady received the call. His COVID-19 test had come back positive.
"I was a little apprehensive. There was some fear," Heady said. "I heard stories that some people just had mild versions and some get hospitalized for a couple days and, of course, a percentage were dying. I was just hoping I had a mild version. But it turned out to be a little more than mild."
For a few days, Heady stayed hopeful that his case wouldn't be too bad. But that hope evaporated on the following Saturday, when his chest felt tight and he couldn't breathe, even with his oxygen machine cranked to the highest setting.
His wife, Brenda, drove him to the emergency room. For nearly three weeks, the two had self-quarantined from each other at home and tried to avoid getting too close. At night, Heady slept on a recliner while Brenda slept in their bed.
When they arrived at the hospital, they didn't kiss or hug goodbye.
And when Heady stepped out of the car, he figured it was the last time he'd ever see his wife.
"We knew there was a possibility going in that the last time she would ever see me was when she dropped me off at the ER on Saturday," Heady said. "I didn't get to kiss her goodbye because I was positive and didn't want to take a risk. I thought, 'What a way to go and leave her behind.'"
But Heady had arrived at the ER in the nick of time. His heart was fluttering out of control, and doctors had to shock it to get it back into rhythm. His oxygen levels were plummeting even though they had him hooked up to an oxygen machine turned on high.
So on Sunday, Heady's doctor gave him an ultimatum: go on a ventilator, or face almost certain death.
"He said, 'If we continue with this, you'll probably be gone by the end of the week,'" Heady said. "'Or we can put you on a ventilator, and you'll have a 50/50 chance of surviving that.' I figured 50/50 was better than four days."
Heady called his wife and two kids to tell them the news. That same day, he was put under and placed on a ventilator, and for the next 12 days, Heady knew nothing.
What he would have seen if he were awake were doctors and nurses working around the clock to keep him alive.
Margaret Johnson, president of St. Vincent Northwest Region, said hospital staff did everything they could to help Heady as his condition remained touch-and-go, forcing him to remain on the ventilator for much longer than most patients.
"He was here a long time," she said. "Anyone on a ventilator for the number of days as he was, as a positive COVID patient, is very sick. We were all very, very worried about him."
Heady also didn't know that as he lay unconscious, his wife was calling the hospital twice a day, every day, at 5:30 a.m. and 5:30 p.m., to find out how he was doing and how doctors were treating him. She was also sending out daily text updates to all their family and friends.
His co-workers and family had also reached out to churches all around the country in places like Kansas, Ohio and Illinois to pray for him.
But whether Heady would make it remained unknown. He said he was told doctors on three occasions tried to take him off the ventilator, but his blood pressure would spike and force him to remain on the machine.
RECOVERY ROCK STAR
Finally, on day 12, Heady went off the ventilator and was able to breathe regular air on his own without his blood and oxygen levels going haywire.
Gradually, he regained consciousness. The first hour he was awake, Heady was hallucinating and thought he was in a hospital in Mexico. He also thought the nurses had stolen his wedding ring.
"Bless their heart, the nurses just took all my accusations," Heady said. "I was pretty indignant for about an hour."
He spent the next couple of days in the intensive-care unit, where he began physical therapy to rebuild his fine-motor skills, which had been seriously damaged while he was comatose. Heady said he couldn't hold a spoon to feed himself, and it took him 10 minutes just to sign his name.
"Sitting there at 64 years old and having a 25-year-old nurse feeding you, it makes you feel like a baby," he said. "It's things like that you take for granted."
Heady ended up making a quick recovery that surprised even the doctors. Just four days after being removed from the ventilator, staff said he was strong enough to head home.
But before he left, there was one more surprise. When nurses wheeled Heady from his room on the fourth floor, around 30 hospital staff lined the hallway to cheer him on. When they got off the elevator on the first floor, another huge crowd greeted him with clapping and cheering.
"I figured I was just a patient with a problem, and the hospital got me through it and I was just another patient going home," Heady said. "But when I saw them all clapping and cheering, I thought, 'Man, I guess this is a big deal.'"
And it was a big deal, said St. Vincent president Johnson.
"We were all so excited when he started getting better and then actually tested negative for the virus before he left," she said. "We called him our rock star. It's a really hard time for our staff, so it's just an uplifting experience for all of us."
But the best surprise of all was at the end of the hallway, where his wife, Brenda, waited to give him a hug for the first time in weeks. Heady said when he saw her, his emotions "went all over the place. It was just surreal."
Heady has been home now for nearly four weeks and is doing well. He said he can walk a mile-and-a-half and not get too winded, and he started back at his job last week working remotely from home.
Things are getting back to normal, he said, but in a way, his life will never be normal again. That's because nearly dying from COVID-19 has changed him. He used to work 11 to 12 hours a day at his job in downtown Indianapolis, but work doesn't seem so important anymore.
"I give an honest 8 hours because I want to spend more time with my wife and kids and grandkids and brothers and sisters," Heady said. "Work's not everything. Money isn't everything. I'm getting close to retirement and we've got plans we want to do, and I almost missed that opportunity. Now, I have a second chance."
And as stores and restaurants begin to open and more people are going out, Heady worries it may be happening too soon. As someone who knows exactly how bad COVID-19 can be, he doesn't want anyone else to have the same experience.
"Right now, there are too many people out there that just don't seem to care," Heady said. "They don't realize how bad this can be and how it can take everything from you."
Now, as things begin to gradually reopen as the number of cases begins to level off, Heady has one message for the world: The virus is still here. Take it seriously.
"Do social distancing," he said. "Wear the mask. Wash your hands. Use disinfectant. Because, man, if you get it, it could be the last thing you ever get. This is not a joke or a hoax. It's real and it's deadly."