Heritage Lanes owner David Small said business was booming earlier this year. He said revenue at his five bowling alleys, including the one in Kokomo on West Lincoln Road, was up around a quarter-million dollars compared to last year.
Then COVID-19 hit, and sales came to a screeching halt on March 16, when the bowling alleys closed.
"When it stopped, it totally stopped," Small said. "We went from averaging $300,000 a week to nothing. That's a very challenging pill to swallow."
But hope returned last weekend when Heritage Lanes joined other entertainment businesses and bars around the city in reopening, as part of Gov. Eric Holcomb's second-to-last phase in restarting the economy.
Bars, entertainment venues, movie theaters and similar sites were the last businesses allowed to reopen in Indiana. They can now operate at half capacity until July 4, when all businesses are allowed to operate at full capacity.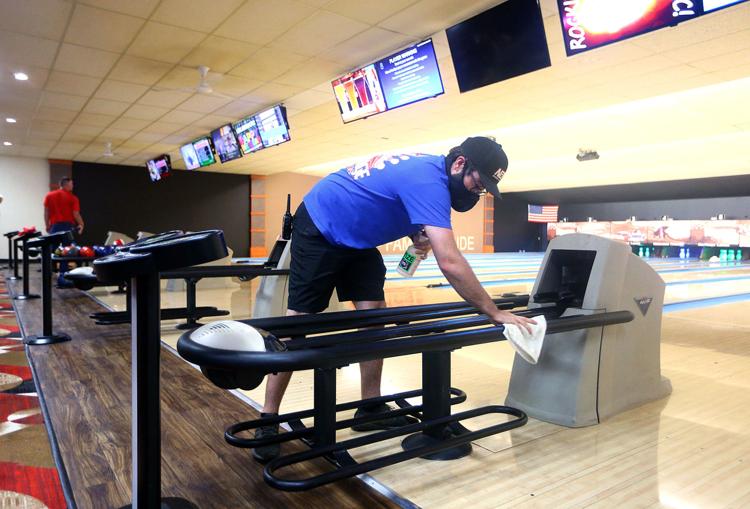 Now those establishments are hoping area residents are ready to get out and start spending their entertainment dollars to help offset the devastating losses they've racked up without any revenue in the last three months.
Small said his five bowling alleys lost in total around $2 million since March, which is one of the best months of revenue. He ended up laying off 120 of his 144 employees during the shutdown, but has since brought back around 40 workers since reopening.
Small said federal stimulus money provided enough of a cushion to stay open, but now he's banking on patrons coming out to bowl to keep his business afloat.
"With so many people rearing to go and ready to get out there, I think we'll see the business come back," he said. "It's going to take a little bit longer, but I think we'll see it come back."
At City of Firsts Adventure Park, 409 Arrow St., a steady stream of customers came out on Sunday to play putt-putt golf, race go-karts and hit some balls in the batting cages. Owner Robyn Gonzales said on Tuesday, people were actually lined up at the door, waiting to get in before they opened at 3 p.m.
"We were busy all day," she said. "It was a very good day. We were really blessed to have a good week with lots of sunshine and no rain."
Gonzales said it was encouraging to see crowds come out and have some fun, especially considering that during the shutdown there were real worries they may have to permanently close after just opening the business last July.
She said they had planned this year to open for the season in April to get a jump on revenue, but those plans fell to pieces after the COVID-19 outbreak.
"We really wanted to get things going earlier this year, because it's tough to accumulate enough revenue to get us through the winter," Gonzales said. "It was pretty devastating, and it still is."
She said not only did they lose revenue, but operating costs have also increased since reopening, including buying more cleaning supplies, and having more employees than normal on site to keep things sanitized throughout the day.
"I think people are ready to go out, but people do have to feel safe," Gonzalez said. "If they feel safe, they'll come out."
John Meeks, commander of the Veterans of Foreign Wars Post 1152 on North Washington Street, said his establishment, which survives on gambling revenue, was also on the verge of permanently closing. He said the shutdown hit at the prime bingo season, and they ended up losing around $100,000.
The group even had to sell their truck just to have enough money to pay the bills. Donations from local businesses and VFW members also helped them stay open and keep the lights on.
But Monday provided a glimmer of hope when around 100 people showed up to play bingo for the first time since March, finally bringing some money into the venue's empty coffers.
"It definitely put a smile on my face – even though you couldn't see it because I was wearing a mask," Meeks said. "It was great. Like any business, you count on the public, and they definitely came through."
But the group's financial loss will have a ripple effect beyond just the local post, which usually gives away scholarships, sponsors a Little League team and hosts other veterans' programs. Now, that will all be drastically reduced due to a lack of money.
Even so, Meeks said, the post is staying positive and hoping gambling revenue will at least be enough to stay open this year, and allow them to bring back their charitable giving next year.
"Hopefully, next February, we can go full guns and get back to where we once were," he said.
Now, entertainment establishments around the city are focusing on promoting social distancing and sanitation guidelines to make customers feel as comfortable as possible.
Heritage Lanes owner Small said even once restrictions lift next month, his bowling alleys will continue their new sanitation policies for house balls and shoe rentals.
"I think that's the smart thing to do. I don't want to be contributing to the problem," he said. "People are still a little nervous, but we want them to know that we're ready, we're clean, we're following all guidelines, and we want them to come and have fun when they're ready."
City of Firsts owner Gonzales, who is a retired nurse, agreed. She said she wants families to come to her venue and have a good time. But more than anything, she wants to ensure everyone stays healthy and safe as entertainment businesses reopen.
"We feel like people are ready to get out, but we still have to be careful, and we know that," Gonzales said.