For the first time in over two months, around 1,500 employees on Tuesday returned to the Fiat Chrysler plants in Kokomo and Tipton, where COVID-19 safety protocols have changed the face of the workplace there like no other time in history.
Rick Ward, president of United Auto Workers 685, which represents the plants in Kokomo and Tipton, said at the Kokomo Transmission Plant, workers lined up Tuesday morning to wait their turn to head into the facility, where thermal imaging cameras took everyone's temperature.
"I was really impressed," he said. "It was really well organized … It all went pretty smoothly."
Inside the plants, protective barriers were set up at work stations, and social distancing guidelines were implemented to keep workers apart, Ward said.
Employees are now required to fill out a self-screening health risk assessment every day, as well as doing a temperature check. Masks and safety glasses are required for everyone in every plant.
The company has also implemented staggered start times and added time to breaks and lunch to minimize large gatherings. The company said 10 minutes will be dedicated to cleaning and disinfecting workstations at the start of each shift, and enhanced cleaning and disinfecting schedules have been developed for common and high traffic areas.
"It's a lot of change for us, with the masks and all the cleaning and washing your hands and the social distancing," Ward said. "It's going to take some time to get used to. It's hard to change like this, but we know we have to do it to stay in business."
The local factories closed on March 18 after all of Detroit's Big Three automakers agreed to temporarily shut down operations at all North American factories due fears about the coronavirus.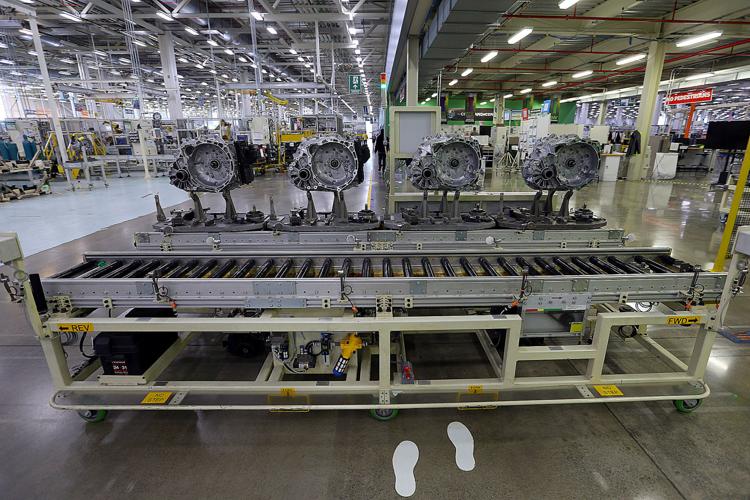 The workforce returning on Tuesday was only a small portion of the more than 7,000 employees at the local factories, but it marked the first step in eventually bringing back all workers. Ward said they hope to have a timeline by the end of June on when the plants will be operating at full capacity again.
"The goal of the company is to get everybody back to work," he said. " … The goal, again, is safety – a safe return for those who are needed at the site and then effectively transitioning others at the right time, keeping in mind the needs of the business."
Jodi Tinson, FCA communications director for manufacturing and labor, said the plants are now operating on alternative work schedules, which will be managed as needed to support the assembly plants.
The reopening of the local facilities comes after the company last Monday restarted nearly all of its plants in Michigan. Two plants in Ohio and two factories in Ontario, Canada, also opened last week.
FCA also reopened an engine plant in Ohio on Tuesday. On June 1, the company will restart an assembly plant in Illinois and a casting plant in Toronto, marking the last facilities in North American to restart.
Meanwhile, the company has partnered with Ascension St. Vincent in Kokomo to test any worker exhibiting COVID-19 symptoms before or during their shift. The company said it is targeting same day appointments and expecting results to be available in 24 hours or less.
The company said it will send employees home who are tested until they are medically cleared to return to work. Employees will get paid during a 14-day quarantine ordered by a doctor.
Ward said he has pushed the company to do testing every week for any employee who wants it, but FCA has not agreed to that request.
"We're not there yet," he said.
Ward said any worker with long-term medical conditions that put them at higher risk for COVID-19, and who is worried about returning to work, should consult with their personal medical healthcare provider. They are also encouraged to reach out to their immediate supervisor or the human resources department with concerns, he said.
Workers with family members who are self-quarantining are also asked to notify their supervisor and contact their healthcare provider to discuss whether working on site might prevent a health risk to others.
Ward encourage employees who are returning to work to follow all the safety protocols and take every step to ensure no one spreads or is infected with COVID-19.
"In order to prevent the spread and transmission of the virus, it takes all of us to follow the safety measures that have been put in place on multiple points and multiple levels," he said.
FCA CEO Mike Manley said "above everything else, our top priority has always been to do what is right for our employees."
"We have worked closely with the unions to establish protocols that will ensure our employees feel safe at work and that every step possible has been taken to protect them," he said in a release.