Hair salons and barbershops across the city have been slammed with customers since Monday, despite being required to implement strict safety protocols to prevent the spread of COVID-19.
Salons and barbers were forced to shut down seven weeks ago after the state required all nonessential businesses to close.
Now, customers who haven't had a trim or perm in nearly two months are flooding into stores even though they must schedule an appointment and wear a mask.
At the three Great Clips locations in Kokomo, customers waited over two hours for a haircut for most of the day on Monday and Tuesday.
Susan Ives, owner of Sunburst Salon and Day Spa on Markland Avenue, said she figured there would be a big turnout this week, but the number of customers calling to schedule an appointment has exceeded her expectations.
"I was anticipating we would be busy, but I was surprised by how much the phone was ringing already by 9 a.m. on Monday," she said.
Ives said her salon has been booked solid for two days, and she expects that will be the case through at least the end of the week due to the pent up demand.
Lisa Forrell, guest services manager at Posh Salon and Day Spa, said they are also booked solid with appointments not just for haircuts, but for full-service hair treatments.
"Customers are getting the full meal deal," she said with a laugh. "The guys are just getting the haircuts, but the ladies who always had their hair colored or highlighted are getting everything. They've been without it for seven weeks, and they're ready."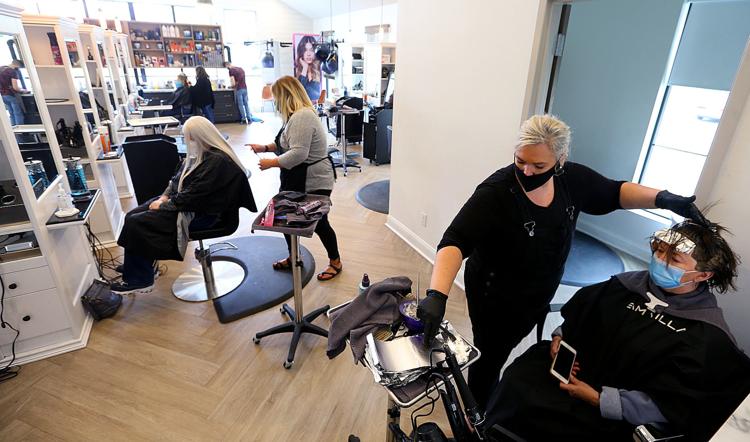 But, Ives said, reopening on Monday came with a good dose of stress as they implemented major safety measures to protect customers, including taking temperatures, requiring a mask and barring any children or other guests from entering the building.
So far, though, the new protocols haven't been much of a problem, she sad.
"We were anxious about how this was all going to go," Ives said. "But we're in day two here, and we're already feeling much calmer and feeling more confident in what we have implemented. By the end of the week, this will be an old hat."
Salon owners said the huge turnout this week will go a long way in helping recoup their losses after bringing in zero income for nearly two months.
Ives said her business received a forgivable loan through he city's emergency relief fund, which helped tide her over until she could reopen.
"That was a godsend," she said. "Without that, it would have been very difficult."
Posh's Forrell said they also took a big financial hit, but didn't have to take out extra loans or apply for any federal stimulus money.
Now, she said, they're excited customers are showing up in droves to get their business going again.
"Things are going really well," she said. "We've been really busy. We're very grateful to be back open and thankful that things are looking good."