Nancy Doub used to make outfits and costumes from scratch for her three kids, but these days her sewing talent is mostly used to patch up her husband's clothes or hem up a pair of pants.
But on Wednesday, the 58-year-old Kokomo resident turned her dining room into a makeshift sewing factory to create one thing, and one thing only.
Masks. Lots and lots of masks.
"Today, I'm pounding out masks," she said. "I'm going to crank them out as fast as I can."
Doub said on Friday, she stopped at Hobby Lobby and bought as much cloth, thread and elastic as she could get her hands on before the store closed its doors for two weeks during the stay-at-home mandate.
Now, after her husband brought down her sewing machine from upstairs, she's created a self-made assembly line in her dining room to make as many masks as she can, as quickly as possible.
Doub isn't alone. Churches, sewing groups and individuals all around Howard County have jumped on board to sew masks for local health care workers, hospice providers and others who can't find any due to a national shortage.
The move comes as hospital systems around the country say their suppliers are not filling regular orders, and local facilities are preparing for the worst-case scenario as cases of COVID-19 continue to grow across Indiana.
Bekah Shaffer, a member of a women's group at Kokomo First Nazarene called SHE Serves, said she received a call last week from Community Howard Regional Health, asking if her group could sew some of the masks to prepare for a shortage of the products.
Shaffer said the phone call came at the perfect time. With the state's stay-at-home order, the group had been looking for something positive to do that didn't require going out, and making masks fit the bill perfectly.
"We were trying to figure out what we were going to do next since we can't get together to do anything," she said. "I thought, 'I'll just share this on Facebook, and see if anyone can help.'"
By that evening, Shaffer said her phone had blown up with people calling and texting to volunteer to make masks.
And those masks are critical, said Ocean Sharp, volunteer manager at Guardian Angel Hospice in Kokomo.
She said the hospice group isn't getting any new N95 masks, which are the kind health care workers need to best filter out viruses and bacteria from the air. Those masks only last so long.
But by putting a cloth mask over a N95 one, hospice providers and patients can use them much longer – hopefully long enough to outlast the pandemic.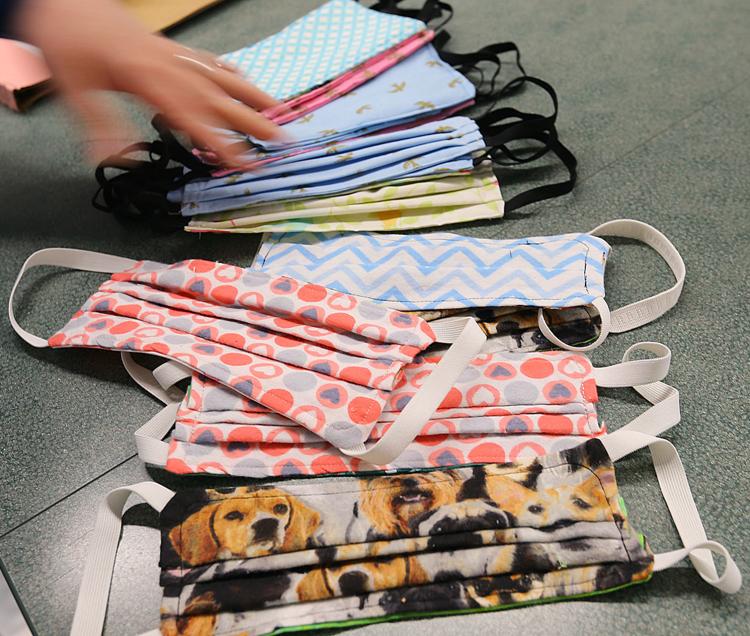 Sharp said, so far, Guardian Angel has received 40 hand-sewn cloth masks that were dropped off by a family, and other people have committed to donating even more to the hospice provider in the upcoming days.
"Sewing is a gift, and it's amazing that they can use that gift to donate something we all need," she said. "They're really helping people. It's a great spirit lifter."
One of the largest contributors to the local mask-making effort has been Jo-Ann Fabrics and Crafts in Kokomo. Even though the store is closed, employees have been putting together and handing out free kits, each with enough supplies to make five masks, to people who request one.
By Tuesday evening, employees had handed out around 130 kits, and more people were calling for one on Wednesday morning, said store manager Jennifer Mayes.
"We can hardly keep them stocked," she said. "People have been coming and wanting massive amounts of them, and we can't even keep up with the demand. It's been incredible."
Community Howard Regional Health said by Wednesday morning, the hospital had received calls from at least a half-dozen individuals or organizations looking to make a donation of handmade or purchased personal protective equipment, such as masks.
Some of those mask donations came directly from people using kits provided by Jo-Ann Fabrics.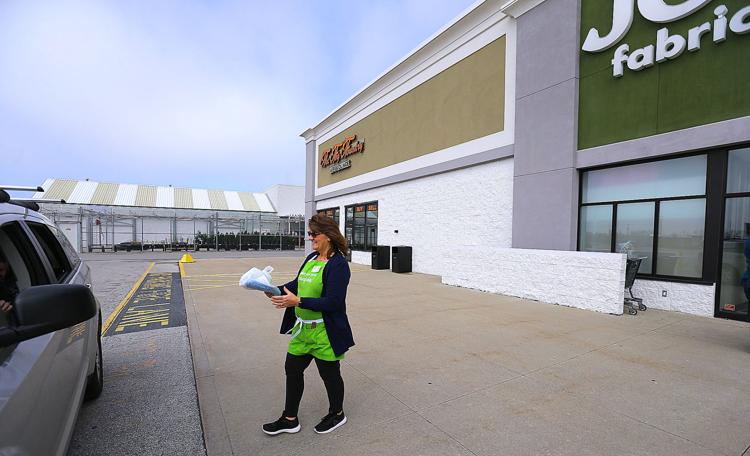 Joe Hooper, president of Community Howard Regional Health, said it's inspiring to hear how many local organizations and community members have come forward to help ensure the safety of caregivers and patients at the hospital during the shortage.
"Personal protective equipment is in tight demand across the country and we know the need will continue to increase in the coming weeks," he said. "We are truly grateful for the support and generosity. We are a strong community and we will make it through this together."
For Kokomo resident Doub, who is a member of the SHE Serves group, making masks for the hospital is personal.
She said she has asthma, as do two of her children, and knows what it's like to have a respiratory illness. That's why she wants to make masks and ensure others have protection to prevent catching COVID-19, which attacks the respiratory system.
"I'm too familiar with struggling to breathe," Doub said. "To think of all the nursing staff and doctors not being equipped who are taking care of patients, and trying to do it safely, is just too much."
Krista Hicks, a 31-year-old hair stylist from Greentown, said she's already made 40 masks from a huge bolt of cloth she found in her house, and plans to make even more. For her, it's a small way to fight back against the pandemic that's left families all around the city and county reeling.
"For one, it's keeping me busy," she said with a laugh. "And two, it makes me feel like I can do something to make this whole thing better. Even if it just helps one person, that makes all the difference. That's what God calls us to do."
SHE Serve member Shaffer said it's that attitude that's inspired so many women in her group to volunteer making masks. She said with the national shortage, it's the least they can do to make sure those on the front lines fighting the coronavirus outbreak stay healthy and safe.
"I think it all shows how much people are wanting to help," Shaffer said. "They're aware that they're at home and they have time and they want to do something that matters, because they care about their community."