Indiana University Kokomo is defying the odds. That's because the campus is growing – and growing faster than any other regional IU campus in the state.
IUK Chancellor Susan Sciame-Giesecke said other regional campuses such as IU South Bend, IU Northwest and IU Southeast have all lost around 1,000 students over the last five years.
But not IUK. For the last two years, the university had record-setting graduating classes, with 658 students receiving diplomas last school year. Now, IUK anticipates having the largest incoming freshman class in its history, with well over 900 students enrolling in classes, Sciame-Giesecke said.
It all begs the question: What's causing the boom in student enrollment?
Sciame-Giesecke said lots of things are contributing to the university's growth, and it all points to a shift in how students and the community view IUK.
She said it's no longer the college kids go to just because it's close to home. Students go to IUK because they want to.
"I think we've turned the corner and changed people's image of who we are and what we can be," Sciame-Giesecke said. "We really have become a campus of choice."
BOLSTERING ACADEMICS
Becoming a campus students choose to come to isn't something that's happened by accident, Sciame-Giesecke said. It's been a concerted effort that started with a focus on creating unique academic experiences.
One of the biggest efforts to make that happen was redesigning the curriculum called Kokomo Experience and You (KEY), a four-year program that aims to educate through experience.
Now, depending on the major, students might design a social-media campaign for a community agency, help children in Guatemala, study fossils at the Field Museum in Chicago, present research at a national conference or travel to locations all around the globe.
Sciame-Giesecke said the idea is to give students the kind of unique learning experiences they would get at a more expensive, private college – all for free. Just last year, around 1,300 students participated in the KEY program and traveled all over the world with faculty members at no cost to the student.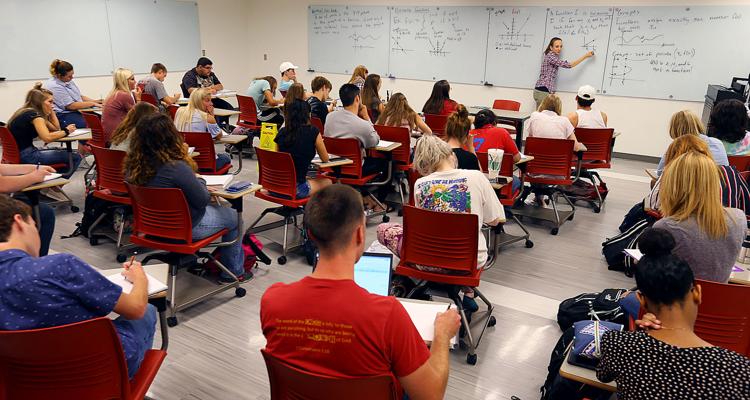 "We are trying to become a private school experience at a public school price," she said. " … It's not just going to college and sitting in a room with 150 other kids and taking some notes. Students want to be engaged, and they can do that IUK."
The college has also worked closely with 14 school districts to get kids interested in coming to university. Sciame-Giesecke said over the last few years, around 12,000 seventh-graders have come to the campus to get a sense for what college is all about during hands-on visits planned by IUK staff.
"They get to come in and see what college looks like and feels like," she said.
IUK gives $1,000 scholarships to any high school senior who completes a college-going behavior certificate that proves the student has worked to prepare for higher education. It also gives scholarships to students who complete the governor's work-ethic certificate.
Sciame-Giesecke said the collaboration with K-12 students is all about getting kids through the doors of IUK, especially those who are the first people in their families to attend college.
"We're just trying to reinforce what our K-12 grade partners are doing, and saying, 'Hey, although no one in your family has gone to college, you could be the first one,'" she said. "We believe that every child deserves to have that opportunity."
HOUSING AND HOMERUNS
Sciame-Giesecke said IUK is working hard from within its walls to create a demand for its education, but much of the growth can be attributed to developments outside the campus.
She said one of the biggest boons for the college has been Kokomo Municipal Stadium, which opened in 2015 and now provides the diamond for IUK's new baseball team. It will also be the home of the school's new women's soccer team, which is coming in the fall of 2019 and will be IUK's 12th sport.
Just 10 years ago, IUK didn't have an athletic department. But in just in the last five years, IUK has added not only baseball and soccer, but also track, cross country, golf and tennis.
Sciame-Giesecke said bolstering the college's athletic offerings has made IUK more attractive and drawn top-notch student athletes from all over the country, and even the world. And that's been made possible by using facilities provided by partners from outside the campus.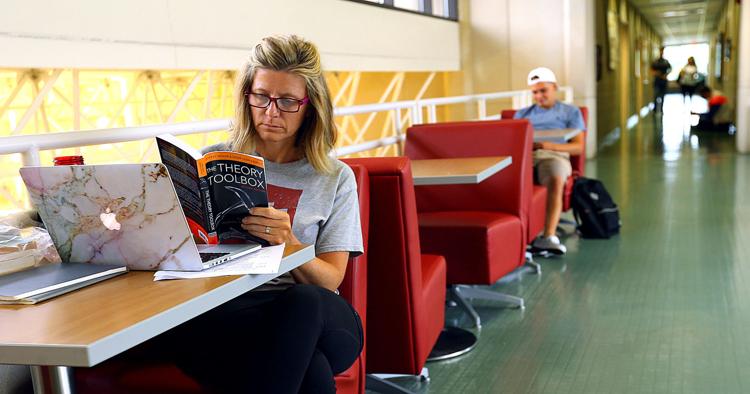 "We've not had to invest in any facilities," she said. " … I'm the envy of a lot of chancellors and presidents of universities, who say, 'What do you mean you just added a baseball team and you didn't have to build a baseball diamond?' IUK just walked into one of the best baseball facilities in the state, and at no cost to us."
Student-housing projects built by private developers have also played a role in getting more students to IUK. In 2014, The Annex of Kokomo, located across the street from the campus on Washington Street, opened 52 units, marking the city's first major cluster of college student housing.
Now, that's being followed by another, even larger student-housing project called University Park. That development is set to be a three-story, 125-bed housing complex to be built at the southeast corner of South Lafountain and Boulevard streets. The apartments are expected to open in summer 2019.
Sciame-Giesecke said The Annex has become the go-to housing option for IUK's more than 150 student athletes, as well as other students from the region who don't want to commute to campus.
"Having that place across the street is huge," she said. "That's what has really attracted the student athletes."
The growth of IUK's athletic program and the student-housing boom has led to another major development at the campus – a 26,000-square-foot Student Activities and Events Center. The facility will be located next to the Pavillion on the east side of campus, and provide space to accommodate large groups, as well as health, wellness, physical education, recreation and athletics activities. The facility is projected to open January 2020.
KEEPING MOMENTUM
Sciame-Giesecke said although IUK is bucking the trend and growing its campus, that growth isn't something college officials are taking for granted.
She said market research suggests that by 2025, there will be less 18- and-19-year-olds in the country, leading to a drastic decline in college enrollment across the nation. That trend has already hit some universities, and it's something for which IUK is preparing.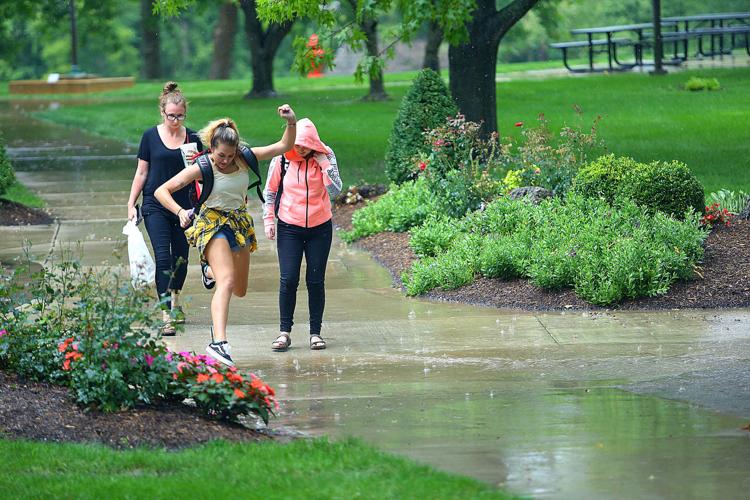 "All the colleges will be competing for the same students, so how do we adapt to that?" Sciame-Giesecke said.
She said the new student housing project, event center and gym are good ways IUK can keep up its positive momentum attracting students to campus, even when the country hits the enrollment cliff.
Affordable tuition, which currently runs about $7,300 a year at IUK, should also remain a major draw for students, Sciame-Giesecke said.
"I think a lot of students really do want that private school experience, but they can't afford it," she said. "People are paying more attention to the expense of college and college debt, and students are making a choice that they'd rather go to IUK than going away to school."
But even with a potential drop in enrollment coming in the next decade, that doesn't dampen the enthusiasm IUK officials have for the current boom in student population. And they're taking some time to savor that, Sciame-Giesecke.
"I'm worried about future enrollment as I look at the data and research – which I do almost every day – but right now we're defying the odds, so we're going to celebrate a little bit," she said. "We feel like we have so much momentum going and such a positive energy right now … That just makes all of us want to work harder."