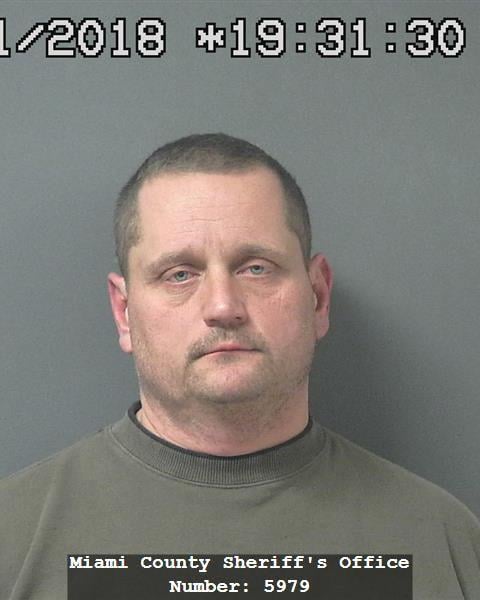 BUNKER HILL – Investigators say a former Miami County deputy coroner stole a 1,095-pound calf from an educational program at Maconaquah School Corporation, in which he volunteered, and sold it to pay an outstanding bill.
Todd Burns volunteered with the district's Maconaquah Cattle Company, a program in which kids raise cattle housed at the school that are then turned into beef and served for school lunches. The 47-year-old checked on the cattle on weekends, according to a probable cause affidavit.
On Monday, the district's agriculture teacher told investigators he received a call on Nov. 17 from Burns, who reported the cows were out of the pen. Burns said he was getting his trailer to load up the loose cows to return to the pasture.
Three days later, the teacher went to check on the cattle and saw that a large feeder calf was missing. He called Burns, who said all the cows were in the pasture the day before.
Burns and the teacher then drove around the area looking for the calf. During the search, Burns continually told the teacher not to tell anyone about the loose cow, fearing that neighbors would be upset with the program. The teacher told investigators that this was "unusual," according to the affidavit.
On Nov. 23, the teacher reported Burns came to his residence and confessed he had taken the calf and sold it at the Rochester Sale Barn. Burns said he needed the money to pay a bill. Investigators later learned the calf was valued at $821.
The teacher told Burns to contact another person, whose name is redacted from court documents, and tell him what he had done. Burns then drove to that person's house and confessed to the theft, but asked that he not report it to law enforcement. Burns told the man he would "make it right with the school" if he didn't report it to authorities.
The man said he couldn't do that. Burns then became upset and left, according to the affidavit.
Burns was arrested on Tuesday on a warrant for one felony charge of theft and incarcerated at the Miami County jail, where he bonded out the same day.
The stolen steer was donated last year by the Merritt family and was scheduled for processing in February, according to school officials.
Maconaquah Superintendent James Callane said the theft made him "disappointed for our students, who work very hard for this program."