Bobby Thieke knows her daughter needs to pursue some type of education after high school to give her more options for the future. But she's not quite sure how to make that happen.
"Me being a single mom and not having a real [high] paying job, and I don't know how financial aid is for people, how much they would pay and how much I would have to pay out of my pocket. With no good job, there's no way I can pay for any of that myself," said Thieke, who has lived in Garden Square apartments with two of her children since August. "They want us to better ourselves, and then there's no help to get us any further."
---

"They want us to better ourselves, and then there's no help to get us any further."

---
Education is typically seen as one of the surest paths out of poverty, but navigating the convoluted process of college admissions, financial aid, finding your way around campus and then actually completing the coursework is difficult. For families with little experience in the world of higher education, each step of the process can present pitfalls that threaten to derail the entire endeavor. 
Brisha Thieke, Bobby's 18-year-old daughter, is in the process of transferring to The Excel Center from Kokomo High School. She fell behind on her credits and didn't get the assistance at school she and her mother thought she needed to help her catch up. 
Thieke's dream job for Brisha is whatever would make her happy, and she could see Brisha getting a job in a restaurant around Kokomo while continuing to contribute financially in the household. Brisha's tentative plan is to enroll in culinary arts school after high school, inspired by her time in the culinary arts program at the Kokomo Area Career Center.
But with Brisha's high school graduation in jeopardy, Thieke isn't sure what the future holds for her daughter.
"It just makes it rough, you know, because I don't want my kids to be like us, to be poor all the time," Thieke said. "I want them to have money to experience and enjoy life. It's hard being a single parent and not being able to provide for your kids. With an education, I think it will show them how to live life and to have the experience and to have the money to do what they want to do and go places."
---

"I don't want my kids to be like us, to be poor all the time. I want them to have money to experience and enjoy life."

---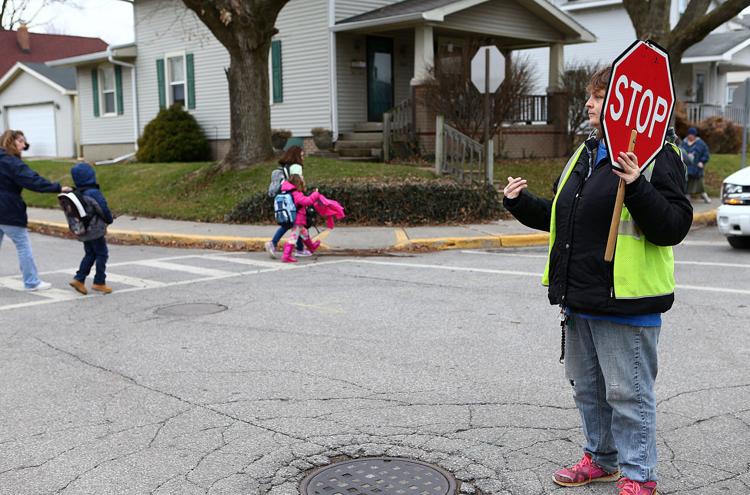 SPECIALIZED TRAINING
For the past five years, Thieke, 44, has worked part-time as a crossing guard for Kokomo Schools, making $9.25 an hour with no insurance or paid time off, she said. She typically makes it into work three or four days a week. Her income, her daughter's disability benefits, food stamps and spotty child support payments provide for their three-person household.
Thieke attended a one-year program to become a certified nursing assistant after graduating from Canton High School in Illinois. She worked two jobs during high school to help support her family and then worked at nursing homes in Illinois after completing the CNA program. Thieke enjoyed the work, but her certification didn't transfer when she moved to Kokomo in 1992.
"I didn't feel like I should pay all that money again and lose it if I move back down there [to Illinois, where her step-family still lives]," Thieke said. "I was wrong. I should have continued doing it because I was great at it."
Instead, she lived with her mother in Kokomo off and on over the years, first moving into Garden Square when Brisha was born. Thieke has delivered newspapers, worked in the shop at Bona Vista, worked in the deli and bakery at Kroger and held various other odd jobs over the years. She's limited in her job options by not having a car, so Thieke was pleased to be offered the Kokomo Schools crossing guard job at Pettit Park about five years ago. At the time, she and her three children were moving to a house on North Webster Street, near the elementary school.
But then her family moved again to a house on Elizabeth Street, a couple of miles from Pettit Park in an area not covered by the city's trolley system. Thieke couldn't afford to give up the job, so she walked more than four miles round-trip to get to work and home again, twice a day for her morning and afternoon shifts.
From Garden Square, Thieke takes the trolley to work, but she can save about an hour in the afternoons by walking the mile-and-a-half from Pettit Park to the trolley transfer station, rather than waiting longer at a stop near the school. Standing outside in the cold months also is hard on Thieke's rheumatoid arthritis, but working as a crossing guard is the best option she has for now.
TROUBLE GETTING STARTED
Recognizing the importance of higher education and making it a reality are worlds apart.
The amount of paperwork required for student loans and financial aid can be overwhelming, the cost of tuition and books is shocking and knowing how to connect with people on campus who can help may be confusing, especially if you're the first in your family to go through the process.
Garden Square resident Angela Small, 49, decided to enroll at Ivy Tech Community College for the spring 2012 semester, with hopes of earning a business degree. At this point, she still hasn't taken a class at the college. But her 2014 tax return was intercepted to pay off money owed to Ivy Tech, and she still has unanswered questions about her financial aid.
"My heart is so set on being an entrepreneur. I knew that factory work was done. ... I just wanted to do something different with my life," Small said, adding she sees poverty more as a state of mind than a literal status, so she didn't view higher education as a way out of poverty necessarily. 
Small and her daughter registered at Ivy Tech and filled out the Free Application for Federal Student Aid at the same time, and a few weeks later, her daughter was notified her financial aid was available. Small says she never got that notification for herself. Ivy Tech staff say Small didn't accept the financial aid for which she was eligible.
After initially registering at Ivy Tech, Small purchased some items at the bookstore on credit against the financial aid she believed was pending for her account. 
John Laws, vice chancellor of student affairs for Ivy Tech's Kokomo and Lafayette region, explained that Ivy Tech does not disburse financial aid until a couple of weeks into the semester, provided the student has been attending class. Small never attended the classes she first enrolled in, because she didn't know the status of her financial aid by the time the semester started.
---

"I just don't think it should be this hard to get things straightened out."

---
She ended up with an unpaid $1,300 bill at the bookstore, and she believes an unauthorized Federal Student Aid ID was somehow opened in her name in July 2015 when she was trying to sort out the money she owed to Ivy Tech. She's contacted Ivy Tech, the U.S. Department of Education, Indiana Department of Education, a lawyer and the Kokomo police trying to resolve the issue, which has only left her frustrated and angry.
"I just don't think it should be this hard to get things straightened out," Small said. "It shouldn't be like this. You already have the pressure of trying to make grades, you don't need this."
MOTIVATED BY RELATIONSHIPS
Another hindrance for some prospective college students coming from generational poverty is the feeling of sacrificing relationships with family and friends in order to pursue higher education. Poverty expert Ruby Payne explains in her book, "A Framework for Understanding Poverty," that people and relationships are a driving force for those living in poverty, more so than for the middle class or wealthy.
"To move from poverty to middle class or middle class to wealth, an individual must give up relationships for achievement, at least for some period of time," Payne writes. 
Indiana University Kokomo pays special attention to "first generation college students," those who are the first in their family to attend college, and tries to establish strong on-campus relationships early.
"Because their parents are not familiar with the administrative process and course rigor and all of the academic strains … they may not understand how much work it is to go to college," said Alexius Babb, a 21st Century Scholar support specialist at IU Kokomo. The 21st Century Scholar program provides state-funded scholarships for students who meet certain income requirements and comply with the program's guidelines.
IU Kokomo's Jump Start program focuses on first generation and minority college students, offering additional supports to help them connect with campus life. 
"The Jump Start really helps students feel they are a part of campus," Babb said, giving examples of social events and monthly meetings that cover various topics related to college life that are part of the program. "It's easy for students to feel like they don't belong, they shouldn't be there or they can't do it."
This series examines the impact of living in concentrated poverty, especially on children, and what can be done to offer hope for the next generation.
To explore this topic, reporters Lauren Slagter and Martin Slagter spent five months taking a closer look at the unique relationship between Garden Square apartments and Kokomo Urban Outreach. The series aims to refute stereotypes associated with poverty by telling the stories of public housing residents in their own words. It will highlight the thin line between poverty and "living well" and outline the efforts of Kokomo Urban Outreach, the Kokomo Housing Authority and other community groups to empower Garden Square residents to achieve self-sufficiency.
The series was reported through dozens of interviews with residents, volunteers and employees of KUO and the KHA, city leaders and experts on poverty. They all say there is more we can do to support our neighbors, and we'll share how you can get involved.
Reporter Lauren Slagter can be reached at 765-454-8587, lauren.slagter@kokomotribune.com or on Twitter @LaurenSlagter.