The Kokomo Civic Theatre will be hosting the five-state American Association of Community Theatre Regional Competition (Region 3 AACTFest) on April 12 and 13 at Indiana University Kokomo's Havens Auditorium.
Ten shows — including KCT's "Who Am I This Time?" — will perform in competition for the honor of representing Illinois, Indiana, Michigan, Ohio and Wisconsin at the National Competition in Gettysburg, Pennsylvania, in June, a press release stated. The winner will be announced at an Awards Brunch on April 14.
In the competition, each theater company has 10 minutes to set up, 60 minutes to perform, and 10 minutes to take down the set. Everything (set, costumes, props) must fit within a 100-square-foot "box." Immediately following the performance, three adjudicators review the performance.
The Kokomo Civic Theatre won the honor of participating in the regional when its production of "Who Am I This Time?" took first place for Outstanding Production at the Indiana Community Theatre Association State Festival held in Terre Haute on Feb. 22 through Feb. 24.
This is the fourth time in a row that KCT has advanced from the state level to the regional level in the biennial American Association of Community Theatre (AACT) national competition.
"The upcoming Regional Festival represents the first time that Kokomo Civic Theatre has hosted a Regional Festival, and we are excited to be able to bring this caliber of live theater to Kokomo and to show off our community to the attendees," said Steve Hughes, executive director of Kokomo Civic Theatre, in the release. "I am very proud to be able to say that we have award winning live theatre right here in Kokomo."
KCT's "Who Am I This Time?" was directed by Beth Metcalf and Tucker Metcalf.  The cast included Alan Girton, Elizabeth McQuiston, Claire Cooper, Greg DeMaio, Colburn Lambert, Anna Ely and Tucker Metcalf.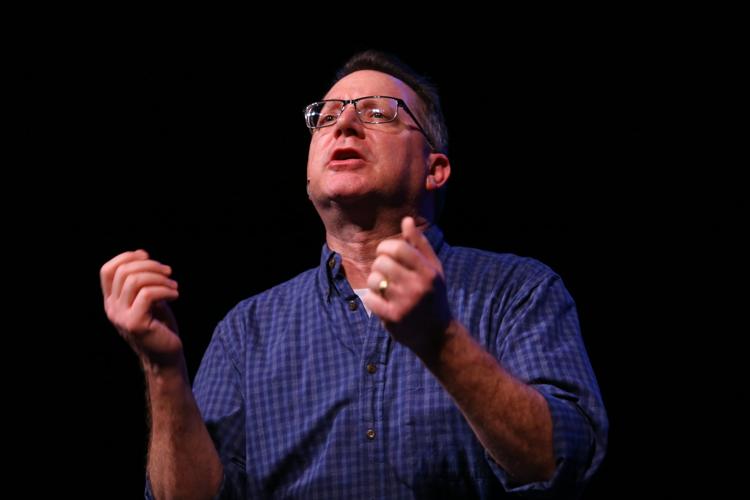 The production is like a play within a play, set on the stage of the North Crawford Mask and Wig Club, dubbed "the finest community theatre in central Indiana."
Nearly every cast member — aside from the lead of Tom Newton, portrayed by Alan Girton — plays multiple roles in three tales of love including "Long Walk to Forever," "Who Am I This Time" and "A Streetcar Named Desire."
"Tom brings the audience through these three scenarios of love, looking back at different aspects of his relationships," Girton said in a previous interview with the Tribune.
At the State Festival, in addition to the Outstanding Production Award, Colburn Lambert received the Outstanding Performance in a Leading Role Award for his performance as Harry Nash.
Some of the other shows participating in the Region 3 AACTFest include the musical, "Bloody Bloody Andrew Jackson" from Grand Rapids, Michigan, "Around the World in Eighty Days" from Cincinnati, Ohio, "The Giver" from Verona, Wisconsin, plus three original works. All performances are one hour long.
There will be afternoon sessions [three shows for $30] and evening sessions [two shows for $20]. One-day and two-day ticket packages are also available. Single session tickets will be available at the door or by calling 765-454-8800 to reserve tickets in advance.