Get your poker face ready because Bona Vista is bringing back its Viva Las Vista casino fundraiser tonight.
This is the third year for the 21-and-older event, which has been moved up a month to avoid conflicts with Disability Awareness month and spring break plans in March. So while the weather may be cold, Viva Las Vista guests can heat up with all the action going on at the Kokomo Country Club.
There will be eight different games to try your hand at throughout the evening, including blackjack, roulette, over-under, easy craps, Caribbean poker, Texas hold'em, Big Wheel of Fortune and a 50-50 raffle. The certified gaming tables will be operated by about 30 dealers from the Sertoma Club, complete with a pit boss, Bob.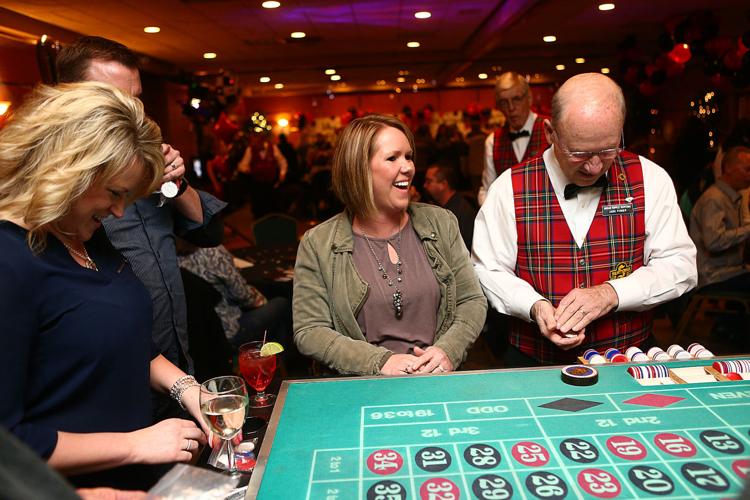 "All of the dealers from the Sertoma group are wonderful," said Alison Brantley, director of development and training at Bona Vista. "If you've never been to a casino or maybe gambling is not your thing — these dealers are professionals and they want you to win. They are patient, they take time to explain the games to you and if you mess up they will tell you what you did wrong."
Each guest will receive 15 poker chips to get their bets going and there will be an opportunity to buy 15 more chips for $10 if needed. Instead of redeeming the chips for cash at the end of the night, guests can exchange 25 chips for one raffle ticket, which will allow them to bid on a variety of baskets and prizes.
Just a few of the raffle prizes include items such as Kelly Clarkson tickets from media sponsor WWKI 100.5, $100 gift card to Whites Meat Market, Indiana University Kokomo gear and tickets and a 50-pound basket filled to the brim with items from Soupley's Wine and Spirits.
In 2017, about 100 people attended the first Viva Las Vista event, which raised less than $2,000 for the nonprofit. Then the event was moved to the country club in 2018 and nearly 200 people came to test their luck, raising close to $10,000, said Brittnee Smith, vice president of early learning and development at Bona Vista.
The nonprofit celebrated its 60th anniversary in 2018 and currently employs more than 500 workers and serves both special needs adults and children with 14 core programs.
"You're not going to win a ton of money that night, but the money that you raise will come back to benefit the 2,000 children and adults Bona Vista serves every day," Brantley said. "It's a win-win."
Tickets to attend Viva Las Vista are $40 per individual or $70 per couple. The ticket price includes 15 starter poker chips and unlimited pizza and breadsticks. There will also be a cash bar available.
For more information or for tickets, visit www.bonavista.org/2019-viva-las-vista-ticket-purchase/.