The "Wells Fargo Wagon" is delivering the "Seventy-Six Trombones" to Tipton Community Theatre.
The theater will be presenting the classic musical, "The Music Man," at the Tipton High School auditorium at 7:30 p.m. on Nov. 9, 10, 16 and 17  and at 2 p.m. on Nov. 11 and 18.
Directed by Joann Kaiser, "

The Music Man"

 is the story of Harold Hill (Jason Plake), a con man, who convinces the people of River City to purchase band instruments and uniforms for the band that he is starting, a press release stated.
Marian Paroo (Megan Bates), the librarian, is suspicious of Hill and his intentions. As everything is delivered to the locals, Hill struggles with his original plan as he develops feelings for Marian. Will he be able to produce the band that he has promised to the people? 
Darrin Haynes is featured as Harold Hill's sidekick, Marcellus Washburn. Marian's family is played by Nicole Neely (Mrs. Paroo) and Amos Greene (Winthrop Paroo). Addison Gremel is appearing as Amaryllis.
Portraying the Shinn family is Larry Nierzwick (Mayor Shinn), Jessica Hendricks (Eulalie MacKecknie Shinn), Ali Powell (Zaneeta Shinn), and Kennedy Lancaster (Gracie Shinn) while Austin Tragesser will play Tommy Djilas.
The men's quartet includes Brian Howell (Jacey Squires), Jeff Pyke (Ewart Dunlop), Ian Ragains (Oliver Hix), and Ryan Schmitt (Olin Britt), while the pick-a-little ladies are Laura Stroud (Alma Hix), Laura Powell (Maud Dunlop), Jenny Haynes (Ethel Toffelmier), and Kayla Schmitt (Mrs. Squires). Scott Burke is Charlie Cowell and Doug Tragesser is the conductor/constable.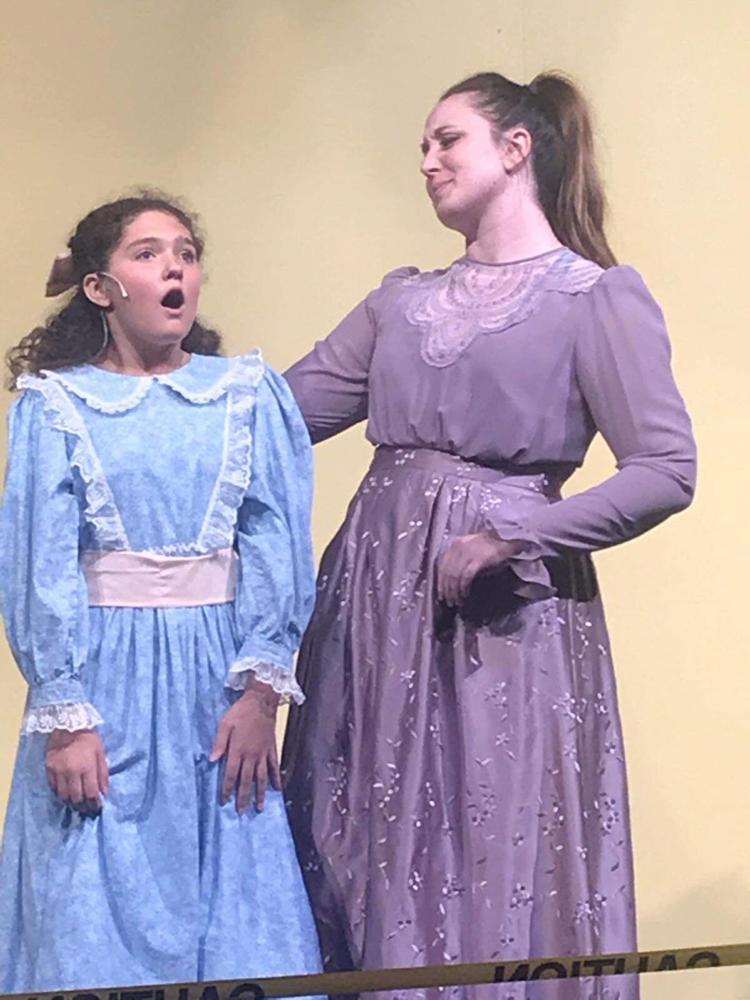 Rounding out the ensemble cast is Amanda Blair, Joshua Brock, Katilynn Burke, Jackson Casey, Kendra Eller, Nathan Embry, Collin Farr, Lori Gates, Cecilee Henderson, Hannah Henderson, Olivia Henderson, Patrick Henderson, Chad Huff, Emily Hunter, Chandler Johnson, Emma Long, Hanna Lushin, Brian Mahaney, Jacob Mooney, Jasper Neely, Mallory Retherford, Wyatt Rhoades, Angie Ripperdan, Brooklyn Ripperdan, Kennedy Ripperdan, Carolann Shadday, Alex Tebbe and Katherine Williams.
The show's music director is Jill Howell, with Evelyn Dollens as the assistant music director and Mike Dollens as pit director. Katilynn Burke served as choreographer.
The Tipton Community Theatre 2018-2019 season sponsor is the Campbell Family Foundation. Sponsor for "

The Music Man"

 is Anew Realty.
Tickets are available at the door and are $15 for adults, $10 for seniors and students and $5 for kids. Seating is general admission.