The Fiat Chrysler plants in Kokomo and Tipton are set to restart next Tuesday, and the company has already brought back some team leaders and skilled-trade workers to prepare for relaunching the factories.
The reopening of the local plants next week comes as the company on Monday restarted nearly all of its facilities in Michigan after Gov. Gretchen Whitmer allowed manufacturing companies to resume work, even though she extended the state's stay-at-home order through May 28.
Also opening this week are two plants in Ohio and two factories in Ontario, Canada. FCA said around 15,100 employees in total will return to work this week.
Now, the Kokomo Transmission Plant, Kokomo Casting Plant, Indiana Transmission Plant 1 and the Tipton Transmission Plant are all set to follow suit and come back online next week.
Jodi Tinson, FCA communications director for manufacturing and labor, said the plants will operate on alternative work schedules, which will be managed as needed to support the assembly plants.
The local factories closed on March 18 after all of Detroit's Big Three automakers agreed to temporarily shut down operations at all North American factories due fears about the coronavirus.
A worker at Kokomo's Transmission Plant was the first-known case of someone testing positive for COVID-19 inside a U.S. auto plant, and was also the first confirmed case of the virus in Howard County.
Now, the company has implemented a slew of new safety measures to protect workers and the community, including requiring employees to fill out a self-screening health risk assessment every day, as well as doing a temperature check.
Thermal imaging cameras will be set up to verify temperatures of everyone entering an FCA facility, and masks and safety glasses will be required for everyone in every plant. The company is also implementing staggered start times and added time to breaks and lunch to minimize large gatherings.
The company said 10 minutes will be dedicated to cleaning and disinfecting workstations at the start of each shift, and enhanced cleaning and disinfecting schedules have been developed for common and high traffic areas, including turnstiles, restrooms, cafeterias, locker rooms and conference rooms.
"Above everything else, our top priority has always been to do what is right for our employees," said FCA CEO Mike Manley in a release. "We have worked closely with the unions to establish protocols that will ensure our employees feel safe at work and that every step possible has been taken to protect them."
The company said that includes evaluating more than 17,000 workstations for adherence to 6-foot social distancing guidelines, and redesigning or installing protective barriers at over 4,700 job areas to allow for more social distancing.
In Michigan, any hourly or salaried FCA employee in the metro Detroit area exhibiting symptoms before or during their shift will be referred for COVID-19 testing. The company said it is targeting same day appointments and expecting results to be available in 24 hours or less.
Similar testing arrangements have been made for local employees through Ascension St. Vincent in Kokomo. The company said it will send employees who are tested home until they are medically cleared to return to work. Employees will get paid during a 14-day quarantine ordered by a doctor.
FCA said it was pleased with Monday's reopening and thanked its "dedicated team of employees whose leadership and ingenuity helped prepare our facilities for today's successful restart."
"Everyone followed the new protocols and our plants were fully staffed to start production," the company said in a release. "We expected nothing less from FCA's incredible employees. We are very confident that we have all the right protection measures in place to keep them all safe."
Meanwhile, the Kokomo General Motors Components Holdings plant also restarted on Monday and brought back some 300 workers who were temporarily laid off on March 20 during the COVID-19 shutdown.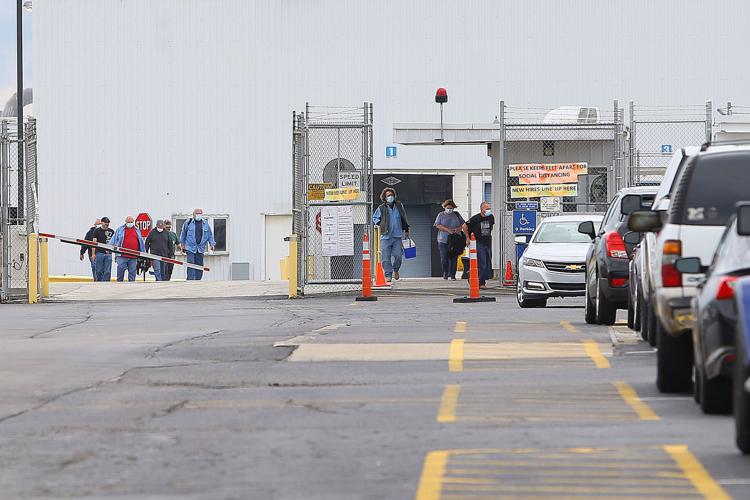 The company has implemented a slew of new safety protocols to protect employees similar to those at the FCA plants.
GM CEO Mary Barra said as the COVID-19 situation evolves, the company will adapt and make any changes to its policies in accordance with relevant health and safety protocols issued by authorities.
"During these uncertain times, we must focus on controlling what we can, while continuing to take appropriate actions to create environments where you can do your best work," she said in a statement to workers.