Editor's note: This is the second in a three-part series.
Ryan Steiner was trying to figure out his place in the world. It wasn't going well.
He had just avoided prison time and recently enrolled in college, but things weren't working out the way he hoped. He was having a hard time making friends, but he desperately wanted one.
Finally, his wish came true. Ryan made a friend who wanted to spend time with him. They hit it off immediately and went everywhere together. When his friend dropped out of school, Ryan dropped out too. Together, they lived in their own friendship bubble and learned about the world.
Ryan was 21 when they started experimenting with drugs. They first tried meth, but Ryan didn't like it. Then they tried heroin, and Ryan immediately became addicted. He used every day, which gave him an opportunity, without inhibitions, to be himself in his new friend group made up of other addicts.
"The drug world was a lot more accepting of weirdness," he said. "And I felt accepted in a world that I had not really ever felt accepted in. I was going to become the best junkie that I can be, because that's what I know how to do."
Heroin made him feel carefree, but it also gave him more time inside his own head. It was a place he was familiar with from his time sitting in institutions with nothing else to do.
He soon realized heroin wasn't an escape. It was a sedative, just like the doctors gave him.
"It wasn't any different," Ryan said. "It didn't feel any different than the institution. I was sedating myself."
By the time he was 25, Ryan had a deep-seated addiction and found himself homeless, sleeping on benches at night and inside a friend's closet during the day. He was scared. He wanted help, but it was confusing trying to figure out how to find that help.
It was his grandmother who finally intervened and got him into a rehab facility.
"I realized that I wasn't good," Ryan said. "And I didn't want that. I wanted to be able to help me. I decided that I might be better suited for a different life trajectory."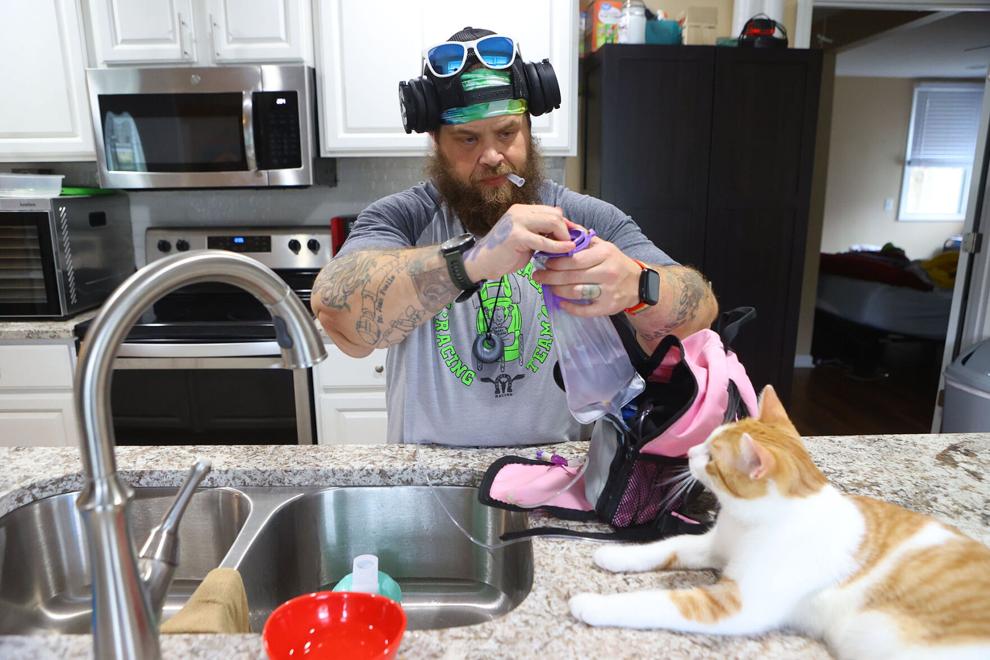 His first few years of withdrawal were difficult, both physically and mentally. But through rational thinking, Ryan today feels secure in his sobriety.
"My brain is hardwired to logic," he said. "And to me, it's not logical to go there again, because I have overcome it. It was hard, but I don't feel that hole at all now. It was another world, another existence, another time."
"Food, on the other hand, calls to me. That is an addiction," Ryan said.
At that time, he weighed over 700 pounds. But the decision to get clean jolted him to start thinking about getting healthy, too. After all, it was something under his control to do.
"It wasn't what changed my life, but it mattered along the way," Ryan said.
'I WAS TIRED OF LIVING A NIGHTMARE'
The string of positive choices led Ryan to head back to college, but this time with a focus. He wanted to figure himself out. Why did his brain work differently than other people he knew? Naturally, he gravitated toward psychology.
"I felt like I was tired of living a nightmare," he said. "This time, I was going to figure out what was wrong with me, why it was wrong with me, and how come nobody else could figure it out."
Things began to click when Ryan took his first psychology classes. He began to understand why certain noises or smells or touching triggered him; why he struggled with making friends; why he had a hard time expressing his emotions.
Ryan discovered he had autism. It had never occurred to him, and the revelation was life-changing.
"It was awakening and freeing to know how to help myself and to finally be able to breathe, because I had spent most of my life in a really tight-clenched state of panic," he said. "It was freeing and terrifying at the same time, because I knew what the outside world had to offer."
But Ryan kept his discovery to himself. He was scared to tell anyone, and he wanted to learn as much about autism as he could to become an expert on it.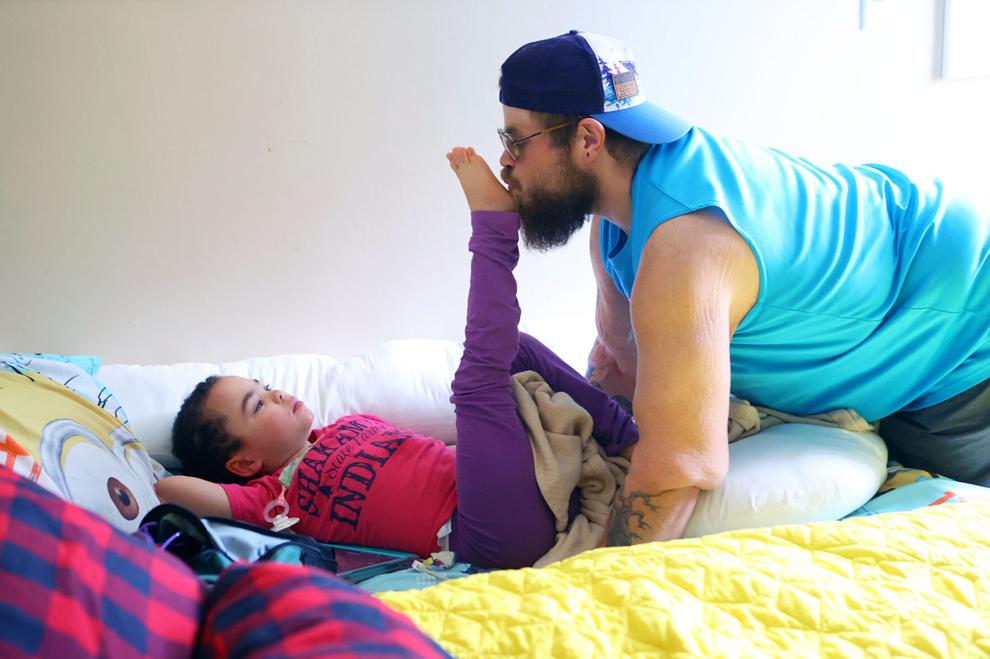 But more about his diagnosis would soon come to light. When his grandma passed away, she left a briefcase with files and charts inside for Ryan. As he pored over the information, he soon discovered his family had always known he was autistic. They just didn't want him to know.
"I think that they didn't tell me because they wanted to protect me from a stereotype that they thought was wrong," he said. "They didn't want to limit me more than life was already limiting me. But what they didn't realize is that it just hurt me."
Ryan made a conscious decision to accept what had happened. After all, he liked the person it created.
MEETING AMANDA
The first time Amanda saw Ryan, he was crossing the road carrying a pizza.
She noticed he was wearing shorts and there was extra skin on his legs from the weight he'd lost. She could tell he was on a weight loss journey. So was she, and Amanda wanted to meet him.
By that time, Ryan weighed about 280 pounds. He was 32 and had lost over 400 pounds since he started his healthier lifestyle.
In a twist of fate, the two again crossed paths that same night at a bar in Terre Haute. They introduced themselves, and both were instantly smitten.
"It was clear we both could tell that the other one had lost a ton of weight," Amanda said. "And so we had that in common and talked about that. Because you just understand each other from a whole different perspective."
Amanda introduced Ryan to running, and it quickly became their special activity. They bonded on their runs after classes or work.
PHOTOS: Running with Kala
That connection led Ryan to share his painful past. Amanda was shocked as he told her about the hospitals, the tests and all the mental-health diagnoses he'd had as a child.
"I just questioned a whole lot, like, how can he be this person before me and have experienced all of these things?" Amanda said. "No human being should have to go through all the traumatic experiences that he went through."
Even so, Ryan couldn't bring himself to admit he was autistic, even though Amanda was a music therapist and worked with people who have autism. He was too afraid she'd change her mind about him.
He tried to avoid having meltdowns when they were together, because he would sometimes hit his head, yell and sweat. He didn't want Amanda to see that.
One day, Ryan was running late for work and his belt got stuck. He was overcome with emotion and immediately felt upset. He started to meltdown and screamed to Amanda that he was autistic.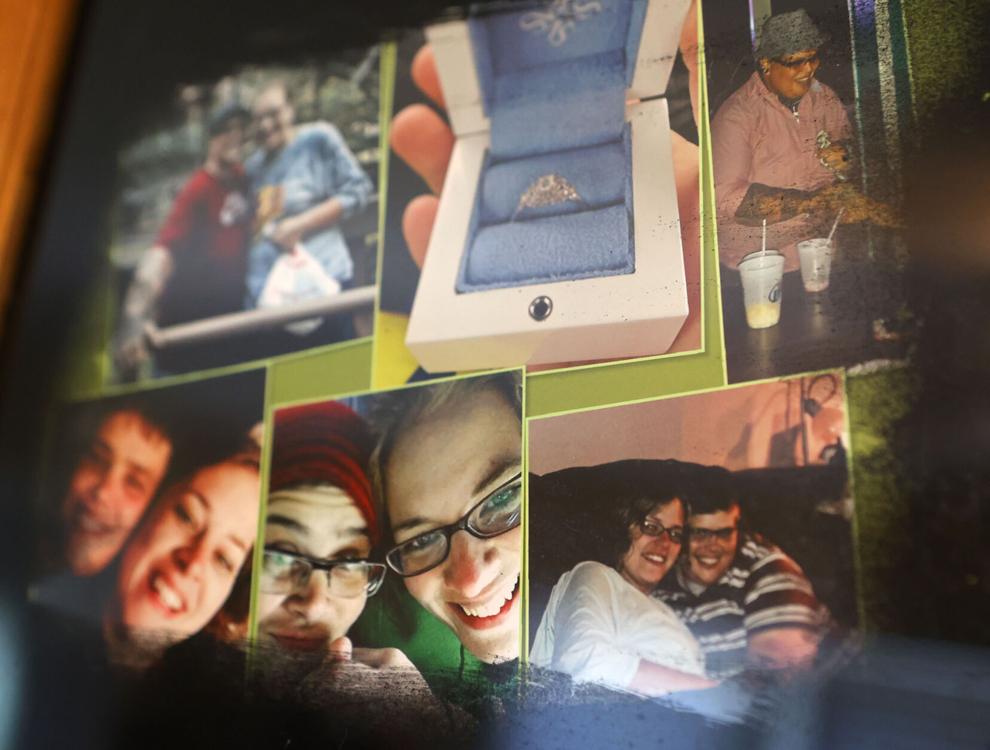 She said she already knew, and Amanda helped him put his belt on.
"All the pieces kind of fit together with it," Amanda said. "I was like, 'We got this, we can deal with this. We can face the things ahead of us.'"
In 2014, Ryan proposed to Amanda on their favorite running trail. But soon, they would face one of the hardest moments either had experienced.
'SAVE MY KID'
Ryan and Amanda were expecting a baby.
They had just found out it was a girl. The ultrasounds showed a healthy baby, and Amanda was also in good health.
It was 2015, and the couple had been married for a year. Ryan was just one month away from graduating college and had already applied to grad school. Life was looking good for the family.
But then, when Amanda was 23 weeks pregnant, her water broke. They had no time to drive to Amanda's obstetrician in Indianapolis, so they rushed to the hospital in Terre Haute.
"I was so terrified that she was going to die," Amanda said. "I was just a sobbing, emotional mess."
Amanda underwent an ultrasound, but they didn't see a baby in the scan. They told Amanda that she must be mistaken. That she wasn't pregnant.
"I was like, 'You're not understanding. It doesn't look like I'm pregnant because she's here. She's in my birth canal,'" Amanda said. "Then that was the moment where everybody stepped into action."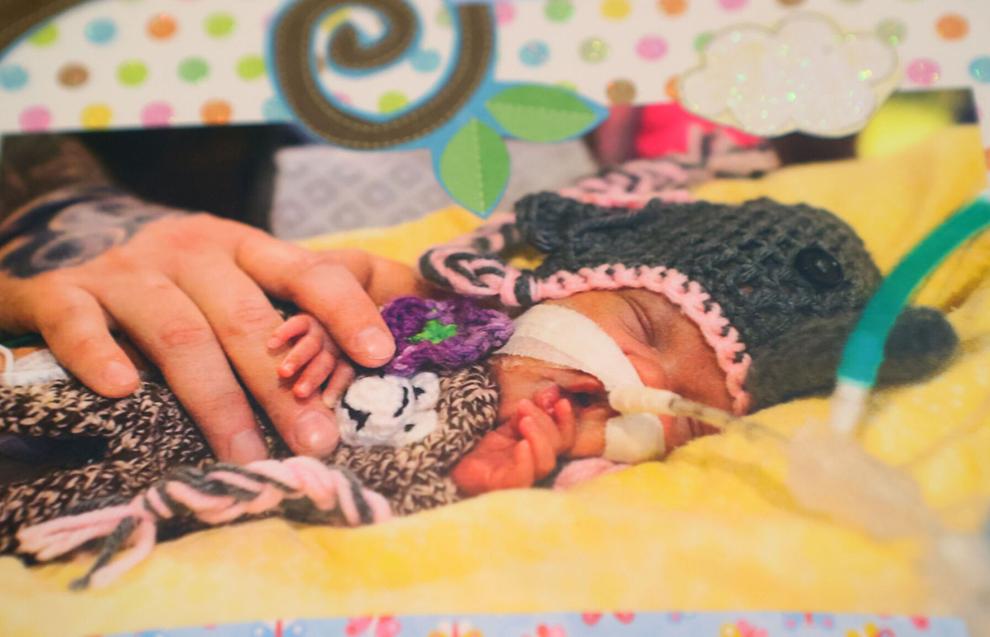 Amanda gave birth to Kala, who weighed just one pound, five ounces. The doctor said the baby's brain was damaged and had just a 3% chance of living. And if she did live, Kala had a 98% chance of being in a vegetative state, unable to move and unable to recognize her parents.
Doctors told Amanda and Ryan to seriously consider if they wanted to continue the extravagant measures to keep Kala alive.
"I said, 'I have spent my entire adult life working with folks who have the diagnoses that you're talking about,'" Amanda said. "'So, either you go in there, and you try and save my kid, or we'll find somebody who will try because we will love her no matter what. No matter what, we want her. So please, do what you have to do to save our child.'"
Kala later was transferred to Riley Hospital for Children in Indianapolis, where she stayed for four months undergoing procedures, surgeries and tests. Day by day, she defied the odds and continued to grow stronger. Amanda and Ryan never left her hospital room, except to sleep at the Ronald McDonald House across the street.
Finally, they were cleared to bring Kala home, and they left the hospital trained on how to use Kala's heart monitor, apnea machine, oxygen, feeding pump and tube, along with other machines Kala depended on for her survival.
When they got home, the magnitude of care that Kala required sunk in. At the hospital, they had nurses and doctors to rely on. At home, it was just them.
"Every single beep was like, 'Oh, is this the time that it's gonna happen? She's gonna die and we're gonna be responsible for saving her,'" Amanda said. "I was scared that we were going to totally mess it up."
The first month was stressful. They sat with her around the clock. Kala's care became their life.
They awoke at 3 a.m. as they tried to get her to sleep. They panicked if one of her monitors started beeping. They made the trek to Indianapolis a few times every week for follow-up appointments.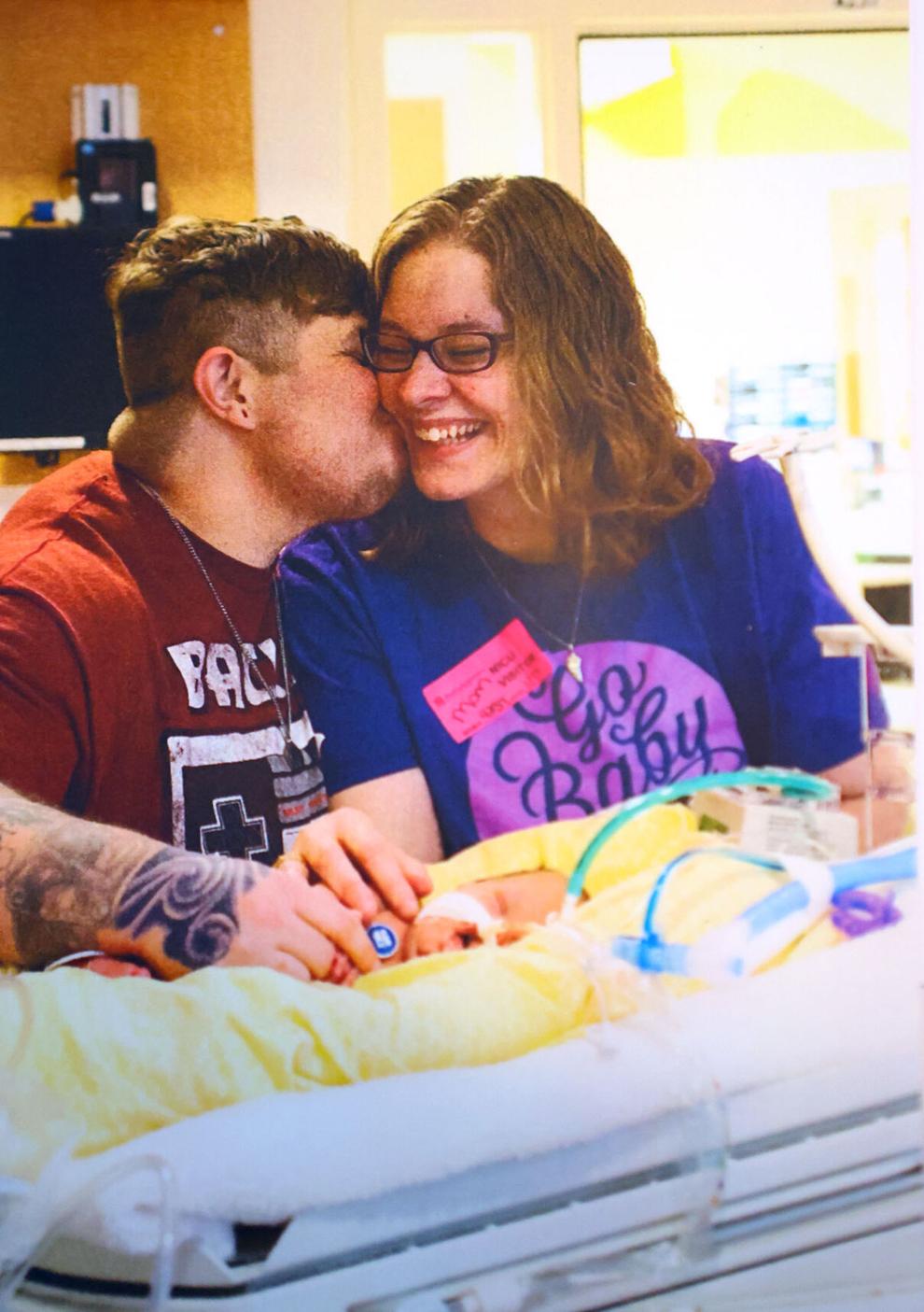 In those first few months, it took both of them to care for her, so neither Amanda nor Ryan worked. On top of the mental, emotional and physical stress, they were also financially stressed.
Slowly, the list of things they had to do to keep Kala alive grew smaller, and as she grew, she became less fragile. Kala had reached a point where it only took one of them to manage her care. They decided Ryan would stay at home and Amanda would go back to work as a music therapist.
The adjustment to becoming a stay-at-home dad was difficult for Ryan. Kala cried all the time. She wouldn't let him put her down. She craved physical contact while Ryan never liked touching and shied away from it.
And the things Ryan liked to do to cope with the extra physical contact, like pace or bounce on an aerobic ball, he had to do while he held her. He was exhausted.
"I was feeling broken as a stay-at-home parent," Ryan said. "I really felt like I was going to implode. I love her so much and I wanted her to be okay, but as much as I don't want to be touched, she needs to be touched in that same amount."
The stress was taking a toll. While Kala had been in the neonatal intensive care unit, Ryan stopped watching what he ate and gave up running and exercise. That continued after they came home. Ryan gained weight and eventually became almost unable to lift her and hold her and rock her. He knew something had to change.
"I tried to give myself grace in that every decision is an opportunity to make a right decision," Ryan said. "And sometimes the right decision for me is the wrong decision for my body and running."
But he remembered how he felt when he exercised. It made him happy, clear-headed and shook out all the sensory overload that built up throughout the day.
It was time to start running again. But this time with Kala.