The Kokomo Common Council Monday narrowly approved a zoning change that paves the way for construction of a new $1.5 million apartment building across from Foster Park after listening to more than an hour of public comment on the project.
The council voted 5-3 to rezone the site of the former Turner MFG Co. building at 402 W. Superior St. from a commercial to a multifamily residential classification to allow for the construction of a two-story, 16-unit apartment complex.
The zoning change came to the council from the Kokomo Plan Commission, which voted unanimously in favor the project.
But the apartments received stiff pushback from some nearby residents and businesses, who said that section of Superior Street is already congested with traffic and the housing project would make it worse.
James Meck III, who owns Crazy J's Ice Cream Bar located a few lots down from the project site, said during the summer, Superior Street is clogged with traffic traveling to Foster Park or nearby businesses such as Rhum Academy.
"Right now, it's barely passable for about seven months out of the year," Meck said. "Now, we're going to put more traffic there. … This is not necessary for this property."
Michael Ricci, who lives on Superior Street two blocks from the apartment site, agreed. He said the street has been difficult to navigate since the city narrowed it during a recent reconstruction project, and adding 16 apartment units would only add to the issue.
"The problem is it's just a congested area," Ricci said. "By putting this in, you're going to create even more congestion. You're putting too much into such a small area."
But others said the apartments were needed in Kokomo to provide high-quality housing to working families.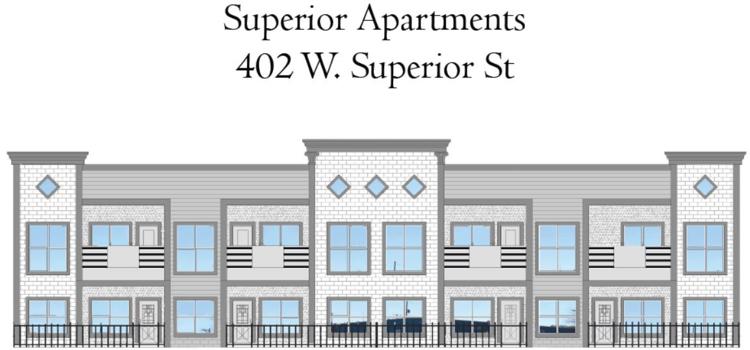 Margaret Phillips told the council her husband works at Indiana University Kokomo, and they know three people personally who work at the college who moved to the area and ended up living in Greentown because there was no affordably priced housing in Kokomo.
"Just remember that there is a university in this town, and there are people who come here from other countries or states or cities to work here, and they need nice housing," she said.
Natalie Guest, who lives in the neighborhood near the apartment site, said the city needs more housing to combat homelessness and give younger families options to stay in the city rather than move away, and the new apartment project does just that.
"How hypocritical of us to lament homelessness and poverty and brain drain, while doing nothing to address it," she said.
But the fiercest defense of the new apartments came from Scott Pitcher, who heads Fortune Companies and is developing the project through Kokomo Superior Apartments LLC.
Pitcher spent around 30 minutes laying out why the new apartment complex was needed and made a good fit at the Superior Street site, as well as providing data to dispel rumors that the housing units would bring crime to the city.
He also defended his nearly 30-year development career in Kokomo, pushing back against some council members' distrust because of his work under the former administration of Democratic Mayor Greg Goodnight.
"I'm registered Republican, so I think we're all on the same team," Pitcher told the all-Republican council. "I've worked with Mayor Goodnight, and I think he did a lot of great things for this city. Some people liked him and some didn't. But there are decisions to made here not based on who you like, but based on what's best for this community."
He said the new apartments were in the best interest of the city because they would infill what is now an unattractive vacant lot right across from a public park, which in turn would increase nearby property values.
Pitcher told the council that intensive research shows the city needs more market-value, multi-family housing units, and he assured the council the units would fill quickly.
But that wasn't enough to convince Councilman Jason Acord, who said he didn't think the city needs more apartments.
"I still just don't see that we have the jobs in our community to support all these apartments," he said.
That comment led to pushback from Pitcher, who said, "What data have you studied, Jason? I ask this with all due respect. How much data have you studied?"
"A small fraction," Acord said. "… But I just feel like we have a lot of housing opportunities for people."
"We're not going to build product that isn't going to get occupied," Pitcher told Acord. "We have to go through a process, and I have to sign the bank loans personally. I'm guaranteeing that this product makes sense. We do the data work. The banks do the data work. Everybody studies this … and that's what we go on."
Councilwoman Kara Kitts-McKibben asked Pitcher if the project was receiving any government funding to develop the site.
Pitcher told her he's receiving $490,000 in Tax Increment Financing revenue. City records show the money was given as a forgivable loan to Kokomo Superior Apartments LLC.
But Pitcher said the TIF funding was necessary to complete the project, adding local governments incentivizing downtown housing projects was common in cities all across the country.
"If you don't get city incentives, then you don't get bank money," he said. "If you want these projects, the city has to be a partner, just like the city was a partner in the ball diamond, the pool and the convention center. You have to have urban partnerships, or nothing is going to get done."
Acord and Kitts-McKibben ended up voting against the rezoning of the site. Councilman Tony Stewart also said no to the project after taking nearly an entire minute to cast his vote, sometimes appearing visibly distressed and other times sitting with his head bowed.
Voting in favor of the rezoning were Lynn Rudolph, Ray Collins, Cynthia Sanders, Tom Miklik and Matt Grecu.
Pitcher said in a previous interview that construction on the project is anticipated to begin in March and last 18 months. Property records show the land is now owned by the Kokomo Community Development Corp., but Pitcher has said the CDC will give him the property.
The apartment complex is planned as a mix of eight two-bedroom apartments renting for around $899 a month, and eight one-bedroom apartments renting for around $725.