For 15 minutes, it was as if time had slowed.
There was a rush of confusion, a moment of frantic fear, as a mother searched for her son.
"That was the scariest 15 minutes of my life," said Michelle Hainlen of Kokomo.
Her son, Liam, who was just 6 years old at the time, had pushed a chair to the front door and unlocked the deadbolt in order to leave. Just moments before, the child and mother were taking a nap.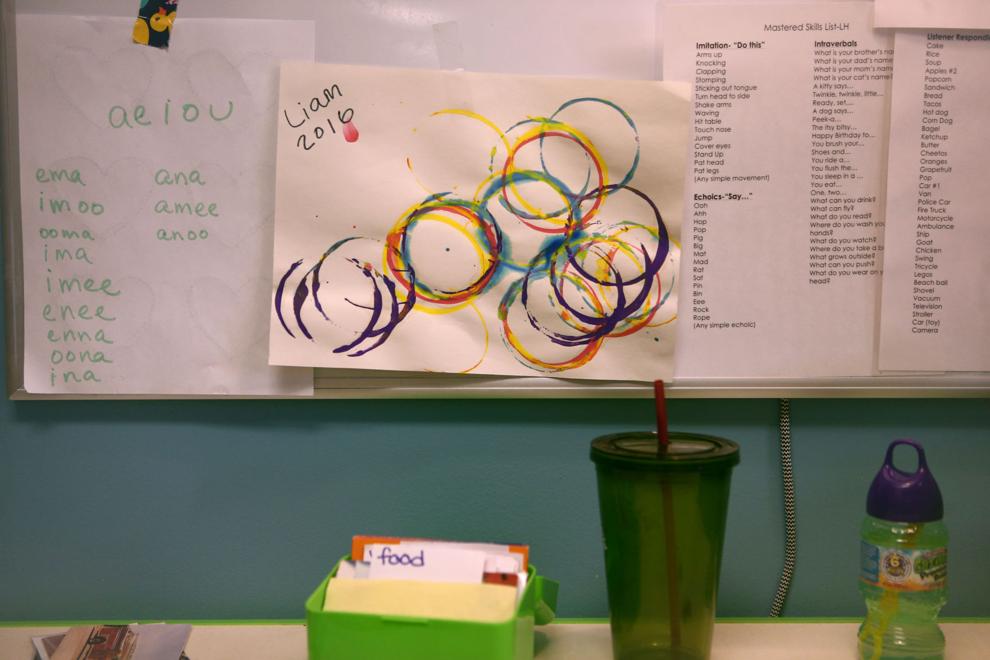 "That is very common with children and adults with autism – elopement," Michelle said. "They have the curiosity to wander. They have a love of water, they have a love of moving vehicles … that was my initial fear, is that he would be hit by a car."
Those fears washed over her she said. In less than 15 minutes, her young son had traveled as far as two blocks before a Good Samaritan called the police.
"The police came and they tried to communicate with Liam, but they noticed he was having trouble communicating," Michelle said. "He couldn't tell them his name, and so they took him to the nearest school in the area and a teacher, by the grace of God, recognized him."
Liam was returned safely to his parents Michelle and Trent. But that didn't quiet their fears of him wandering away from home again.
This instance was not the first. When Liam was 2 years old, he had gotten as far as the backyard before his parents located him, overcome with anxiety while standing against a fence.
"After he eloped, it felt like there was never enough that we could do," said Trent, Liam's dad.
"That sense of protectiveness, it permeates your entire life," he added. "Just every little thing, you can't help but try and shield him more."
Now Liam, a noticeably happy 8-year-old, has no recollection of the times he left home on his own. He spends his days shadowed by his Registered Behavioral Technician, a therapist at the Engaging Minds Autism Services in Kokomo. And his nights are spent with those closest to him, his mother, father and 6-year-old brother, Jonas, who is mildly autistic.
Locating A Solution
Clinton and Angela Paul, founders of the Autism Resource Center of Kokomo, are all too familiar with the struggles Michelle and Trent Hainlen face as parents of an autistic son who wanders.
They know firsthand the internal worry that is carried day-to-day by the fear of their child leaving home alone.
"This is kind of a personal thing for us," Clinton said. "Our boy, Jonas, has been known to elope. Elope is kind of a fancy way of saying he'll just run away, and not care about his safety, or anything. [He doesn't] have any kind of thought in his mind about the consequences of what he does."
This is very common for kids with autism, Clinton said. And both of his sons, ages 16 and 14, have been diagnosed with the developmental disorder.
One in 68 U.S. children (one in 42 boys) has autism, according to the advocacy organization, Autism Speaks.
And 40 percent of children who fall on the autism spectrum are non-verbal, making it that much harder to communicate in situations of potential danger.
Liam is moderately autistic, and cannot communicate fluidly with words like most children his age.
But through the Autism Resource Center, Liam gains the tools he needs to improve, despite his disorder.
"Some of Liam's challenges would be identifying what is his, what isn't his, what is safe and what is dangerous," said Ashley Hallmen, Liam's behavioral therapist at Engaging Minds.
"He has a lot of sensory issues," she added. "So when there's a lot of kids around, he gets kind of worked up and it's hard for him to focus and do his work."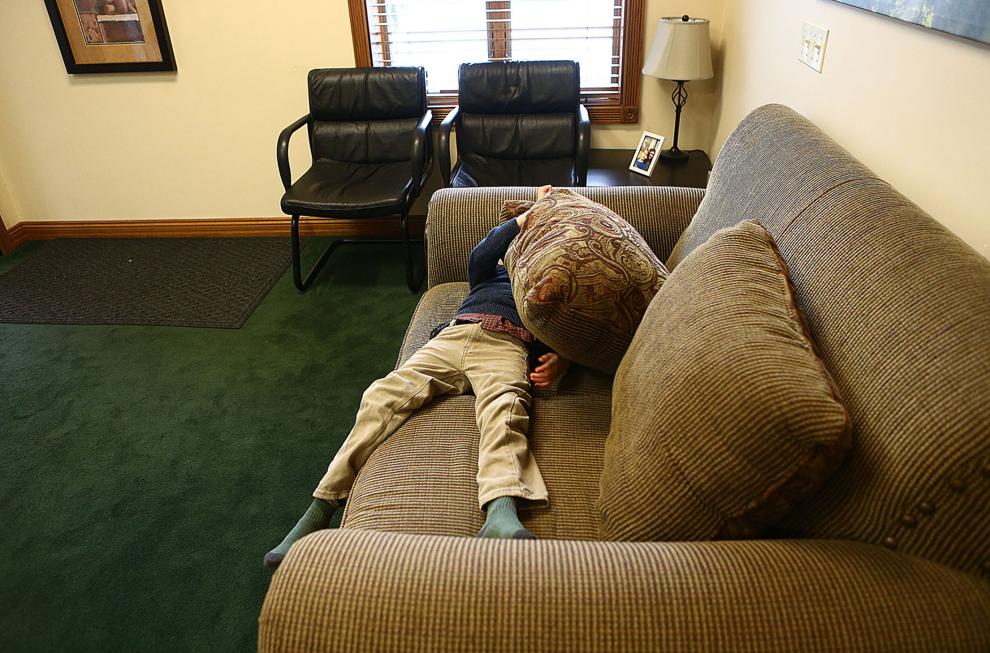 Liam and Hallmen spend their days doing puzzles, identifying colors and letters, engaging in play, as well as working toward Liam's understanding of his environment and expressing himself verbally.
The goal is to prepare him for his future, Hallmen said.
A future that may seem daunting for his parents.
"The ideal is, you raise your children and then they turn 18 … and then they go off into the world," Michelle Hainlen said. "And with Liam, we don't know what the future holds with that. Right now it's looking like he will need one-on-one care for the rest of his life."
And though that may be true, resources in Kokomo have developed over the years to ease some of the stresses for parents with children who have autism. One advance, in particular, is the Care Trak Systems tracking device.
Through radio frequencies that transmit to and from a chip inside a bracelet, the system tracks people with developmental disabilities at risk of wandering away.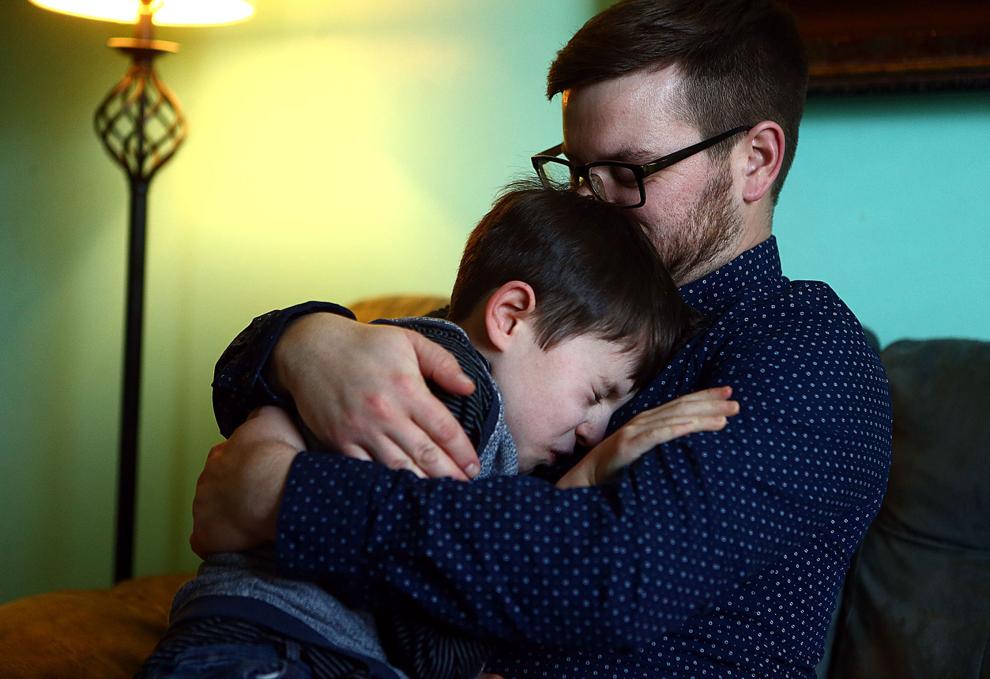 Since the opening of the Autism Resource Center in Kokomo in 2008, Angela and Clinton Paul have aimed to bring this tracking system to Howard County. In the fall of 2016, they finally accomplished that goal.
"We're hoping that … even if one child, one family can feel safe," Clinton said. "If they can get some benefit out of this, then all of our efforts will have made a difference."
The Autism Resource Center raised $7,500 in funds to kick-off the project in November 2016. And it is continuing fundraising efforts through events, donations and grants, to ensure that anyone who needs a tracking bracelet in Howard County will have access to one.
In partnership with the Howard County Sheriff's department, the resource center has brought tracking capabilities to families in need, which will increase the safety of many children in the county.
"This program itself is for those who (are) really in need," said Clinton. "Those who have shown a tendency to elope in the past, and are unable to communicate."
From there, the hope is that the software will also be used by residents with family members affected by Dementia and Alzheimer's who tend to wander.
Protect Through Service
Starting costs for the Care Trak tracking system is $5,000. That includes the training of police officials, and only a couple of the tracking bracelets. Each bracelet after that costs $300 apiece.
For families in need of this program, there will be no charge, said Capt. Jerry Asher of the Howard County Sheriff's Department.
"Our hope is to get this out to as many folks … whether it's autism, Alzheimer's, [or] dementia patients," Asher said. "Particularly with children, if they wander away, we would want to make sure that they're safely returned home without having any problems whatsoever. Our hope is to get the information out to as many families in Howard County as we possibly can that are in need of this particular device."
Approximately seven Howard County Sheriff's deputies were trained in November 2016 to use the Care Trak software.
In the two-day training, Steve Case, national trainer for Care Trak International, instructed officers on how to use the tracking software, and almost even more importantly, how to interact with an autistic child.
"Children with autism … one of the biggest problems they have is communication," Case said. "They know what they want to say, but they can't put those thoughts into words. So they have different ways of handling that kind of stress. They get very frustrated; they have their own systems for calming themselves down."
Case, a police officer for the St. Charles County Police Department in Missouri, has trained officers on Care Trak in cities all over the country for the last 10 years.
His interest is a personal one because his oldest son is autistic.
"He was never a runner, but some of his buddies where," Case said. "And I said, 'There's got to be something out there,' so I did a little research and found [Care Trak] and fell in love with it, and [I'm] preaching it all across the country now, trying to get as many agencies trained up as I can."
The equipment is now used by 700 agencies across the county. On the ground, it can locate a person from up to a mile away. By air, it can track up to five miles in every direction.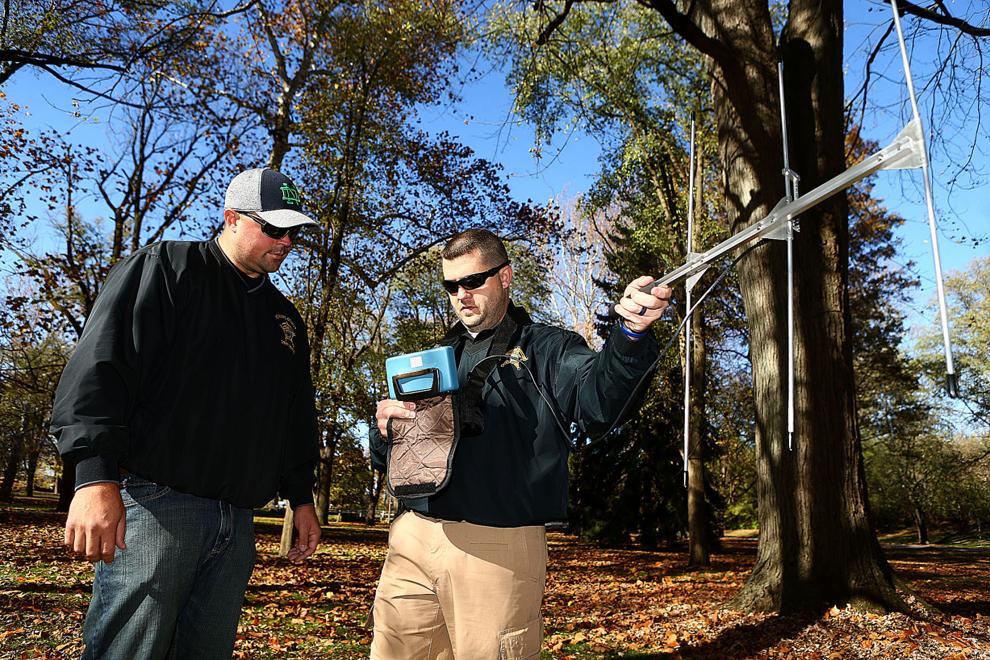 This particular tracking system has had a 100 percent success rate, Case added, with an average recovery time of less than 45 minutes. And considering the propensity of autistic children to be curious of their surroundings, time truly becomes of the essence.
Unsafe Environments
Kokomo School Corporation has approximately 100 students on the autism spectrum throughout the combined elementary and middle schools, and the high school.
A spectrum disorder, autism does not identify by one characteristic. Every individual affected is unique, although there are certain characteristics that are evident in most, said Monica Shuck, autism facilitator for Kokomo Schools, and board member at the Autism Resource Center.
Fifty percent of children with autism are wanderers, Shuck said. At some point, they will elope. Some will do so repeatedly.
"I know last year, we had three students in our program that we work with, families that we know that left their homes in the middle of the night," Shuck said. "And so, this is very personal for us because we care about those children very much and we want safety for all the kids in Howard County."
Beyond the confines of a home, there are obvious threats: strangers seeking to do harm, traffic, and even the weather.
"The problem with wandering is that children will leave the house and, let's say they are non-verbal, so if somebody sees a child wandering, they're not able to identify who they are [or] where they belong," Shuck said. "Children with autism are not aware of dangerous situations, so they will cross the street without looking. They can be hit by cars. They will fall off, maybe a high place. They can get into the cold and not have a coat on, or maybe leave the house without shoes."
But they gravitate most toward water, she added, a concern both Michelle and Trent Hainlen have for their son Liam.
"He has no sense of safety, that's his biggest thing," Michelle said. "He could easily wander into the street because he doesn't know to look for cars. He could easily wander into a pond … that was one of our fears."
Research shows that 90 percent of deaths from wandering are because of drownings, Shuck said. That enforces the importance of the timely recovery of wandering children.
Aside from natural elements, individuals who encounter children with autism must understand the nuances in how children deal with anxiety from a stressful situation. In particular, officers were trained on how to interact with an autistic child or adult who has wandered.
"It's important for people to know that if a child with autism is wandering, they're not going to respond to their name," Shuck said. "So if you yell for the child, they're not going to react. Police Officers need to know that, too, because sometimes if it's an older child, they might not respond to the verbal directions that a police office or somebody else is giving to them and that can be very dangerous at times."
Being aware of those cues was something stressed at the Howard County Sheriff's Department during training for the tracking system.
"What I try to do is give examples of if you see this type of behavior, this is probably what's going on," said Officer Steve Cross, Care Trak trainer. "And a lot of times, unless they're hurting themselves or other people, that's their way of coping with it, and that's how they settle themselves down."
Following those cues will increase the opportunity for children and adults with autism to return home safely.
"It's a win-win for everybody," Case said. "As far as the families go and as far as the law enforcement agencies go, it is a security blanket for families. This equipment is not going to stop them from leaving or from fleeing the residence, but it is going to make them a lot easier to find. And sometimes parents just need to know that law enforcement is out there to help. We're going to bring their loved one's home, no matter what."
Since the tracking bracelets became available to residents of Howard County in fall of 2016, two families are utilizing the tracking system. The hope is that many more families will reach out to the Howard County Sheriff's Department to apply for the program, at no cost to them.
However, the requirements are very specific. To apply for Care Trak in Howard County, a family must present a medical diagnosis from their physician that the member of their family, either with autism, or another disorder, has repeatedly wandered off. They must be a resident of the county, have a 24-hour caregiver for authorities to be in contact with, and cannot have access to a motor vehicle.
If the child or adult fits these criteria, they will likely be approved for the tracking bracelet.
Resources
The expansion of resources for children with autism has grown in Howard County and specifically in Kokomo in recent years.
For Michelle and Trent Hainlen, their journey to providing the safest environment for their son's has been revealing of the opportunities out there. With the help of the Autism Resource Center of Kokomo, the Hainlen family sees continued growth for the future of the autism community.
"Those doors have really opened up in Kokomo and I'm so excited because there is just so many more programs … that are really rooted at early intervention," Michelle said. "So, now, it's at our fingertips and Medicaid is now paying for Applied Behavioral Analysis therapy where they weren't before, so that opens a door to everyone."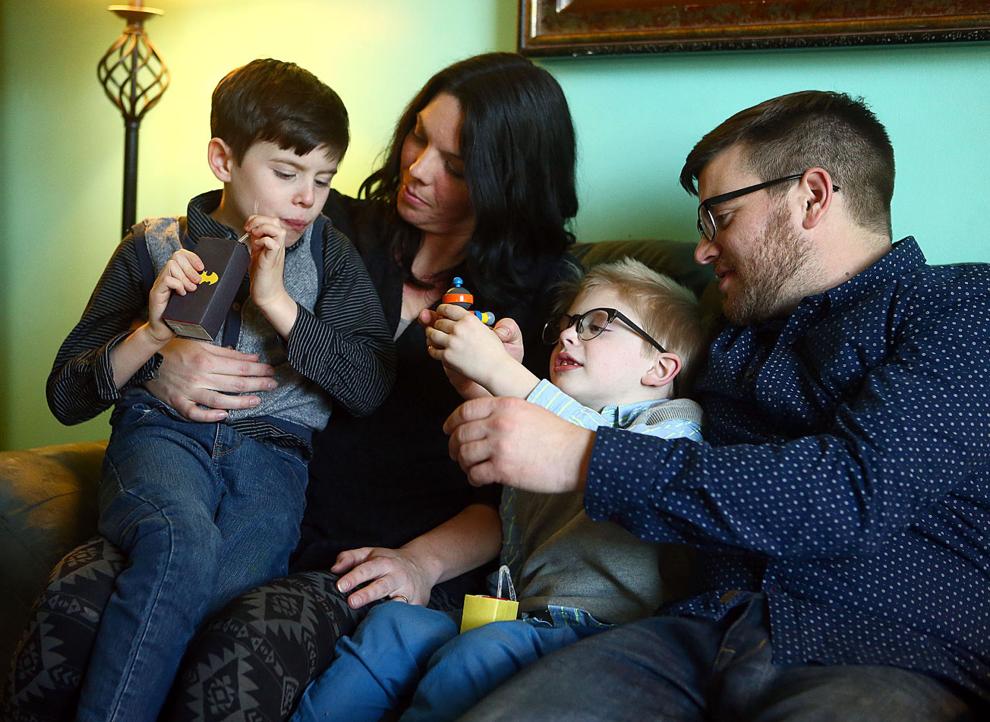 "That additional peace of mind really goes a long way," Trent added. "It's not even just the safety measures that it brings into the forefront, it's the awareness that it spreads throughout the community as well."
For more information on Care Trak bracelets, contact Deputy Sherrie Galloway of the Howard County Sheriff's Department at 765-456-2020 ext. 350. Applications for the program are also available on the Howard County Sheriff's Department website.