The Howard County Sheriff's Department has finalized the funeral procession to honor the life of Deputy Carl Koontz, killed in the line of duty Sunday.
The funeral service will begin at 11:00 a.m. Tuesday at Northwestern High School. The procession is expected to start at approximately 2:30 p.m.
Attendees are asked to enter through the main entrance on the building's east side. According to Indiana State Police, people will not be seated until 10 a.m.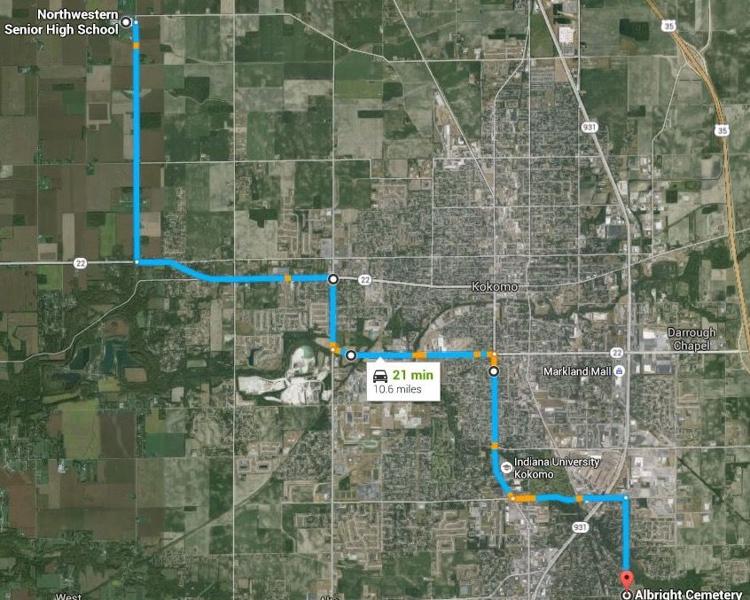 The route of travel for the procession will be:
-Northwestern High School, 3431 CR N. 400 W.
-South on CR 400 West to SR 22
-East on SR 22 to Dixon Road
-South on Dixon Road to Markland Avenue
-East on Markland Avenue past the Sheriff's Department to Washington Street
-South on Washington Street to Lincoln Road
-East on Lincoln Road to Albright
-South on Albright to the cemetery at the corner of Albright and Alto
The public is invited and are encouraged to stand along the procession route to honor Deputy Koontz. The police procession could possibly include over 500 police vehicles, dozens of other emergency vehicles, as well as the family and friends of Deputy Koontz.
If you are required to travel through any of these areas during the time of the procession, please seek alternate routes. Road closures and traffic congestion is expected throughout much of the afternoon.
As you search for a safe place to watch the procession, please keep in mind some roads will not close until the procession begins. Please use caution if you are sitting along the road. As the procession passes your location, it is customary to stand, remove your hat and cover your heart with your right hand.
Police also encourage residents to place respectful tributes to Deputy Koontz along the procession route. 
"On behalf of the Howard County Sheriff's Department, thank you for the incredible outreach of support, condolences and comfort during these most difficult times," the department said in a press release. "It is very comforting and humbling to see the incredible amount of support this community has shown."