On his good days, 9-year-old Hayes Purdy is there on game nights, eagerly running back and forth along the baseline of the basketball court rebounding stray balls and tossing them back to the players as they warm up.
On his bad days -- the days when he's absolutely exhausted and feeling weak -- he's still there, under the basket, passing the ball back to the players before retreating to the bleachers to rest his head on his mom's lap, barely able to stay awake.
But even on those bad nights, when he can hardly lift his head, Hayes awakens for just a moment as the Maconaquah Braves return from the locker room and take the court. He smiles, then claps and waves to his favorite team in the world.
On his bad nights, he might not be the loudest one cheering, but Hayes still inspires the team more than anyone else in the bleachers. That's because he's their friend, and they know it's a miracle that he's even there in the first place.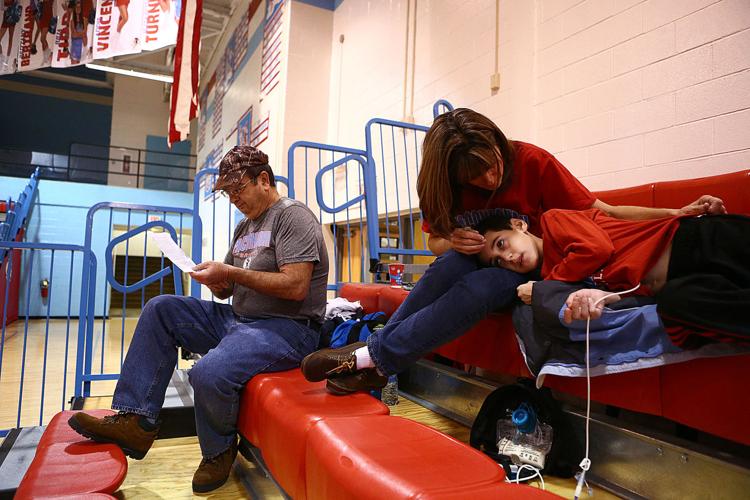 Hayes was born with a rare chromosome disorder -- so rare, in fact, that doctors haven't found anyone else in the world who has it.
Mutations and abnormalities on two of his chromosomes have caused a number of health problems that Hayes has to deal with on a daily basis.
He suffers from respiratory failure and has to undergo breathing treatments.
He has epilepsy, which causes him to have seizures and forced him to wear a helmet for most of his life.
He has mitochondrial disease, an energy-sapping condition that causes chronic fatigue. Hayes has to get a lot more sleep than the average 8 hours to get through the day. It's also caused him to have weak trunk muscles that, until recently, required him to wear braces on his legs.
During the day, Hayes wears a small backpack with a feeding pump inside, which pumps nutrients into his system through a feeding tube since he can't properly digest most foods. That tube runs through his stomach straight into his intestines, and he's had it since he was a baby.
But the most dangerous of all is his immune deficiency. His immune system doesn't work properly, so for the past six years, Hayes has had to undergo monthly infusions of antibodies to boost it.
Through tubing hooked up to a vein in his chest, it takes at least four hours at Riley Hospital for Children at Indiana University Health in Indianapolis for Hayes to receive antibodies into his bloodstream. Without the infusions, Hayes would develop infections all over his body.
Vicki Bowman, who adopted Hayes at birth, said that when he was a toddler, he was constantly sick and getting infections.
His stoma, the area around his feeding tube, would be infected. His mouth, eyes, ears and even fingernails would get infections.
"Anywhere bacteria would breed, it did," Vicki said. "How long would he live like that? I don't know. Obviously that's not up to us. But he would most certainly be sick."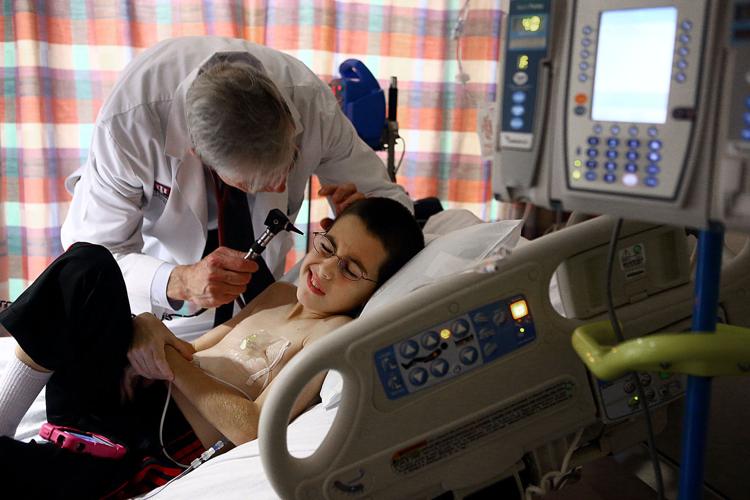 The Maconaquah basketball team didn't know any of that when Hayes showed up for his first game at the school.
It was the gentle prodding from his parents, Vicki and Ned Bowman, that Hayes decided to go to his first-ever Maconaquah boys basketball game a few years ago. Before that, he wouldn't step foot into a gym.
"It was the whole acoustics of it," Vicki said. You go in the gym and it's loud, and even if there's not a million people in there, it echoes. He didn't want to go in there."
But it was a weekend night, and it was something to do during the middle of winter. They weren't sure how Hayes would react, but they decided to give it try.
While Hayes sat with his parents in the stands, he watched as the players dribbled down the court, took a shot or played defense.
Then Hayes noticed Chandler Pitts, the team's freshman point guard and the smallest guy on the team. Every time he made a shot or rebound, Hayes yelled "Pitts!" or "Chandler!" from the crowd. He was fixated.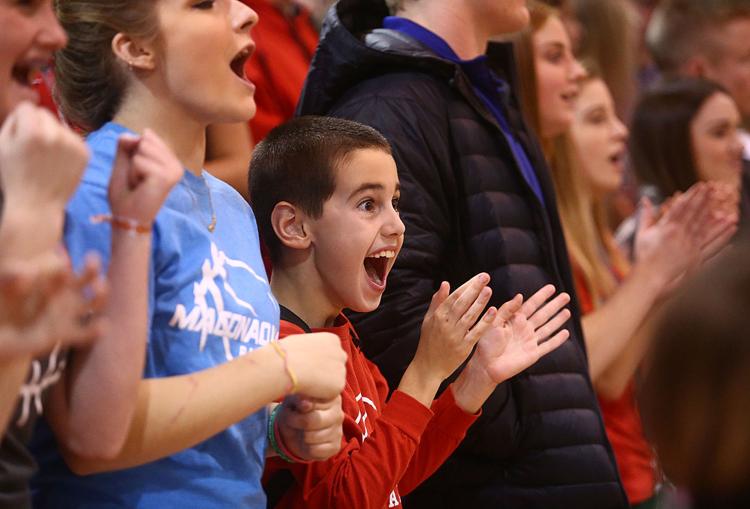 "He was the smallest kid, so Hayes could relate," Vicki said. "He couldn't believe this guy who was half of everybody else's size was so feisty and such a go-getter."
Pitts and forward Wyatt Hughes remember that night well.
"He was just cheering super loud and was super enthusiastic," Chandler said.
"You could hear him yelling," Wyatt said. "We didn't know who he was. He was just another fan, a little kid. He just caught our eye."
Hayes' ardent cheering first got their attention, but then they noticed he was wearing a helmet, leg braces and had a backpack resting against his shoulders.
Neither Wyatt nor Chandler knew Hayes' backstory, but they were curious about their new super fan. So they approached Vicki to find out more.
When they heard about his rare chromosome disorder, they were shocked. But that shock quickly turned to awe.
"To be the only little boy in the world to have that specific disorder, I was pretty amazed by it -- and how he kept fighting," Wyatt said. "It got to me a little bit."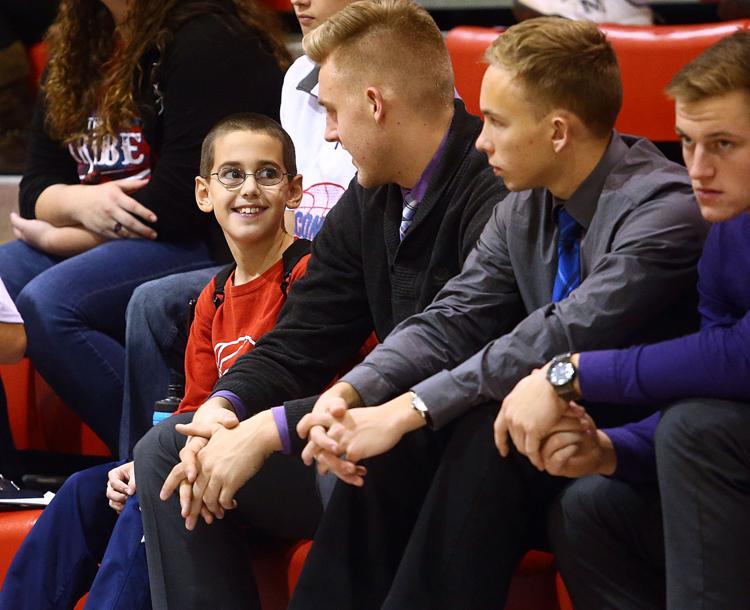 Chandler said when he found out about Hayes' condition, he realized how extraordinary it was that a young kid with so many health problems would care so much about their team.
"Once we found out the whole background story, it made it that much more special," Chandler said. "Just his cheering and how hard he went for us was motivational. It was motivation for us to really give everything we have into whatever we're doing, because he may never have those same opportunities as us. It puts it in perspective."
With Chandler and Wyatt showing interest in him, Hayes went from despising gyms to running all over them. Whether it was rebounding the ball during warm ups, cheering from the student section or sitting with the players above the bench, Hayes made sure he was involved in game nights.
"I help them get in the mood for basketball," Hayes said. "I help cheer, I help rebound, I help the manager. When they're sitting on the bench, I tell them 'You can win, you can dunk.'"
Vicki said it didn't take long for the entire team to fall in love with Hayes.
"They totally took him under their wing," Vicki said. "They started talking about him, started talking to him. They just became buds. He's become part of the gang. He's one of the Braves."
Now, Hayes passes out handmade cards to the players, cheerleaders and coaches for different holidays. Sometimes he gives out gift bags, just because he wants to.
The gestures don't go unnoticed. Wyatt still has some of Hayes' Valentine's and Christmas cards in his locker at school. He even keeps some at home.
"We're just normal basketball players that just go out there and play and then all of a sudden he comes along and gets attached to us, so I figure we get attached to him," Wyatt said.
And that's just what happened. Although their friendship with Hayes started on the court, it quickly moved outside the gym.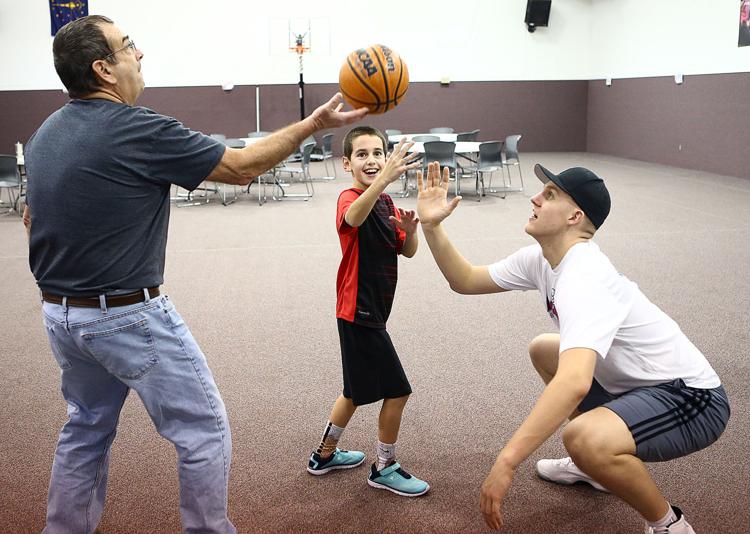 "It became an actual friendship," Chandler said. "We text his mom and want to hang out with him just like you do with your normal friends."
Over the last two years, Chandler and Wyatt have met up with Hayes to go out to eat or get a scoop of ice cream. They go fishing. They go to Hayes' birthday parties. They meet up to shoot hoops. During the summers, they come over to swim or play Xbox together. Wyatt even taught Hayes how to play rummy.
If Hayes is in the hospital, they send texts or call to see how Hayes is feeling or ask if he's coming to the game that night -- or to just let Hayes know they are thinking about him.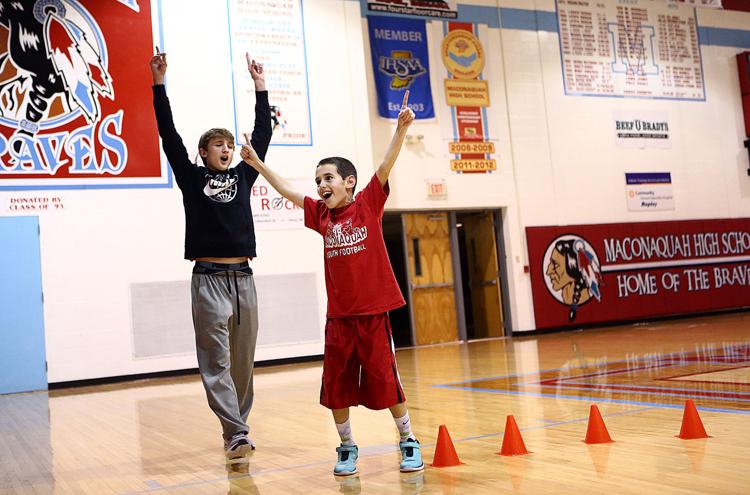 Vicki said it's incredible to see how much two teenagers care about a young kid.
"Teenagers don't have to hang around with a 7-year-old, 8-year-old, and now 9-year-old," she said. "But they've chosen to. We've not begged them. They've done this. And when they say they love Hayes, I believe they really do. I believe they genuinely care."
That was proven truer than ever last year when Hayes decided he wanted to stop getting his monthly infusions of antibodies at Riley at IU Health. Hayes told his friends he just wanted to go to heaven and not be sick anymore.
"It got real for us real quick," Wyatt said.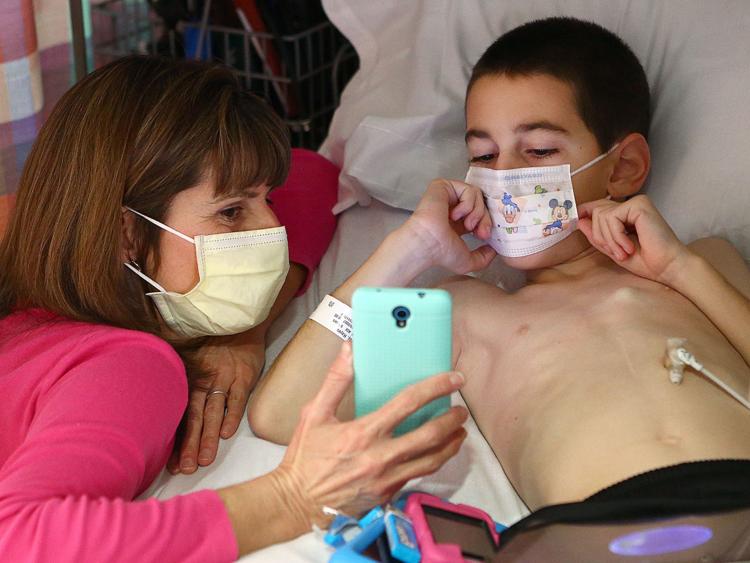 But Chandler and Wyatt weren't going to let Hayes stop fighting. They told him they needed him cheering at their games so they would win. They told him he had a purpose.
They told Hayes they loved him.
"I know it sounds really simple, but probably the biggest thing was when we told him we loved him and he's our little brother," Wyatt said. "I had a brother, but he passed away when he was a baby, so to have somebody like [Hayes] at that age where my brother would be is very special."
The encouragement was just what Hayes needed to hear. He told his parents he would continue his treatments. He wanted to stay healthy so he could keep going to the Maconaquah Braves games and watch his friends play.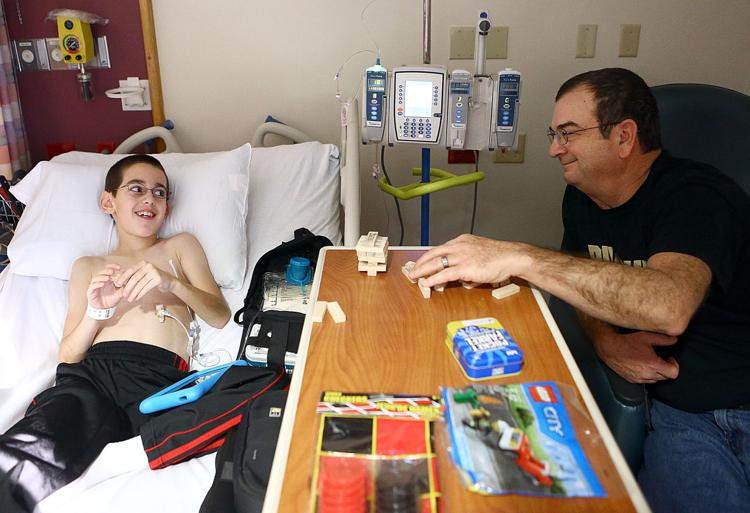 "They made Hayes have a reason and a purpose to continue on," Vicki said. "Their motivation for Hayesy is a motivation to live. To participate in life."
Even though Wyatt and Chandler have made a huge difference in Hayes' life, it's not just a one-sided motivation. They both say Hayes' presence on game nights reminds them that there are things more important than basketball.
When Hayes stands under the basket and helps rebound during warm ups or passes the ball back to a player, it's almost like a stress-reliever for the team.
"There'd be times in games that I lose my temper pretty easy and I let that get the best of me sometimes," Wyatt said. "So when I come out and I see him, I know just to calm down and smile. Everything's going to be okay. He's right there. No matter if we win or lose or what happens, he's going to be right there for us."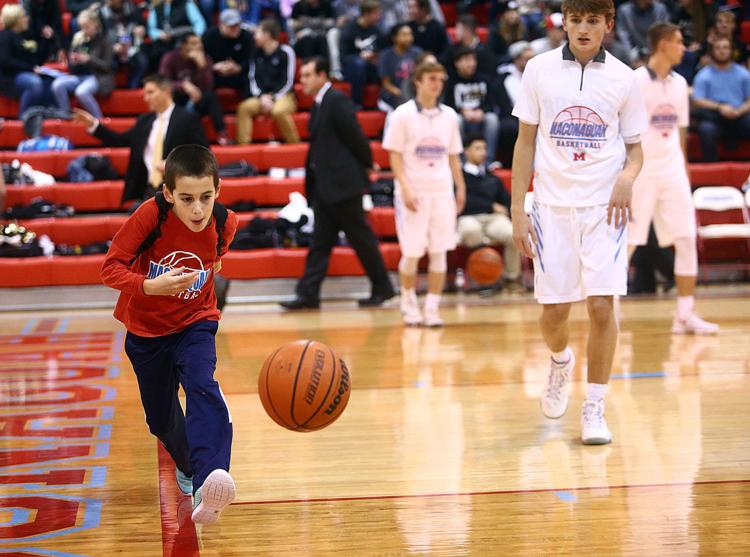 And his persistent, passionate cheering doesn't hurt either.
"They'll hear him yelling for them, yelling their names and telling them to make that shot or play defense," Ned said. "He's a real good coach. He can coach anybody. That has an effect on them. They can hear his voice and they know he's cheering for them."
Over the years, Hayes' love for the Braves has grown past just the varsity team. Now, he's developed strong bonds with the junior-varsity team, the cheerleaders, the girls basketball team and even the families of the players on the court.
Vicki said Maconaquah basketball has become a true obsession for her son.
"The JV game starts at 6," Vicki said. "Do you think we have to be there at 6? Oh Lord, no. We need to be there by 5:15. We are nagged at all afternoon. 'Are we gonna be late? What time are we gonna be there? I have to be there. My boys need me to rebound.'"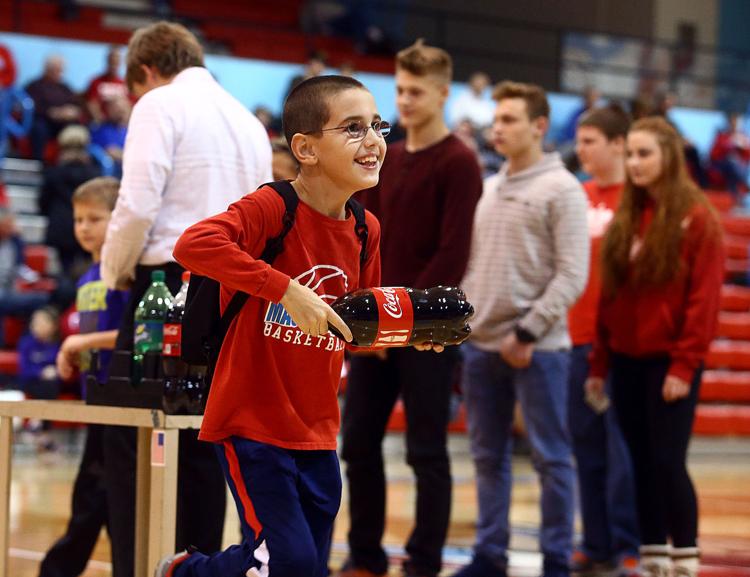 He loves the team so much that once when he went to a Peru basketball game, he got upset when someone gave him a Peru Tigers t-shirt.
"Hayesy immediately started crying because he loves the Braves so much he felt like he wasn't being loyal to them by accepting this t-shirt from this other team," Vicki said.
Last season, when Maconaquah didn't win sectional, Hayes cried. Not because the Braves lost, but because he thought Wyatt and Chandler would be sad.
"He cried all the way back from the ball game that night because he was afraid Wyatt and Chandler were crying," Vicki said. "For Hayesy, it isn't about the ball game as much as it is those boys. He loves them as people, so therefore he wants them to win. That's their gift for being good people."
Since they met him two years ago, Wyatt and Chandler have noticed a big change in the kid who went from being their fan to being their friend.
He doesn't have to wear his helmet anymore since he hasn't had a seizure in a long time. He doesn't wear his leg braces either, because his muscles have grown stronger.
The changes go beyond just his health. Hayes has Asperger syndrome, which made him afraid of other little kids for a long time. Now, he sits with them, talks to them and even plays basketball with them.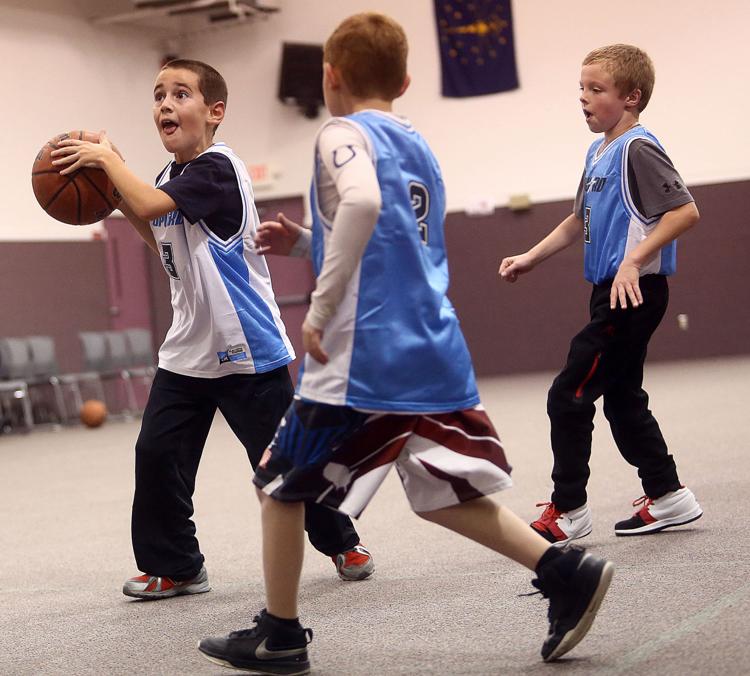 "Health-wise, mentally, he's just changed," Ned said. "He's overcome a lot. More than most people. A lot more than most people."
With Wyatt graduating this year and heading off to college and Chandler graduating in 2018, their future plans are uncertain.
But they've both made one thing clear: They want to continue their friendship with Hayes no matter what.
"I know I'm gonna go to college and that'll make it a little bit harder for me," Wyatt said. "When I come home, every time I come home, I want to see him. I want to be able to stay in touch. He's my little brother so I want to be with him."
Ask Hayes today who his favorite players are on the team, and he'll start listing the entire basketball roster. But he always makes it a point to say just how special Wyatt and Chandler are to him.
"Wyatt and Chandler are my favorite-favorite," Hayes said. "They pretty much adopted me and they said that now they're my brothers."
"I love them," he said. "I just like everything about them."
PHOTO GALLERY: Hayes the Brave
9-year-old Hayes Purdy was born with a rare chromosome disorder. Last year, he was on the verge of giving up and stopping treatments that were keeping him healthy. Then two Maconaquah High School basketball players intervened and changed his life.