GREENTOWN – Pick up a copy of the Greentown Grapevine this month, and readers can find out about a new photography business in town, get a preview of fall sports at Eastern High School, stay up to date on road construction and read through the obituaries.
There's a community calendar, details about upcoming events and a look back at other big news in town from decades ago called "Flash Back."
Since 2013, a group of dedicated reporters have been putting out the Greentown Grapevine, a monthly newspaper.
But the newsroom isn't made up of grizzled journalists, editors, page designers, circulation directors and all the other positions it takes to put out a printed newspaper.
All the work is done by six students and one teacher at Eastern High School inside a classroom.
Kate Washburn, an English teacher who has taught the newspaper class since 2015, said the Grapevine isn't just a student publication for the school. It truly is the community's newspaper, and the classroom really operates as a newsroom.
The students come up with most of the stories, do the interviews and write the copy. As part of the class, all the kids are required to attend and report on two town council meetings every semester.
Washburn spends about 14 hours a month laying out the pages of the publication in a design program. When the paper is ready to be published, the class sends off the pages to Lafayette, where they're printed on a state-of-the-art press.
The copies get shipped back to Greentown. Then, the students head out to deliver them to local businesses all over eastern Howard County. Others are put in envelopes and sent out to subscribers in places as far away as California, Texas and Florida.
"I was shocked the first time I went through our subscription list," Washburn said. "People get this from all over the country."
The only job that isn't done by Washburn or the students is selling advertising. That's done by an outside representative who lives in Greentown.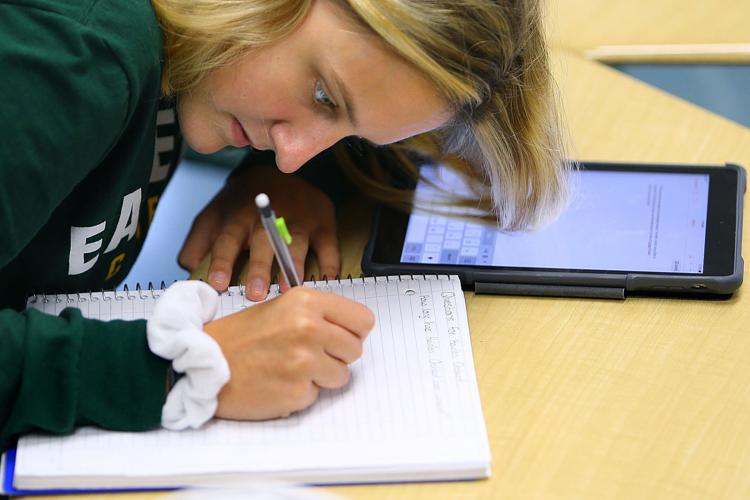 But the publication has enough readers to garner a decent amount of revenue. Washburn said ad sales cover the printing and mailing costs, and has even funded the purchase of a new printer for the classroom.
"It's usually close to breaking even every month, but we make enough money to keep us going," she said.
Ryan Gunterman, executive director of the Indiana High School Press Association, said it's not uncommon for high schools to offer journalism or newspaper classes that put out a school-focused publication.
But what Eastern High School is doing with the Grapevine is something truly unique. Gunterman said he's not aware of any other community newspaper in the state that's written and created exclusively by students and teachers.
"I'm unaware of a situation like that in Indiana and, honestly, anywhere in the nation," he said. "I've been involved in two national associations for 17 years, and this is the first I've ever heard of such a thing."
Greentown's first publication, called the Gem, was started in 1894. In 1937, the Gem became the Howard County News, which lasted until 1983.
Ten years later, Greentown resident Rachel Jenkins decided to bring a newspaper back to the town and call it the Grapevine. For years, she served as the sole reporter, editor and designer.
When she retired in 2013, the paper was set to close until administrators at Eastern High School made the unexpected decision to take it over and publish it through the school.
Since then, students have put out the paper every month, even when school is out for the summer, when Washburn hires a student intern to help her cover events and meetings.
Washburn said the whole experience has been a unique learning experience not only for the students. She said before taking over the position, she had little newspaper experience besides writing a few pieces for Indiana University Kokomo's student publication, The Correspondent.
When she was hired on at Eastern as an English teacher and assigned to teach the newspaper class, Washburn got a crash course in the business and politics of journalism.
"I had a little bit of background in the newspaper business, but not much," Washburn said. "It's kind of been learning as you go."
It's also landed the class in some sticky editorial situations, like the time the school discovered lead in its water in February 2016. Washburn said they didn't want their coverage to make the school or town look bad, but they also wanted to report the facts.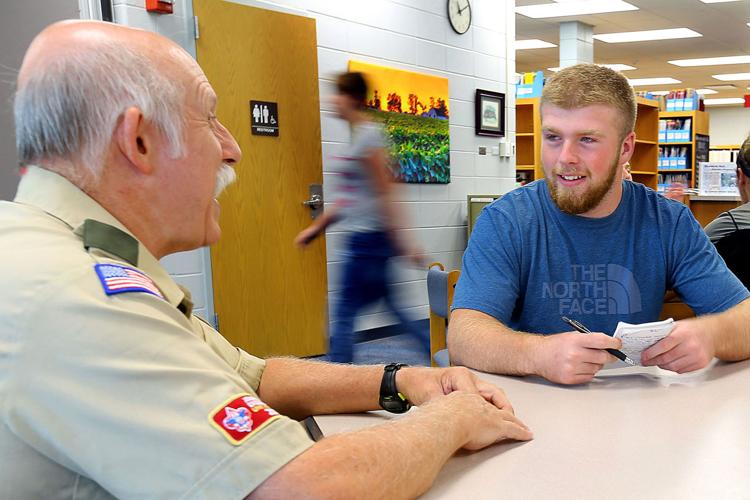 "I never want to put a negative light on the school or town," she said. "I always want to promote that positive atmosphere. That's a challenging thing to do, because things aren't always positive all the time."
But even when student coverage isn't particularly flattering of the school or town, district administrators have always been supportive of the newspaper, Washburn said.
"Sometimes we challenge some of the things the school is doing, but I haven't had any negativity from administrators," she said. " … They trust me to give the truth, and we've not had any conflicts or issues."
But for Garrett Hetzner, a senior who has enrolled in the class twice, the best stories are the ones that mean something to people.
He said the best article he ever wrote was about a second-grade student who passed away in 2012 from a brain tumor. The school created an award in his honor that is given to a student every year in the class he would have been in.
After the story came out, Hetzner said, the parents of the student came to his home with tears in their eyes to tell him how much the story meant to them.
"They told me thank you and they liked the article," he said. "It makes you feel good."
Washburn said those kinds of stories wouldn't get any attention without student reporters like Hetzner. And that's the kind of news Greentown residents like to read.
"The people in town love it," she said. "People love getting their paper and finding out what's going on in town and the community. People read this and they look forward to it."
Indiana High School Press Association's Gunterman said not only is it unheard of for a high school to put out a community newspaper, it's also inspiring to see a print publication thrive thanks to student journalists.
As more small-town papers fold due to weak sales and failing ad revenue, the business model the Greentown Grapevine uses might just be a solution other towns and schools can use to keep local journalism alive, he said.
"I think they could be an inspiration for other schools and newspapers who are dealing with difficult circumstances," Gunterman said. "I know I'm inspired by it."