Industrial hemp has made its way to Kokomo.
Third Wave Farms, a Kentucky-based hemp company, last month opened its first hemp drying and processing facility inside the 22,000-square-foot building at 2311 N. Washington St. that was formerly occupied by AndyMark, which makes parts for the competitive robotics market.
The facility, which represents a $2.5 million investment by the company, is now filled with equipment that can dry and process over 75,000 pounds of hemp a day that is used in dozens of cannabinoid-based products such as CBD oil.
On Tuesday evening, a large truckload of hemp was dropped off at the facility, where workers waited to begin processing the crop using the company's specialized equipment to turn it into a stable, storable, market-ready product.
Mike Lewis, the company's co-founder and director of agriculture, said the facility opened about two weeks ago to process Indiana's first legal hemp crop, which had been banned for over 80 years due its genetic similarities with marijuana.
Hemp contains very low levels of tetrahydrocannabinol (THC), the substance in marijuana that makes a consumer feel high. In Indiana, if THC levels get higher than 0.3% in hemp, the state deems it to be marijuana and will confiscate and destroy the crop.
The 2018 Farm Bill made hemp a legal commodity to grow and sell. That was followed earlier this year by state legislators passing the rules regulating the crop in Indiana.
Lewis said the Third Wave facility this year will only process around 500 acres of hemp from two area farmers, including one grower near Logansport. That's because the crop is still tightly regulated and the state only granted 140 licenses to grow hemp this year. Those licenses represent about 5,300 acres of the crop across Indiana.
But next year, when any farmer will be allowed to grow hemp, Lewis said he anticipates the Kokomo facility will process and dry around 4,000 acres of hemp grown by up to 50 producers.
"There are a lot of great farmers in Indiana," Lewis said. "The people are really nice and the community has been welcoming. … Everyone has made it really easy for us to call Indiana home."
But that didn't stop police from investigating the facility earlier this month after a caller reported the smell of marijuana in the area. Lewis said the issue has been resolved, and the city has been easy to work with to get the facility up and running.
"We've been received pretty well," he said. "We've only had one complaint from a neighbor, but we're going to meet with him and then go from there. … But the police department, mayor's office and everybody in town has been wonderful."
Anyone interested in seeing the Kokomo facility can take a tour, free of charge, from noon to 3 p.m. Friday.
Third Wave Farms was established in 2017 to grow, process and sell hemp and food crops, and is currently growing hemp in nine states.
Lewis said the company opened its first processing facility in Kokomo because of its relationship with Purdue University and the Midwest Hemp Council, which sold them on the idea of opening the plant in the city.
Now, he said, the facility will go a long way in establishing the infrastructure needed for hemp to be a successful and profitable crop in Indiana, since the operation protects farmers' crops by allowing material to be stored and marketed when demand is high.
"Now hemp farmers in Indiana have the peace of mind that one of the most important pieces of infrastructure needed to move this crop forward is on the ground and running in Kokomo," Lewis said.
The facility features a customized conveyor system that dries the hemp so it can be prepared and shipped to the company's extraction processing partners, including a facility it Michigan City, where it is turned into cannabinoid-based products for clients.
Lewis said the building also has a machine that processes hundreds of pounds of hemp flower per hour to create a higher value material which ultimately ends up in pre-rolled cones and filtered hemp cigarettes that will also be produced on site.
State code bans the production of smokeable hemp, but a federal court recently issued a preliminary injunction on the law after a group of hemp growers sued the state, arguing the regulation violates federal code and the 2018 Farm Bill.
Lewis said they had planned not to produce smokeable hemp at the Kokomo facility because of the state law, but decided to move forward with it after the court barred the state from enforcing the regulation until judges decide whether the law is constitutional.
Lewis said the Kokomo facility is the first step in a major expansion of the company. He said next year, Third Wave Farms anticipates opening three more drying and processing facilities in Indiana and Kentucky, which will process in total around 10,000 acres of the crop. The company will also expand its growing operation to 16 states.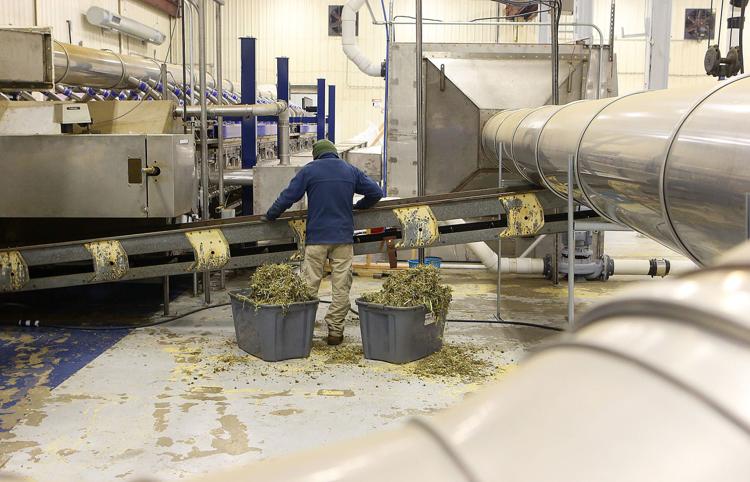 In the end, Lewis said, the heart of the company's business model is working hands-on with farmers to get them the tools, resources and knowledge they need to succeed and turn hemp into a viable national crop. He said that's the approach they are bringing to their Indiana operations.
"When we work with farmers, we're there every step of the way," Lewis said. "We're using everything we can on the technology and networking side to provide as much security and stability to the farmers on the production side."
The Third Wave operation is now the second major hemp facility to open in Howard County.
Austin Rhodus, owner and CEO of Kokomo-based DREEM Nutrition, which makes CBD products, has transformed a 44,000-square-foot building on the south end of Russiaville into all-things-hemp hub designed to help area farmers. The facility was formerly owned by Functional Devices, which produces circuit boards.
Rhodus has invested around $500,000 to install an in-house lab to test and create products, and converted a huge warehouse space that could hold and dry more than 2 million pounds of hemp.
He said Thursday his company could potentially start working with Third Wave Farms, and he was excited to see another facility open in Kokomo to help the state's growing hemp industry.
"This is what we've been advocating for," Rhodus said. "Understanding the impact that Indiana is going to have on hemp at the national level creates an appetite for out-of-state businesses to come to Indiana. I'm excited to see more jobs and more Howard County citizens being employed by hemp companies."