Although Ryan White became the face of the disease in the mid-to-late 1980s, the way in which his plight, AIDS, befell him was not all that uncommon at the time.
According to Susan Resnik's 1999 book "Blood Saga: Hemophilia, AIDS, and the Survival of a Community," upward of 90 percent of hemophiliacs who were treated with blood-clotting agents such as Factor VIII between 1979 and 1984 contracted HIV.
"A whole generation of hemophiliacs was infected because of that," said Howard County health officer Don Zent. "Ryan was one of the unfortunate ones."
Exactly when White became infected with HIV remains a mystery, but he was diagnosed with AIDS in late 1984. Through his family's fight to allow him to be readmitted to school, he became the national face for the disease by the late '80s. He spoke at the President's Commission on the HIV Epidemic in 1988, and appeared on virtually every national news syndicate.
White succumbed to the disease in April of 1990, and although he didn't live to see the full effect he would come to have on the AIDS discussion, four months after his death, the United States Congress ratified The Ryan White Comprehensive AIDS Resources Act.
According to the Health Resources and Services Administration, it's the nation's largest federally funded program for HIV/AIDS sufferers, providing funds to over 2,500 different health organizations. In turn, it provides varying levels of treatment for roughly 500,000 patients annually.
White and fellow sufferers also had a profound impact on the way blood donations are collected and screened for disease. The Food and Drug Administration in March of 1985 licensed the first test to detect HIV antibodies in the blood, and immediately thereafter, on March 3 of that year, the American Red Cross' blood services began screening all newly donated blood for HIV.
---
"Even doctors disagreed with other doctors about how AIDS was transmitted, and people believed kissing, tears, sweat and saliva spread [it]."
---
"We've seen the epidemic from the beginning, when there was no education at all," Jeanne White Ginder, White's mother, told the Kokomo Tribune. "Even doctors disagreed with other doctors about how AIDS was transmitted, and people believed kissing, tears, sweat and saliva spread [it]. We've come to a point where we got people educated and got them meds. It's too bad it wasn't soon enough for Ryan, but three years after Ryan's death we got the meds that started to show promise and started working. Now we're at the point where it's nearly undetectable."
When White was first diagnosed with hemophilia, Factor VIII was fairly new to the market as a drug for hemophiliacs, and it was enabling people stricken with the disease to live relatively normal lives. Before that time, most hemophiliacs were on the verge of becoming crippled by the age of 12 due to bleeding in the joints.
"It was like a miracle drug," White Ginder said. "Little did we know the drug that was saving their lives was going to be the drug that took their lives because it contained the HIV virus."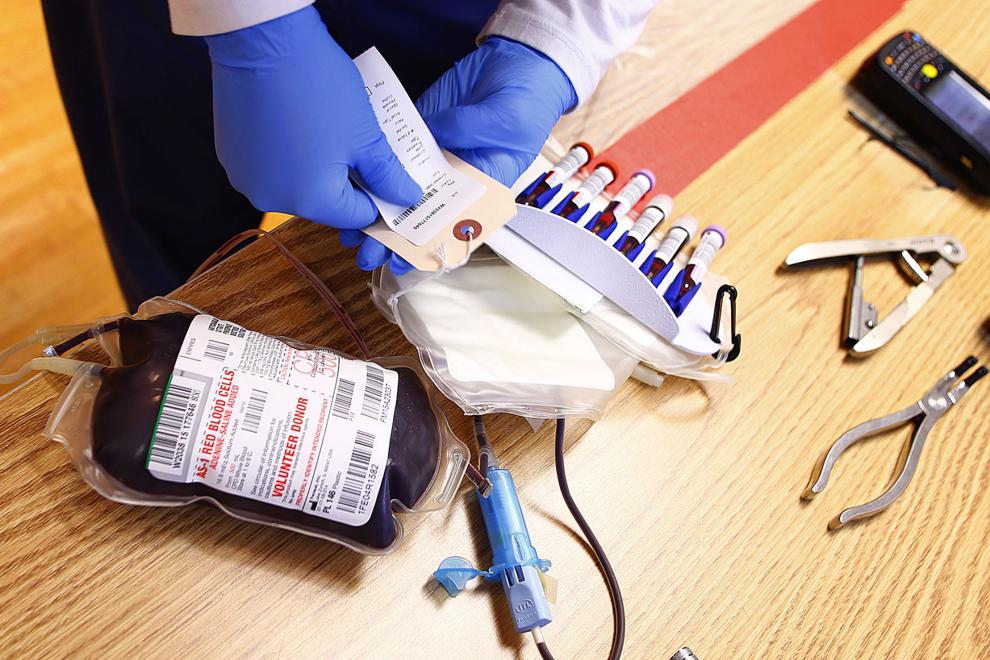 Blood donations are carefully labeled and then screened for HIV and other blood-borne diseases before they are distributed. Photo taken Tuesday, March 24, 2015.
It took many years, but it finally came to be understood that simply heat treating the blood can rid it of infectious antibodies such as HIV and hepatitis. But by 1985, upward of 10,000 hemophiliacs had been infected unknowingly, and begin spreading it to partners, children, and others.
"That was not well reported at the time," White Ginder explained. "The hemophiliacs, especially when [AIDS] became such an ugly disease and people were being discriminated against, started to remain somewhat silent because they didn't want people to know they had AIDS."
Needless to say, the blood donation screening process is far more stringent than it was 30 years ago.
Today, the Red Cross puts donors through an extensive screening. Off the top, donors are asked a series of questions and have their blood tested for iron levels. After the donor's blood pressure and pulse are checked, if they are deemed eligible, blood will be collected at the donation site.
Then the blood goes for testing, such as the screening for infectious diseases like HIV and hepatitis, and if it passes those tests, it will then be shipped to hospitals based on their orders and needs.
"Mostly we're looking for health history and to see if there are disqualifiers which make it unsafe for that person to donate," said Vince Robinson, Red Cross external communications manager. "So, a lot of the questions will ask about any blood-borne illnesses that they've had. There are questions about travel, because there are destinations – Europe for example – where a person may be disqualified for a year. Or, there may be reasons for a lifetime disqualification due to their medical history.
---
"The goal is we want the blood we supply to hospitals to be as safe as possible," he added. "We also want the experience with donors to be as safe as possible."
---
"The goal is we want the blood we supply to hospitals to be as safe as possible," he added. "We also want the experience with donors to be as safe as possible."