Editor's note: This is the second of two parts looking at the growth of higher education in Howard County. Thursday: IUK. Today: Ivy Tech.
When Ivy Tech first came to Kokomo in 1968, it was called Indiana Vocational Technical College, and the entire campus consisted of a two-story building on U.S. 31 on the city's south side.
Eight years later, it moved to its current location at 1815 E. Morgan St. Over the next 40 years, the college acquired a disconnected assortment of nearby manufacturing buildings to accommodate growing enrollment and new programs fueled by a demand for vocational training.
But now, the Ivy Tech Kokomo campus is in the middle transforming into something it's never been before: a centralized, cohesive campus where students can walk to classes, participate in student life and services they need in one location.
Chancellor Dean McCurdy said the massive, $43-million renovation and construction project is the first time the school has had a chance to reconfigure the campus into a logical, walkable space that actually feels like a traditional college.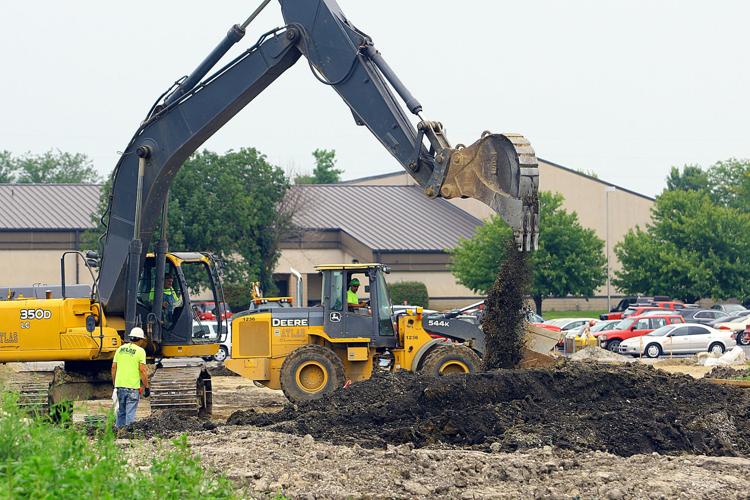 "We've grown so much since 1976," he said. " … Now we have a chance to completely redo everything. It's almost like starting from scratch. Everything is new."
The project marks what is likely the largest, and most expensive, single project Ivy Tech has ever undertaken statewide in its history. It's also the second largest state-supported project in the history of Howard County. The most expensive publicly funded project was the $155-million U.S. 31 bypass that opened in 2013.
"It's a game changer for us," McCurdy said. "It's an absolutely huge project."
The bulk of the new campus will entail gutting and renovating over 200,000 square feet of current building space into new classrooms and labs that will serve the more than 100 programs offered at the college. There will be close to 40,000 square feet of new space, McCurdy said.
Some of the programs seeing the biggest investment include $12 million towards health sciences and nursing programs, $7 million towards automotive, diesel labs and agriculture programs, and $8 million towards technology programs.
But a good portion of the renovations will also focus on creating a space that has the look and feel of a traditional college campus. That includes $16 million in infrastructure upgrades with lots of greenspace, walkways and sidewalks, and a student-commons area sponsored by Community Howard Regional Health.
McCurdy said the new campus not only aims to provide the most up-to-date, high-tech educational experience to students, but also aims to be a place students enjoy coming to.
"We're becoming a city that has nice things and is focusing on quality of place," he said. "We're doing the same thing here at Ivy Tech. We're making it an attractive place where students want to come and stay and learn and spend time."
Sue Ellspermann, the president of Ivy Tech Community College, agreed. She said not only will the campus provide a better learning experience for students, it will also improve the city's image and quality of life.
"It is about creating a great community, and we believe that these efforts improve the city for current residents and make it more attractive to the many more new residents we would like to bring here," Ellspermann said. " ... This campus will be a focal point of what will soon be an important gateway to northeast Kokomo."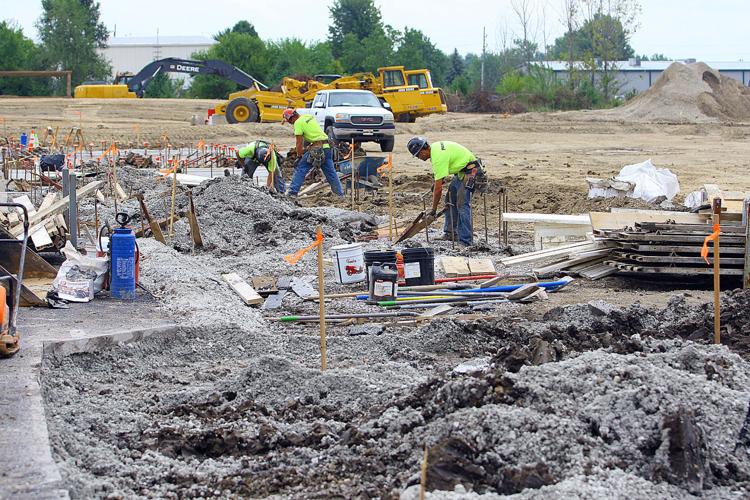 Today, the campus is a full-on construction zone as crews work furiously to complete the project in the next 18 months. Last week, the site was a hive of dump trucks hauling 200 tons of gravel every day to lay down for the parking lots.
On Thursday evening, a horde of local and state officials, along with business leaders from the area, stood in the middle of that construction for an ceremonial ground-breaking celebrating the new campus.
Although construction started in May, the event was a way to thank all the people, businesses and groups who have contributed to the project's capital campaign, which aims to raise $3 million in private funding to supplement the $40 million appropriated last year to the project by the state. So far, the campaign has garnered more than $1.7 million. 
McCurdy said at the end of the day, the new campus is hyper-focused on one thing: training students to meet the workforce demands in the community.
That's why Ivy Tech asked executives and officials from Fiat Chrysler Automobiles, St. Vincent Kokomo, Community Howard Regional Health and other major employers in the area to recommend what kinds of labs, equipment and programs to offer at the new campus to fill the specific job needs at their facilities.
"We're taking the local workforce demand and laying our programs on top of that need," he said. "There are so many positions that are going unfilled now in this county and region. We have the workforce. It's just a matter of them getting that level of attainment they need to go into those jobs."
Ivy Tech has also set an aggressive goal to get 60 percent of the area's workforce a post-secondary degree or credential by 2025. Currently, only 28 percent of adults in Howard County have an associate's, bachelor's or higher degree. That's 4 percent below the state average.
But with the new campus, McCurdy said, Ivy Tech Kokomo anticipates doubling its on-campus student enrollment from 2,000 to well over 4,000. The college also expects a major spike in students taking online classes and other programs that aren't available on the Kokomo campus.
Ellspermann said for decades, Ivy Tech Community College has been Indiana's "workforce engine." Now, with a new, high-tech campus, the Kokomo location is set to rev up the local and regional economy more than ever.
"One of goals is to put more community into community college," she said. "That's really what this project does. It responds to the needs of the community."