A Kokomo man who police say was high on marijuana at the time his vehicle struck and killed a 10-year-old girl in August 2018 has been sentenced to nine years in the Indiana Department of Correction.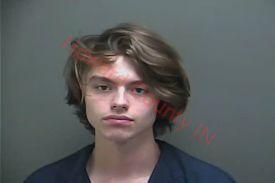 Per sentencing guidelines, Joshua Cochran, 23 — who entered a plea of guilty to a Level 3 felony charge of leaving the scene of an accident in June — will not serve any of that time in jail. Rather, he will split that time near evenly between work release and in-home detention.
Three other charges related to the investigation — causing death when operating a motor vehicle with a schedule 1 or 2 controlled substance in the blood and leaving the scene of an accident causing death, both Level 5 felonies, as well as a misdemeanor charge of possession of marijuana — were dismissed prior to the sentencing.
The charges stem from an incident on Aug. 9, 2018, in which Cochran was driving his vehicle in the 800 block of East Alto Road when he struck Renay Jenkins, who was walking near the roadway.
Jenkins later died from her injuries at Riley Hospital for Children in Indianapolis.
According to police reports at the time, Cochran was located a short time later at a residence in the 2000 block of East Alto Road, and authorities noted that the Hyundai he was driving at the time of the incident was heavily damaged.
Upon further investigation, police discovered marijuana in Cochran's backpack, and Cochran also admitted to smoking it before the crash, a probable cause affidavit noted.
A blood test later confirmed the illegal drugs in his system.
Along with admitting he smoked marijuana that day, Cochran also admitted to police that he was involved in the crash, telling officers that "a lady was in the middle of the road, and that he didn't see her," an officer wrote in a police report at the time.
In that same report, the officer then stated that "I asked what happened next and Joshua said he left. I asked if he hit her and he said he thought he did. Then Joshua said he stopped and exited his car to check on her, and thought she was OK, so he left."
During Tuesday's sentencing hearing, with members of Jenkins' family in attendance, Cochran addressed that day through use of a written statement, calling what happened an "unnatural separation."
"Dear Miss Jenkins," he said. "... These past three years have gnawed my very spirit. ... When the sun sets, I know that I'm indebted to you, Miss Jenkins. ... There's no cure for this torment (that the Jenkins family is facing). ... The course of my life has shifted."
Cochran then began to address his past drug use, including the day the crash occurred.
"I was hopelessly adrift in the world of illicit drugs," he testified. "... I was only there in the present moment."
Calling himself back then "arrogant" and "childish," Cochran also said he was sorry for being the "catalyst" for the grief felt by those who knew and loved the little girl.
Throughout the course of the sentencing hearing, testimony was brought forward by several witnesses for the defense that talked about Cochran's past diagnoses of disorders, like post-traumatic stress disorder (PTSD) and panic disorders, which led to what his attorney, Stephanie Doran, called an attempt to "self-medicate."
"He (Cochran) was trying to numb the pain," Doran said during her closing remarks to the court. "Exercise his own demons. He's not the monster social media has made him out to be."
And to prove their belief in that statement, the defense also brought up details of Cochran's current life, such as an organization that he has created in the wake of the crash in an effort to reach other young people who are having issues with addiction.
"He has turned his life around," Doran noted. "... He's low-risk."
Even Howard County Prosecutor Mark McCann — though he also argued for some length of jail time in this case — took a moment in his closing remarks to note that he hoped Cochran could impact others who believe that using some drugs like marijuana don't come with serious consequences.
"I'm tired of seeing and hearing that weed is harmless," McCann said, referring to three unnamed incidents in the past few years in which marijuana played a role in the death of young people. "Weed does kill."
During his ruling, Judge Brant Parry also commended Cochran's current efforts in helping others battling their own addictions, though he still called the case a "horrible situation."
"There's nothing I can do to bring her daughter back," Parry said, referring to Jenkins' mother, Antoinette. "There's a little girl who lost her life ... because of a stupid decision ... and we can't do anything about it. I'm furious for her. I have a child, and I don't know what I'd do (if something like that happened)."
Parry then spoke directly to Cochran, telling him that he hopes he will learn from this and continue to help others so no one else has to experience the loss the Jenkins family has experienced.
"You will create memories with your friends," he said, looking at the defendant. "She and her mother will not."
Along with the nine-year sentence, Cochran is also required to speak to school-aged students at least six times a year about his experiences and the dangers of drug use, Parry added.