Kokomo Urban Outreach Executive Director Jeff Newton often recalls the time he encountered a boy who had scarfed down three hot dogs during the early days of Trinity United Methodist Church's Sunday evening community meals.
Newton marveled at the boy's appetite before realizing why he was so hungry.
"I was kind of teasing him and said, 'Wow, what did you have for lunch?'" Newton said. "He said, 'Nothing.' I said, 'Well, what did you have for breakfast?' he said, 'Nothing.' I backed him up all the way back to Friday, which was the last time he ate lunch at school."
That story and many more like it have come to illustrate the impact the outreach has had on the community over the past decade.
Kokomo Urban Outreach's most visible impact in the community is its food programs. From the 800,000 community meals served each year throughout the city to the Buddy Bags, which provide food for low-income students to eat over the weekend, Newton and KUO focus on nurturing a generation of healthier children, starting with the kids across the street in Garden Square Apartments.
---

"We're seeing children who are doing better academically, and we're seeing healthier lifestyles."

---
"Between the tutoring, Homework Club [run by the Kokomo Housing Authority], the Boy Scouts and the Girl Scouts and making sure that kids have nutrition, we're seeing a lot healthier children," Newton said. "We're seeing children who are doing better academically and we're seeing healthier lifestyles."
Listening to the neighbors
Newton and the KUO staff have built relationships in Garden Square and beyond by going into neighborhoods to determine what their needs are and how they can best address them.
Newton thinks of himself as a "storyteller" when explaining KUO's impact in the community. His interactions during Sunday evening meals hosted at Trinity UMC yield the bulk of those stories, which drive home the importance of looking out for the younger generation and the families who raise them.
The stories have become the backbone of KUO's mission, as they illustrate for both employees and volunteers the struggles children in apartments across the street and throughout Kokomo face every day.
Newton recalls hearing one of the boys from Garden Square telling him about his "best night ever" as he and his family were able to share a meal together at McDonald's.
"He said, 'I have to sit down to tell you,'" Newton recalls. "He said, 'Last night my mother got her check cashed and my mother, my sister, my brother and I went to McDonald's and you would not believe it, but they've got a Coke machine in the dining room where you can drink all of the Coke you want.' I said, 'Really?' He said, 'I knew you wouldn't believe it, but it's true. We had Big Macs and fries and we drank Cokes all night long and it was the best night of my life.'"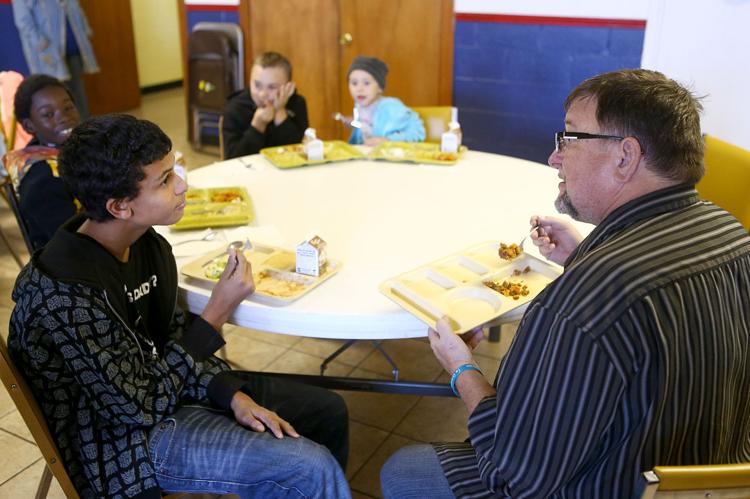 Stories like these motivate Newton and the staff of KUO to help families not only improve their financial situations so they can obtain adequate food, but also teach them about how to prepare more nutritious, affordable meals.
"We knew that kids were going to school hungry and they weren't getting anything out of them on that first day back," said Deanna Ancil, director of operations for Kokomo Urban Outreach. "On Monday they were so tired and the first thing they wanted to do after they got their bellies full was take a nap."
---

"We knew that kids were going to school hungry."

---
Ultimately, Newton sees KUO's effort having a positive impact on the younger generation and their parents, both in dealing with the day-to-day struggles and by instilling hope when circumstances have diminished it.
"We are faith based, so we offer hope through Christ. We're not really aggressive with that but we try to have a natural introduction to that," he added. "Another thing is with people who are food insecure, there's not a lot of hope to get through the next day. If you don't have a job and keep applying, you begin to lose hope. So we try to offer hope by filling in the gaps, trying to help you have a normal life and provide food."
Charlet Ayala, who has two young daughters and has lived in Garden Square since 2009, said Kokomo Urban Outreach has offered her family more than just services like the food pantry and Baby University, crediting Newton for being a motivational figure in her daily life.
"He's my motivation. He believed in me when I didn't believe in myself," she said. "That's what we need – somebody in your life to say, 'Hey, I believe in you.' We don't ask for handouts."
---
Changing the Conversation: Poverty in Our Community

---
A different perception
Often dealing with individuals and families during times of great need, employees of KUO remark at just how razor-thin the line between "living well" and poverty can be.
Hearing the stories of families embarrassed to accept food from one of their pantries or how one bad break put them on welfare creates important context in encouraging workers to show compassion for those they serve.
John Martin started working with the outreach's food pantry mission in 2009, when unemployment in Kokomo approached 20 percent, and he began to realize just how many people had been impacted by the economic downturn.
---

"It's amazing you can live in a neighborhood and not understand what their circumstances are. Once you see what their circumstances are, it causes you to look at things differently."

---
"It's amazing you can live in a neighborhood and not understand what their circumstances are," said Martin, who is now the director of food security at KUO. "Once you see what their circumstances are, it causes you to look at things differently."
During that time, Ancil recalls those who used to contribute were now on the receiving end of KUO's services.
"What we found in the 2008-09 time frame was that a lot of our donors were on the other side," she said. "Folks that had always brought stuff were now our guests. There was a lot of emotion at that time.
"We became semi-social workers," she added. "A lot of times it was just listening. It was just being a friend as much as providing the food. People found themselves in a position they had never been in before. It kind of changed the face of hunger."
There's a common misconception that the recipients of KUO's services are unemployed and not willing to work, Martin said, when that isn't the case.
"You've got so many people who used to have good jobs that are still working, but now they've lost their good jobs," he said. "They're either making half as much as they used to or they're only working part time."
---

"You've got so many people who used to have good jobs that are still working, but now they've lost their good jobs. They're either making half as much as they used to or they're only working part time."

---
Evolving needs
The scope of KUO has grown as needs have come up in different areas of Kokomo. When they got a call from the Riley Modern Estates office that the children in the trailer park were running wild and needed a space to learn and do homework, KUO's staff turned a former meth lab into a community center.
"We got a call from the office [at Riley Modern] that said, 'We've called 10 different churches and nobody will come in and help. Can you come help us?'" Ancil said. "They gave us a trailer that used to be a meth lab and it had satanic rituals and things like that written on the walls. We gutted it and revamped it, so now it's used for our Sunday night meals, for a food pantry, to store clothing and for summer activities for the kids. It's like a community center."
Other aspects of the ministry have started in Garden Square and expanded into the rest of the city, including one of its most popular programs, Baby University. The program aims to teach young mothers how to become their child's first teacher, giving them access to weekly guest speakers from organizations like Family Service Association, Pregnancy Resource Center and the Early Childhood Education Center, who provide tips, information and expertise.
Started in 2008 as a pilot program at Trinity United Methodist Church with just a couple of women working with families to solve issues they were having with their children, the program expanded into two different nine-week courses for mothers of newborns and toddlers up to 4 years of age.
"We were working with folks in the neighborhood by building relationships and trust so that they would eventually feel safe asking us questions," said Sue Bond, family advocacy specialist for Kokomo Urban Outreach.
KUO also offers Breakthrough, which partners with those affected by poverty to build connections and develop skills with the expectation of making participants more marketable and ready for the workplace.
KUO's annual budget is around $1 million, with most of that money provided by the more than 90 churches in Howard County.
KUO's food pantries, Buddy Bags and Sunday evening meals are mainly supported by gift cards to Meijer, which offered a special this past November to triple the amount of the gift cards KUO purchased, turning a $77,000 investment into more than $230,000 worth of food.
Ten years after it started connecting with its neighbors, Kokomo Urban Outreach is moving into its second decade looking to change the focus from giving to empowering, Newton said.
It's a bold move that will see KUO moving away from simply finding what the community's needs are and meeting them to investing in people to build a stronger future generation in Garden Square and all the neighborhoods it serves.
"I wanted to see more outcomes," he said. "We have seen a lot of numbers as far as serving people. But I want to hear stories of how people's lives are being transformed."
This series examines the impact of living in concentrated poverty, especially on children, and what can be done to offer hope for the next generation.
To explore this topic, reporters Lauren Slagter and Martin Slagter spent five months taking a closer look at the unique relationship between Garden Square apartments and Kokomo Urban Outreach. The series aims to refute stereotypes associated with poverty by telling the stories of public housing residents in their own words. It will highlight the thin line between poverty and "living well" and outline the efforts of Kokomo Urban Outreach, the Kokomo Housing Authority and other community groups to empower Garden Square residents to achieve self-sufficiency.
The series was reported through dozens of interviews with residents, volunteers and employees of KUO and the KHA, city leaders and experts on poverty. They all say there is more we can do to support our neighbors, and we'll share how you can get involved.