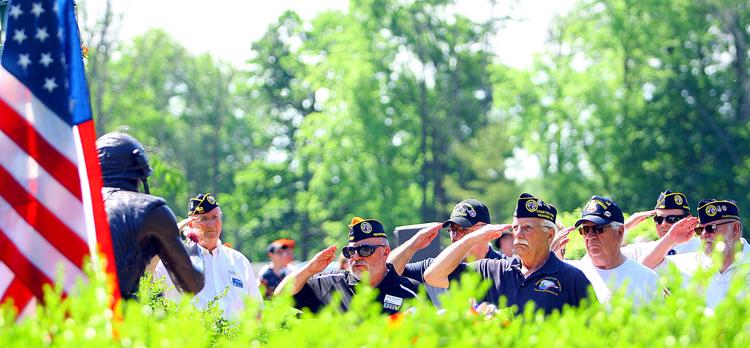 The part-time Veterans Affairs clinic in Kokomo has closed less than a year after opening, and local officials say they were blindsided by the decision by VA administrators. 
The VA outpatient facility opened in February 2018 inside the current city-county clinic at 620 N. Bell St. and was open two days a week to see area veterans.
But in January, the clinic stopped seeing patients and moved out of the city-county facility, according to Howard County Veterans Service Officer Ross Waltemath.
Tom Blackburn, public affairs officer for the VA Northern Indiana Healthcare System, which oversaw the clinic, confirmed Friday the facility has closed.
Reasons for the closure included the need to relocate a provider back to the Marion VA clinic and improved access at other clinics, Blackburn said.
He also cited new treatment options that will be coming with the Mission Act, which was signed into law in June by President Donald Trump and aims to offer more treatment options to veterans and introduce long-care fixes to the VA system.
"We value our veterans' healthcare and established a temporary acute care team in Kokomo to provide treatment if access was limited at the permanent facilities in Peru and Marion," Blackburn said in an email. " … This temporary treatment team has served its purpose."
But Howard County Commissioner Paul Wyman, who worked with state and federal officials to bring the clinic to Kokomo, said the decision by the VA to close the clinic has shown that "once again the bureaucracy inside the VA has failed to provide the level of health care that our veterans deserve."
He said just days before opening the doors to the clinic last year, VA officials changed and decreased the level of care they planned to provide to veterans.
When the VA decided to close the clinic this year, no local officials or veterans were informed of the decision, Wyman said.
"Not only did the VA never bring the level of care promised, they closed their doors and walked out on our veterans without the courtesy of telling them or any officials in our community," he said in a statement. "It took weeks for us to find out that they were not coming back."
"We have all heard about the senior management nightmares inside of the VA system and unfortunately their performance here in Kokomo gave us a firsthand look," Wyman said. " ... This should have been a huge win for the VA, our community and most importantly our veterans."
The clinic was a first-of-its-kind pilot program established by the VA Northern Indiana Health Care System, which also oversees the Peru outpatient clinic.
The program quickly came under fire by some local veterans, who said the clinic didn't provide enough services and veterans were being discouraged from going there when calling to schedule appointments.
Those complaints led U.S. Sen. Joe Donnelly to ask Veterans Affairs officials investigate the clinic.
Donnelly sent a letter in June to VA Northern Indiana Health Care System Director Michael Hershman asking him to "investigate and address these issues, consistent with U.S. law and agency policy."
In the letter, Donnelly, a Democrat, said he was pleased by the VA's decision to open the clinic in Kokomo, but added "it's important that we ensure the clinic serves its intended purpose by providing local veterans with better access to timely care and quality care."
Officials with VA Northern said despite the controversy, the pilot program was operating as intended.
"It's a new type of team we've put together, so we're always learning and trying to ensure that what we're doing is positive and will be helpful to veterans," Blackburn said last year. "We can always take a look at what we're doing and see what we can do to make it better."
Blackburn said the VA would review whether to continue the program after it builds a new community-based outpatient clinic to replace the current facility in Peru.
The program has now ended before construction on the new clinic has started.
Wyman said he and other local officials are now pushing to make sure that new clinic provides easy access to Howard County veterans.
"With Howard County being one of the highest in the state for veterans per capita, we will continue to advocate that the new VA clinic they are planning for Miami County will provide easier and better access for our Veterans in Howard County."
Local officials had worked to bring the clinic to Kokomo since early 2017. The project was first spearheaded by retired Maj. Gen. David Harris, who had pushed VA officials to create the clinic before his unexpected death.
The clinic offered treatment for minor illnesses and non-emergency urgent care, such as strep throat or bladder infections. Staff could also treat minor wounds, abrasions, joint sprains and possible skin conditions.
The Kokomo team included one nurse practitioner, one licensed physician's assistant and one administrator. The facility was open Tuesdays and Wednesdays from 8 a.m. to 3:30 p.m.
Veterans Service Officer Waltemath said it's unfortunate that the clinic closed, but it demonstrated to the VA that there is a need for increased services in Howard County.
"We got some visibility that we had the need here," he said. "Even though we complained it was hard to get appointments, that made us the squeaky wheel and alerted the VA to our veterans' needs."