City and county officials are encouraging local businesses to come up with a detailed COVID-19 safety plan for employees and customers, as stores and restaurants begin to reopen this month.
Howard County Commissioner Paul Wyman said it will be critical for businesses to communicate safety protocols to employees and customers who may be wary of heading back into public, to instill confidence that their health is protected.
"Share what your employees are doing, and share how you're protecting your customers, and I think that message will go far in giving people a high level of confidence to come in and patronize your business," he said during a webinar hosted Friday by the Greater Kokomo Economic Development Alliance.
County Medical Officer Don Zent said safety recommendations include opening all nonessential doors so people don't have to touch handles or door knobs; only allowing five people in per 1,000 feet of floor space; cleaning checkout areas after each transaction; placing social-distancing markers at checkout areas; and requiring customers to use hand sanitizer before entering a store.
Zent also encouraged workers to report any safety or health concerns they see to their employer.
"I'm not talking about snitching on your fellow employees, but if someone isn't doing something correctly, mention it to them first, and if you see something that could be done better, mention it to your employer," he said.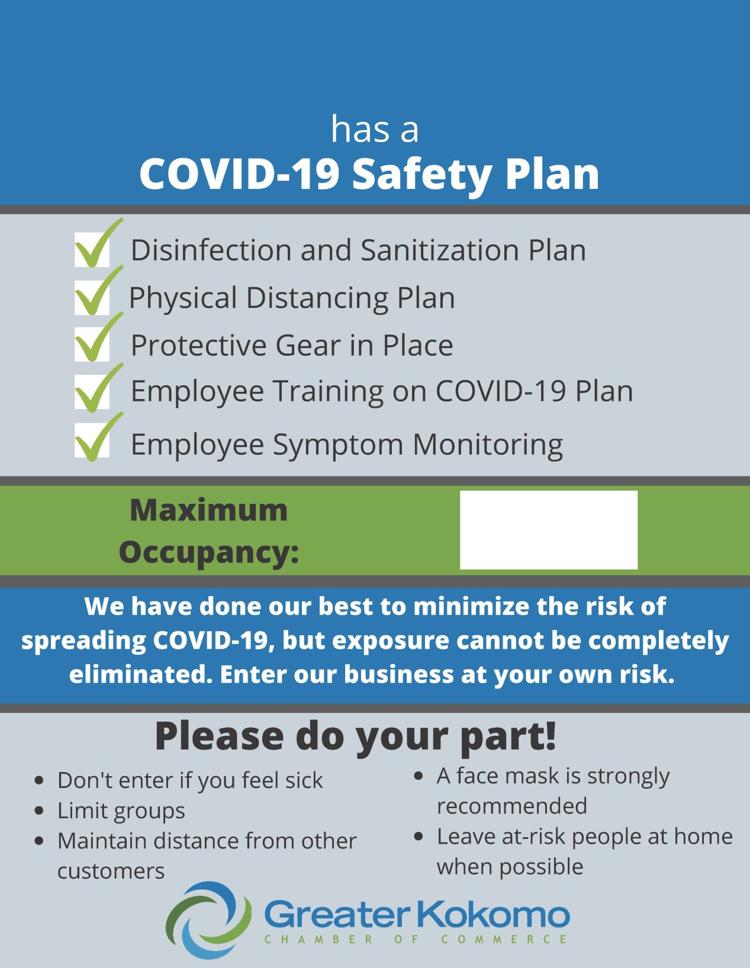 Local businesses may start communicating their safety policies by getting a free placard from the Greater Kokomo Economic Development Alliance, which indicates the measures taken to protect customers. The measures include disinfecting, social distancing, employee training and employee-symptom monitoring. The card also allows businesses to list their maximum occupancy.
Wyman said the cards will go a long way in making customers feel safe as the city's economy gradually reopens.
"That will boost confidence in your customers, who can say, 'Wow, I really can go there,'" he said. "'They know what they're doing and making sure we're protected when we come in.'"
But some businesses expressed concerns about how to enforce their safety policies if customers are unwilling to comply.
That's especially true for retailers such as Menards, which now requires customers to wear a face mask to enter the store. Patrons who don't have a mask must buy one for a dollar – a move which has drawn the ire of some shoppers.
Now, workers across the U.S. are suddenly being asked to enforce the rules that govern shopping during the pandemic. It's a tension-filled role for which most of them have received little or no training.
Even if a security guard is posted at the store, employees complain they are often left to stand up to defiant shoppers.
"I think that people are pushing back because their freedoms are being controlled," said Marc Perrone, president of the United Food and Commercial Workers International Union, which represents 1.3 million members including grocery workers. "Members don't feel comfortable trying to corral the customer. Management will take the customer side."
Store tensions recently resulted in violence in at least two states. A Michigan security officer was fatally shot last week after telling a customer to wear a mask at a Family Dollar store. Two McDonald's employees in Oklahoma City were shot Wednesday by a customer who was angry that the restaurant's dining area was closed, police said.
Kokomo Mayor Tyler Moore said it could be tough for local employees to enforce safety protocols when customers are defiant, but said he hoped both patrons and businesses would show mutual respect and avoid confrontations. He said stores can always call law enforcement if a situation escalates.
"Outside of that, it's just a matter of killing them with kindness," he said during Friday's webinar. "It'd be tough, especially if you have someone in your face, but as long as business owners support their employees in doing what they're expected to do, hopefully folks will understand the need for mutual respect."
The Associated Press contributed to this story.