Local union officials say they are dismayed by General Motors' announcement to invest $1 billion in Mexico after pushing the company for months to bring new work to the Kokomo facility, including manufacturing semiconductor chips to help during the global shortage.
Matt Collins, president of United Auto Workers 292, which represents the local General Motors Components Holding plant, said he first approached the company at the end of last year, when the first rumbles of a chip shortage started, to talk about bringing production to Kokomo.
He said workers had built the chips since the 1980s from inside the microchip fabrication building (FAB) when it was owned by Delco Electronics, a subsidiary of then-GM Hughes Electronics Corp.
Chip production stopped in late 2017, Collins said.
Although the company looked into potentially starting production in Kokomo following the union's requests, nothing ever came of it, Collins said.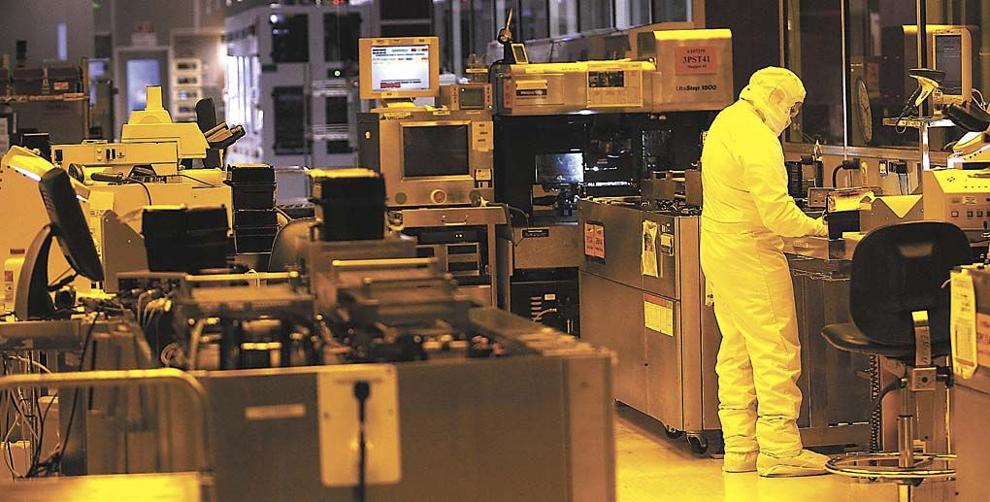 "It would take a lot of investment to get our FAB going again, but with the money GM is losing by not having the chips, you think it would at least be an option," he said.
Then came the announcement last week that the company was investing more than $1 billion in a plant in Mexico to produce electric vehicles.
Collins said that after spending months talking with the company and speaking to both union and government officials at every level to get some kind of new work in Kokomo, the news came as a shock.
"We're really disappointed after all we've tried to do here in Kokomo to keep business coming," he said. "We've proven ourselves here over and over. It's just disheartening and frustrating."
That included quickly transforming part of the GM facility last year into a high-tech manufacturing plant to build ventilators at the outset of the pandemic. Many GM workers pivoted nearly overnight from making vehicle components to producing breathing machines to help those infected with the virus.
The ventilatory work was a shot in the arm for the facility, which has seen its workforce dwindle from over 12,000 employees in the 1980s to around 200 today.
Collins said they hoped the ventilator work would show GM the facility and the local workforce was worth investing in, but the company has indicated no new work will be coming anytime soon.
"At what point does 'investing' in American jobs, in local jobs become a worthy venture?" UAW 292 said in a Facebook post. "Are we not worth a tiny bit of profit from the pockets of the GM big wigs? Are we not worth some of the tax incentives, and breaks that are possible to entice GM to care about American — KOKOMO — jobs?"
State Rep. Mike Karickhoff, R-Kokomo, said he also reached out to the company months ago to make the pitch that GM should invest in the local workforce. He said he pointed to the fact that with nearly all chip production happening overseas, it would make sense to bring some production to Kokomo.
"We have a workforce that has demonstrated its ability to pivot instantly with the ventilators," Karickhoff said. "Why wouldn't we make a strategic investment to at least get some of that production here? I made an appeal, but it's a private company. They decide how to apply their resources."
Collins said even so, it's frustrating to see so much investment going into Mexico when the Kokomo facility sits stagnant.
"I understand it's a world economy and they operate in other countries, but I think we need to invest a little bit more here so we don't end up in the crisis we're in right now with the microchips," he said.
But all hope is not lost. Collins said that with the company's recent announcement committing to building 30 new global electric vehicles by 2025, some new work could be on the horizon.
In a statement, GM said "it is committed to creating good paying U.S. jobs as we transition to an all-electric future and our recent announcements are proof of that commitment."
The company recently announced nearly 9,000 jobs and more than $9 billion in new electric vehicle or battery cell manufacturing facilities in Michigan, Ohio and Tennessee.
"As a global company that builds and sells products around the world, we will take the appropriate steps to transition our global manufacturing footprint moving forward to support our all-EV vision," GM said.
Collins said he's glad the company is investing in U.S. jobs. He just wishes those jobs were coming to the Kokomo facility. And until they do, Collins said, he'll keep fighting to get some kind of new work.
"We're just hanging on for dear life," he said. "But we haven't given up on it. We're still pushing, but we haven't had much traction yet."