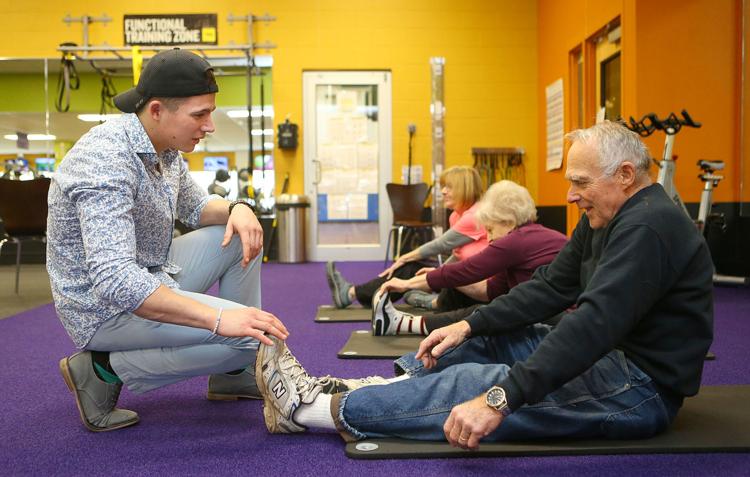 TIPTON – When Dakota Cole, the manager of Anytime Fitness in Tipton, told his friends a British film crew was coming to the gym in July do a documentary on a woman looking for a new career, they didn't believe it for a second.
They all told him it had to be for a segment on the long-running CBS TV show "Undercover Boss." Cole said he didn't think so.
Now, after last week, his friends all have had one thing to say to him: I told you so.
Cole made it onto the national prime-time television last week as one of three Anytime Fitness employees featured on the episode in which Stacy Anderson, the company's brand president, donned a disguise to get an authentic inside look at some of the gym franchises.
But the 22-year-old Tipton resident said he never had an inkling he was actually being filmed for the TV show when Anderson, who was posing as a woman named Sam, showed up with a horde of cameras behind her.
Cole said he completely believed what they had told him a few weeks prior: The crew was there to film what they said was a British documentary about people who were out of work due to new technology and looking for new careers.
Now, looking back, Cole said it's all pretty surreal. Some days it seems like a dream that he was just on national television and ended up with $10,000 for a trip to California and a free franchising license worth $42,000.
But the reality of the situation always snaps back into place when gym members and other people tell him they saw him on TV – something that's happened a lot in the last week.
"People who aren't even gym members have stopped in to say hi or just to say 'Hey, we saw you on TV! Congratulations!'" Cole said.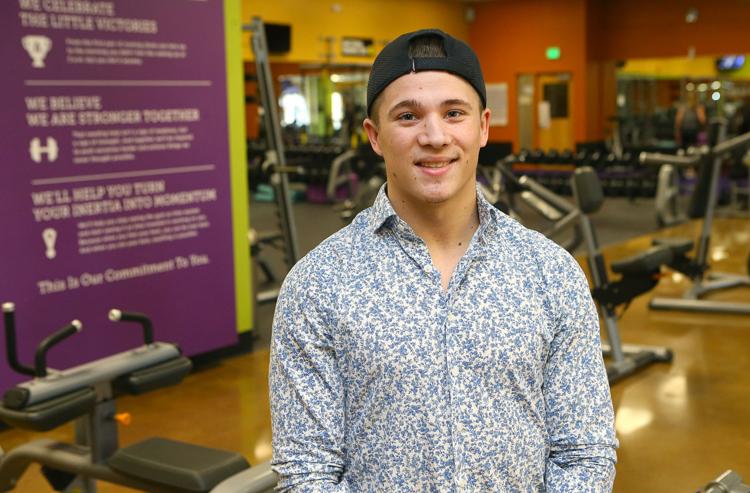 It's been a life-changing experience for the Elwood native, but it's not one he ever anticipated that day in July when the film crews arrived at the gym for a full day of filming.
Cole said the main reason he never thought he was on "Undercover Boss" was the fact that he actually met the CEO and founders of Anytime Fitness, and he knew what they looked like.
"Those are all guys, and I thought if anyone would be going undercover, it would be them," he said. "I thought there's no way they could pull off turning one of them into this woman named Sam."
And Anderson knew how to play the part, Cole said, never once tipping him off to her true identity as a company executive.
"She just went with it," he said. "She engaged with the class and was very patient and held her ground. I thought, 'If she wanted to pursue this career path, she'd be very good at it.' I guess I seem dumb about it now, but you're so under pressure at the time doing your job that you don't even think about it."
The film crew ended up spending 14 hours that day at the facility, documenting every exchange and doing extensive interviews with gym members and other staff there.
The dramatic hook for the segment came after Anderson saw that Cole brought his dog, Gracie, to the gym, which she didn't think was appropriate.
Cole said since then, the owners of the buildings in which Anytime Fitness is located have asked that he not bring Gracie, since she is a pit bull. That's not gone over well with clients, he said, some of whom have actually pulled their membership now that Gracie isn't there.
"Older members who have been here for years and years loved having her in the class," he said. "They're the ones that really gave me a heartache with this because they loved Gracie. If I didn't bring her, they'd say, 'Where's my baby?'"
More drama came when Anderson saw Cole doing what she thought was a massage on an older client without the proper certification. He said in reality, it was a kind of stretching exercise in which he is now certified.
But all the drama went out the window when Cole traveled to Indianapolis a couple of days after filming at the gym for what he thought was a follow-up interview for the documentary. Cole said he thought that's when he was going to learn more about who he thought was Sam.
"I didn't know what her job status was. They never told me," he said. "So I thought I was going to Indy to learn the rest of the story, which I thought was going to be crazy. I thought she was a felon or had been in prison or something. I was expecting something bizarre."
What happened next was bizarre, but not in the way Cole was thinking. Anderson came out, dressed like herself, but even then Cole didn't think anything about it.
"First, I thought, 'Oh, that's Sam. She must have got a new hairdo.' I said, 'Hi, Sam.'"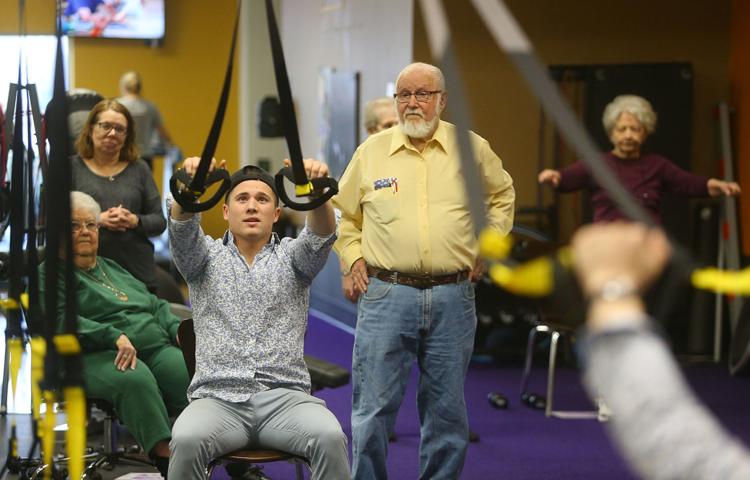 And then Cole finally learned what his friends had been telling him all along. Anderson told him she was with Anytime Fitness and he was on "Undercover Boss." His response?
"Nuh-uh."
During the final segment, Anderson ended up just touching on the massage and the dog that been the dramatic hook, and then quickly moved onto rewarding him for his dedication, passion and charisma at the Tipton gym.
"I believe you're going to be one of the best owners my system has ever seen," Anderson told him.
"The rewards were so shocking," Cole said. "I was just doing my job. I don't know why she would do something like that when they're already paying me to do what I love."
The big reveal was astounding to Cole, who couldn't believe he was going to be on national TV. But there was just one catch.
He couldn't tell anyone. Not even his own mother.
For six months, Cole kept his big secret to himself. When his friends would ask whether he was on "Undercover Boss," he had no choice but to deny it.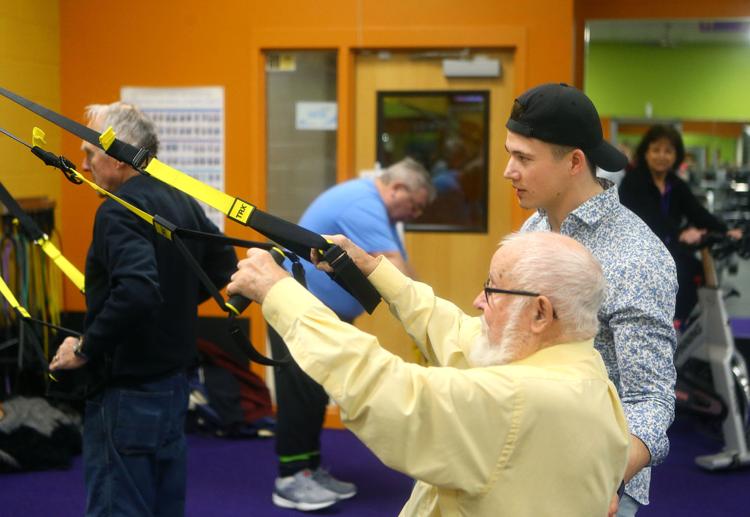 "My friends kept saying, 'You're on 'Undercover Boss,' and I'd say 'Nope, I wasn't,'" he said. "I couldn't tell anyone. … It's hard to make that stuff up, especially if you're not used to lying."
That changed on Dec. 12, when Cole was on his all-expenses-paid trip to California, where he spent three days learning the ropes of running a gym from one of the most successful franchise owners in the country. A friend later came out as well, and the two traveled around for a few days.
While on the trip, the company informed he could finally tell his mom he was on the show, but it was still weeks before he could tell other people.
When the episode finally aired last week, Cole had a watching party with his friends and family. He said based on the previews, which focused on the dog and massage, he was pretty nervous he'd come of looking bad.
"I thought, 'Am I going to get fired?'" Cole said. "I didn't think it was going to look like this."
But that all changed when he watched the episode, which mostly focused on Cole teaching a fitness class for senior citizens and was filled with Anderson praising Cole for how he connected with his clients.
"There was a lot of stuff in the clip that made us look good, where we held ourselves the way we wanted to," Cole said.
And the episode has been nothing but good for the gym. Tipton's Anytime Fitness Owner Jennifer Sturges said the show has led everyone who works there to be more engaged in the community and more effective when interacting with members.
"It's been busy," she said. "Probably every other member who comes in wants to talk to the movie star Dakota or know why I wasn't on the show. It's been really positive and a great way to get rooted back in the community."
Sturges said the company is also sending a team in February, for free, to do a special training program with employees that would normally cost up to $14,000.
Cole said one woman who lives out of town even came in this week to become a member just so she could take his fitness classes after seeing him on TV.
"She said, 'You were so inspiring,'" Cole said. "'I'm coming here just to get the energy that you give your members. You're the only that's made me want to work out in the last three years.'"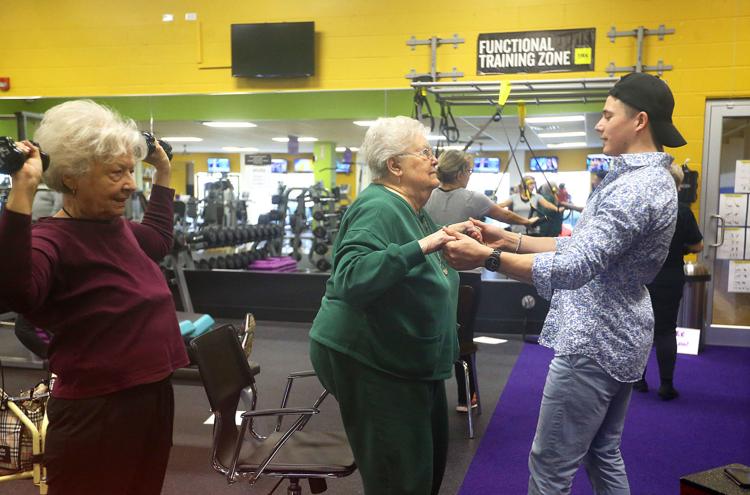 Cole said it's all made him more determined than ever to open his own Anytime Fitness and become the best gym owner and trainer he can be. And after "Undercover Boss," he's never been so close to achieving his goals.
"It's a dream come true," Cole said. "It's surreal that everything I've dreamed about happening in my life could really come true now … Now I'm just looking forward to see what's going to happen in the future. I want to see what 2020 has in store."