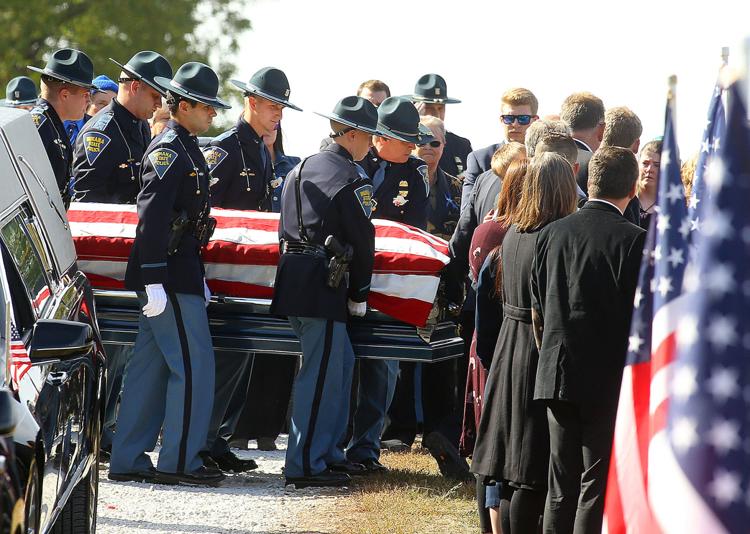 Indiana State Trooper Peter "Bo" Stephan was home washing dishes after dinner with his wife, Jessica, when a call came through requesting backup for a fellow officer at a crash scene.
Stephan, who was raised and home-schooled in Kokomo, didn't hesitate to respond. He was out the door and on his way to help.
That was the night of Friday, Oct. 11. It's the last time Jessica and their 5-month-old daughter, Harper, saw him alive.
Stephan, 27, died that night after his police car drove off the east side of the road, rolling at least once and hitting a utility pole.
And on Friday, hundreds of people packed nearly every seat at Crossroads Community Church, where Stephan was a member, to remember and honor a man who his fellow troopers said was a dedicated officer, loving husband and true friend.
The church's auditorium was a sea of blue-and-black uniforms as hundreds of law enforcement officers from departments as far away as California and Virginia came to pay their respects to the fallen officer who died while responding to help another.
Gov. Eric Holcomb spoke at the funeral, and said Stephan loved being a trooper. That's why, in the middle of doing the dishes with his wife, he didn't pause once when he was called for backup.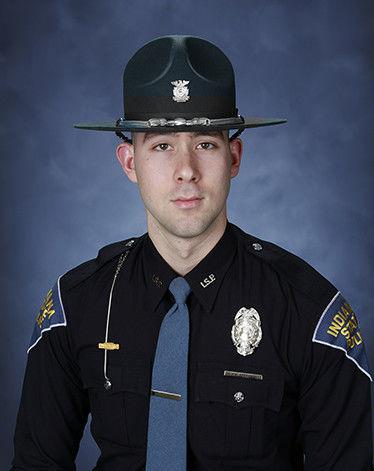 "He hesitated only long enough to put on his wedding ring – the thought of a smart, smart husband," Holcomb said. "Then he was off to help, to backup, to serve, to do what he was trained to do … What he was called to do."
Jessica told the crowd she was dead set against ever becoming the wife of an officer, but that changed when Bo told her he was applying to become a state trooper. At the time, the two were dating, but Jessica said she knew it was his calling.
In November 2015, Stephan was sworn in as a state trooper and joined the Lafayette district. A little over a year later, on Dec. 31, 2016, the two were married.
And even though she never thought she'd be a police wife, Jessica embraced it once she saw how much her husband loved it.
"I wanted nothing more than to spend time with him, watching him in his element," Jessica said. "I was in awe of everything he did. He made it look so simple."
But Jessica knew every time he went on shift that he might not come home – and it's when he came home that was always the best part of her day.
"Hearing his radio go back on the charger and hearing the Velcro as his vest came off were the most comforting sounds to me," she said. "It was in those moments I knew my trooper was home and he was safe."
There was nothing more Stephan loved, too, than coming home to spend time with his wife and daughter.
Trooper Devin Farmer, Stephan's friend and former partner, said he's never seen a couple more in love and dedicated to each other than Bo and Jessica.
"Those two were about as close a married couple could be," he said.
On top of being a passionate husband and father, Farmer said, Stephan was also a dedicated trooper who never left a case open. He was selfless and always willing to help. He was calm and even-minded – except when he was doing one of his favorite hobbies, which was playing the video game Fortnite.
"Anyone who knows Bo knows he doesn't get worked up. He's an even-keeled guy who never got upset – until a 12-year-old would beat him in Fortnite. Then, I tell you what, that dude would become unglued," Farmer said, drawing a laugh from the crowd.
Stephan was buried in Russiaville Cemetery. A massive police escort on Friday afternoon accompanied the hearse as it drove from the church down Ind. 26, where crowds lined the 8-mile stretch of road holding signs or saluting. A massive flag hung over the highway in Russiaville as hundreds of police cars passed beneath on their way to the cemetery.
There, officers stood at attention as the casket, draped in an American flag, was placed near the grave. Stephan's family sat by that grave as the loud crack of a 21-gun salute echoed across the cemetery. That was followed by the sad, doleful sound of "Taps" drifting over the crowd.
Before Stephan was placed in the grave, every officer there walked past the casket and placed a white flower on it as bagpipers played "Amazing Grace" and other hymns.
The day honored Stephan, but it also served to remind Jessica and her daughter, Harper, that they are not alone.
ISP Superintendent Doug Carter said the state police will always be their family. He said the Lafayette post has already set up a long-term care fund to help them.
And although Harper may not remember her father now, every state trooper will make sure the 5-month-old knows what a great man he was, Carter said.
"You're too little today to understand," he said to Harper during the funeral. "But my hope is that one day you can watch this video from this funeral and really understand what a special man your dad was, how proud he was of you, how much he loved you and how he dedicated his very life to serving other people."
Holcomb said he hopes the family can find some comfort in knowing everyone in Indiana grieves with them.
"Jessica, the state of Indiana's dinner table is a big table," he said. "It seats 6.6 million. And there is always going to be room for you at that table. I can promise you that Harper will know what a great, revered man her dad not only was, but always will be."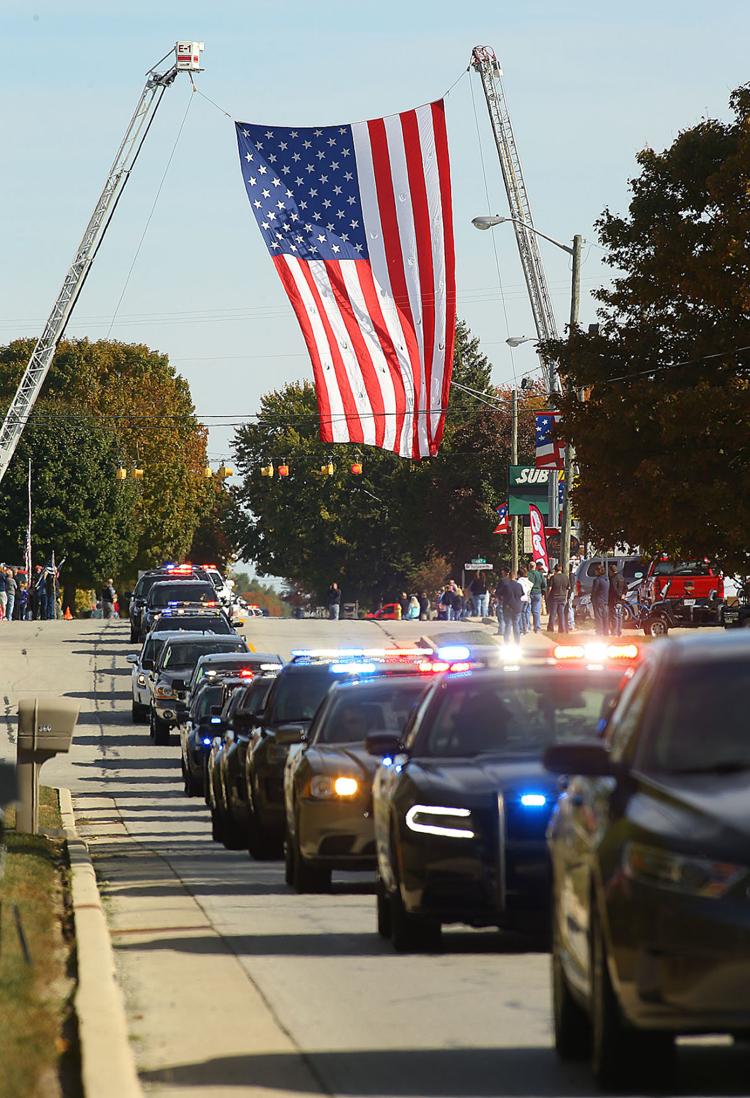 Jessica said she knows how special her husband was, and she's thankful they were able to love each other for at least a short time.
"Bo, there's never been a day when I haven't been proud to be your wife," she said. "I'm so grateful that you chose me to be yours forever. I couldn't have asked for a better friend and husband in this lifetime. You made all my dreams come true."
ISP Trooper Stephan funeral procession