Nearly one in five babies born in Howard County this year were exposed to drugs while in the womb, an appalling statistic that underscores the vicious impact of an epidemic already threatening the youngest generation. 
But many in Howard County are worried the drug crisis' lasting consequences stretch well beyond infant health, permeating developing brains through physical, mental and emotional trauma in ways that will keep the epidemic raging for decades to come. 
One demographic, children birth to 5, and the ways it has been severely altered by the opioid crisis was recently researched by the United Way of Howard County, with its findings published in an aptly named study: "Our Forgotten Future."
The results of that study, published in mid-November, shine a light on how desperate and immediate the fight has become to protect the newest generation from a crisis that's done much more than kill dozens of residents in recent years.
Most disturbing, perhaps, is data showing that an estimated 15 percent of live births in Howard County this year have tested positive for prenatal drug exposure. That comes to approximately 149 babies per year, according to information supplied by Kokomo's two hospitals. 
Health professionals, meanwhile, call those figures a "conservative estimate" due to varying testing methods which are not performed on all live births — meaning it is likely that nearly one in five babies born in Howard County this year have already joined the ranks of people battling opioids and other abused substances. 
Additionally, it is difficult to make comparisons to state averages, say local officials, because reliable, comprehensive data does not yet exist for prenatal drug exposure — a fact that exhibits the need for a continued emphasis on the topic. 
"Think of it as the infrastructure of your brain for the rest of your life," said United Way of Howard County President Abbie Smith. 
"So if we don't pay attention during that time and we're not facing realities of neuroscience, then we missed a very important opportunity to make sure our kids get the best start."
Trying to treat
The impact of prenatal drug exposure can be severe for a newborn, said Stacy Fackler, director of maternal and child health for Community Howard Regional Health, although long-term effects are still being researched. 
"It rewires the baby's brain, we know that," said Fackler, noting responses to prenatal drug exposure have evolved mostly over the last five years. 
"And we know that they're going to be more prone to drug use themselves. We know that they're going to be hypersensitive to stimuli."
She continued: "The assumption is they could have some learning disabilities and have emotional connection issues and need some additional occupational therapy type of help to help them deal with the world around them."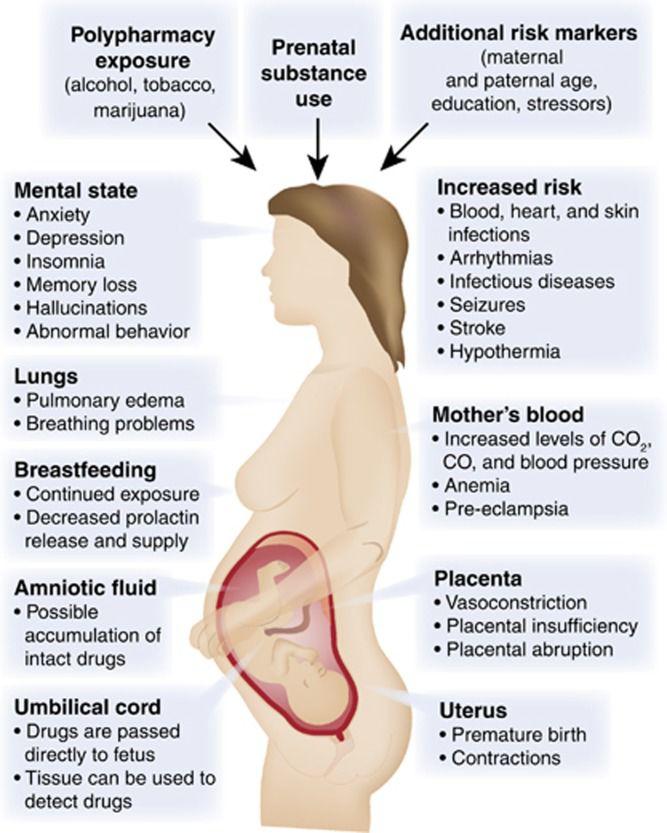 Many infants exposed to opioids prenatally suffer from withdrawal symptoms after birth, sometimes beginning within a day or two after birth and other times after five to 10 days. 
A report from the Indiana Youth Institute explained that babies "born to women who use opioids during pregnancy are at increased risk for poor fetal growth, preterm birth, congenital heart defects and problems with brain and spinal development."
In an effort to locate drug-abusing pregnancies, Community Howard conducts urine drug screens during a mother's first appointment. If a mother tests negative, she is usually not tested again until delivery, unless something happens to raise suspicion.
But even if a mother tests negative again at delivery, the presence of risk factors will lead the hospital to test a baby's umbilical cord, showing any drugs or alcohol ingested in the previous six months. 
Still, automatic screens are not given to all babies, meaning some who have been exposed to drugs while in the womb could slip through the cracks.
For many pregnant addicts, though, detection is inevitable.  
If a woman tests positive from the start of her pregnancy for an opioid or other kind of drug, said Fackler, she is given resources and monitored throughout her pregnancy. 
Increasingly, the main resource given to a drug-addicted pregnant woman is MAT, or medication-assisted treatment, which is provided in conjunction with available therapy programs. 
MAT is described by the U.S. Department of Health & Human Services as "the use of FDA-approved medications, in combination with counseling and behavioral therapies, to provide a 'whole-patient' approach to the treatment of substance use disorders."
MAT, which treats patients recovering from opiate addiction with medications like Suboxone, has long been at the center of the debate over whether to treat addiction as a medical condition instead of a mental or moral failure, and the rethinking of abstinence-only techniques.
"Right now the current and most popular thought is: get them on MAT, get them stable so they're not shooting up heroin and getting other diseases, and then after they've delivered (the child) we can safety ween baby down and then safely ween mom down," explained Fackler, who said previous methods included regular doses of morphine. 
Often, babies who have been exposed to drugs will show a collection of symptoms, including rash, explosive diarrhea, excessive high pitch screaming, neurological deficits, shaking, jittering and more. 
If those symptoms are displayed, and a certain threshold is reached, the hospital will take the baby to a special care nursery for "very intense (one-on-one) care," during which intervention and medication assistance is provided, said Fackler.
"The thing that we're doing is really looking at the best way to withdraw these babies and decrease their exposure," she noted. "We know that the less their brains are exposed to drugs, the better that those outcomes will be."
"They're just beginning," added Smith. "And that's a hard road to face. We need to do something. They've got their whole lives ahead of them, and we have to do something. It's our job, we're the adults."
Kinship care rises
The United Way study — which researched more than prenatal drug exposure in its comprehensive look at how children up to 5 years old are affected by drugs — was conducted in alignment with the nonprofit's kindergarten readiness initiative, titled #75in5.
#75in5, which began last year, aims to ensure that 75 percent of incoming kindergarteners are ready to learn by 2022. When the initiative was announced only 45 percent of children were kindergarten-ready.
Unless major strides are taken in response to the opioid crisis, that goal is likely to remain far out of reach. 
"More than any particular piece of data, what stuck out to us was how often we heard that we're forgetting the children who are affected by opioids," said Smith, noting that 90 percent of a child's brain develops by age 5. 
KOKOMO – Monica Slonaker, a Kokomo resident, knows well the challenges faced by grandparents…
Not hearing those stories could become a major and lasting mistake.
"You know, it's really not that far between 5 years old and when they hit the workforce," added Smith. "We really can't undervalue that window of time that we have, when brains are the most plastic. We have the bigger chance to make a difference the younger that kids are."
Children growing up in drug-infested homes are impacted in a variety of ways, found the United Way. 
That includes obvious outcomes like bonding and attachment issues; increased risk of neglect, emotional, physical or sexual abuse; homelessness; financial instability; school unpreparedness; and more. 
But it also exposes children to trauma that can live beneath the surface for the rest of their lives.
Quoted in the study was Dr. Barbara Sorrels, who wrote "EdD Reaching and Teaching Children Exposed to Trauma." She said that "even though the child may not be able to recall the event, the trauma is literally encoded in the psyche and in the cells of the body, and its effects are felt throughout the biological system."
In a more immediate context, drug use can impact where a child lives — and who raises them. 
One common setup used in response to addiction is kinship care, which can be colloquially defined as when a child is raised by grandparents, other family members or close friends. 
In fact, Court Appointed Special Advocates (CASA) of Howard County told United Way that 31 percent of the children they serve through the state's Department of Children's Services are placed in kinship care, often referred to as relative placement. 
But what really caught the eye of United Way researchers was the commonality of informal kinship care.
That includes arrangements made between biological parents and kinship caregivers without involvement from local or state agencies and often without legal transfer of custody or guardianship, according to the United Way. 
While the informality of such arrangements makes data hard to track, the nonprofit used existing statistics to calculate a staggering estimate. 
Howard County, according to the study, has an estimated 620 children, from just birth to 5, in informal kinship care placements.
That means hundreds of Howard County children yet to start school are living without their biological parents, who in many occasions have succumbed to drug addiction. 
And it can be hard for everyone.
Coinciding with the ongoing drug crisis has been a rise in grandfamilies, as grandparents or other relatives often serve as the first choice for DCS officials. 
Katina Silver, director of Howard County CASA, explained in a previous interview that grandparents have for decades filled the parenting void for young children.
But with the opioid and addiction epidemic increasing the number of kids in the system, she said, more grandparents than ever are embarking on a second parenting journey.
"DCS has always tried to place [kids] with a relative, so I've always consistently seen kids go with their grandparents," said Silver. "But now we have more kids than ever because of the drug problem, so, yes, we have more kids now with grandparents due to the drug issues."
It can be difficult, she noted, for grandparents to adjust from the common role of loving, doting grandpa or grandma to that of a stable day-to-day guardian.
Another issue is the newfound financial strain for people who are often nearing or already into retirement. Many live on a fixed income. And almost none of them are prepared for one or multiple mouths to feed.
"Last week, I dealt for almost two hours with a grandmother that's 80 years old raising a 4- and a 5-year-old because she lost her daughter and her granddaughter to overdoses," said Howard County Coroner Steven Seele at an Addiction Impact Panel last August, in the midst of the county's deadliest year ever for overdoses.
"The destruction and the pathway that it leaves - I've talked to parents, I've talked to grandparents, they've depleted their retirement funds, people that planned to retire or had retired that have returned to work because they have grandchildren to raise. Just daily, I deal with that."
In response, United Way advocates in its study for child care scholarships, as well as beginning to track official data on the number of children in informal kinship care. 
Erasing the stigma
Stigma has always been one of the main hurdles within the drug crisis.
Addiction is a moral failing, many believe. And addicts get what they deserve.
But more nuanced approaches, as well as scientific data and reasoning, is proving that mindset to be prodigiously harmful to creating an efficient response.
"We don't have time to worry abut whether someone should or should not have done something differently in their past," said Smith.
Overdose statistics released Monday show this year's third-quarter months were the deadliest yet.
In 2017, Howard County had its highest number of overdose deaths in its history, with 44. Notably, 27 of those deaths involved opioids.
In conjunction, Howard County had a prescription rate of 113 prescriptions per 100 residents last year. The state average was 73 residents per 100 residents, according to Next Level Recovery Indiana.
"It's just not an effective use of our time right now," she continued.
"More and more kids will continue to get lost if we spend our time on that. And then that's on us for making that worse than it has to be. Are we going to help or are we going to create an environment where it's going to get worse? I hope we choose to help."
Even pregnant mothers, added Fackler, deserve a fresh start. 
"These moms need help," she said. "They don't need more fingers pointed at them. There is no [addicted] mom I have ever met that when she found out she was pregnant was happy where she was at in life.
"They all want that help. We don't know what path they walked on to get here. … What can we do to help her? And let's start treating that instead of judging it."
Fackler even made the case that severe punishment, like removing a child from the mother immediately after birth, could cause more harm overall. Along that thought process, one state program has been established to treat addicted mothers involved with DCS.
Fackler believes that approach, assistance and treatment without separation, will have the biggest benefit. 
Because if the baby is taken away?
"Their only coping mechanism is drug use. So they're going to go back to using," she said.
"Yes, it's illegal, and yes, we need to fix this problem. But throwing them in jail and taking their babies away — is that the best method? Are there other ways of intervention that we can keep these moms with their babies? Obviously they have to work within the legal boundaries, but is it time to start changing the way we look at that and get them help instead of punishment?"