Michele Reishus never aspired to be a farmer. Sure, she kept up a garden with her husband, Neal, but she never expected the process of growing food to become her life's work.
That all changed when her father, Richard C. Ripberger, a businessman, fulfilled his lifelong dream of owning a farm.
Ripberger purchased a farm located in eastern Howard County from the Hochstedler family in 1991, and hired Jarvis Hochstedler, a grandson of the original owners, to work as the farm manager. The property included field crops and steer at the time, Michele noted.
Two years after the purchase, Ripberger suffered a debilitating stroke.
"That was when I became involved," Michele said.
At the time of her father's stroke, Michele and Neal were living in Tipton with their 4-year-old daughter, Maggie.
"Since I only had one child at the time, I was the least-committed of my siblings to step in and help my parents with things," Michele said. "I came up here every week and met with Jarvis and went over everything on the farm and that really is what got me started here."
Michele fell in love with the farm and the work that went along with it.
"Jarvis taught me how to care for the calves, drive a tractor and work the ground," she said.
While Michele was helping out on the farm, Neal was still working as a therapist for psychological services at Community Howard Regional Health.
In 1996, the market for beef fell and the farm was struggling to stay afloat, so Michele and Jarvis made the decision to take it back to a dairy farm, which was much more intensive work. Dairy production began in the fall of 1996 and the Reishus household picked up and moved to the farm in April of 1997.
"My love for this place grew after I came here," Neal said. "As Michele was getting involved with the farm, we really both believed that it was something that God wanted us doing."
Although he loved his job as a therapist and working with seriously mentally ill patients, Neal felt called to dedicate his time to the farm. He resigned from the hospital in March of 1998.
"I'm not a typical dairyman — I didn't grow up loving cows," Neal laughed. "It just became a conviction from God for me. We were supposed to be farming … I'm not sure why we were supposed to be doing that, but we felt called to do it."  
After becoming more familiar with the ways of farming, questions started to arise.
"Why are we using chemicals?" "Why do we do it this way?"
The response was simple — "That's just how you farm."
"Not growing up as farm kids, we had a lot of questions," Michele said. "We weren't satisfied with the answers we were given because they seemed to conflict with our observations."
The couple started to notice the turnover rate, or cull rate, of their herd was high. After consulting journals, they discovered that their cull rate was consistent with other cull rates of family farms in the United States at 33 percent.
"I just thought that was ridiculous that we were losing that many animals," Michele said, noting that the average lactation period for cows in the U.S. is a mere two years using conventional methods. "We were burning them out by forcing them to produce large quantities of milk. It leads to their early demise."
In 2001, their herd became sick with m. paratuberculosis, a disease that presents itself through the wasting away of the cows. The state veterinarian came to test their whole herd, and stated that as they culled the animals, they could not sell them to a neighbor if they wanted it off the farm.
"After all the tests were done and the animals affected were identified, I called her and said, 'Now what?'" Michele said. "She said 'You can take them to the sale barn,' and I said, 'We can do WHAT?' This was the clincher for us, of all the things we had been questioning from 97 until then — this was end-all for me. This system is wrong. I said, 'You're telling me that these sick animals can be slaughtered and then put in the meat supply?' (The vet) hesitated and said, 'The answer for now is yes.'"
Instead of taking the infected animals to the sale barn to be eaten by consumers, the Neals shot them and the family buried them in the yard.
Shortly after that experience, the farm — and the family — did a complete 180-degree turn in 2002.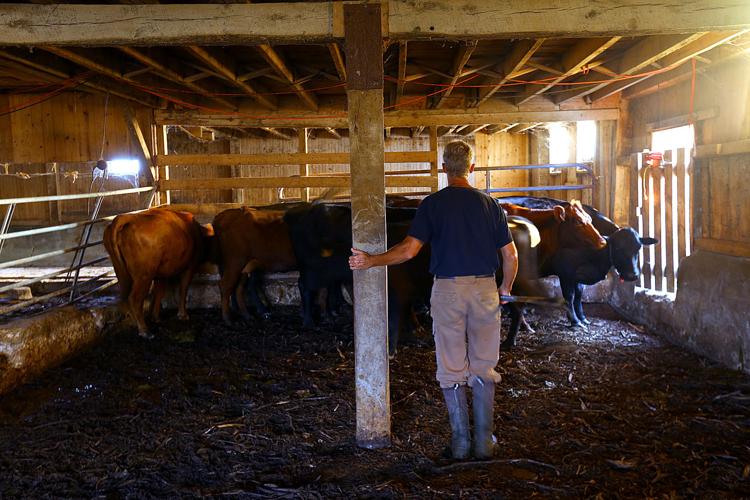 A wheelchair-bound Ripberger became the family researcher at that time, reading about different agricultural methods. He came across an organization called Sustainable Earth in 2002 and the Reishuses went to its conference in Lafayette.
"I had never even heard the word 'sustainable' in reference to farming," Michele said.
That year they attend three other workshops and conferences, learning how to make their herd and crops healthier.
"It was through all those experiences that we realized that what we were mostly interested in was growing healthy food and that we needed to figure out how to do that," Neal said.
They stopped feeding the herd grain and switched them to a grass-fed lifestyle, which meant less milk and more work.
"We decided volume and speed was not what we wanted. We wanted quality food," Michele said.
The turnaround did not just stop in the barn however.
"As a kid, that meant the microwave went away, we no longer had mac and cheese, no plastics," Maggie remembered. "Our whole lifestyle changed."
The Reishus family of four, with the addition of Maggie's younger brother Zack, began to eat what was in season and what could grow locally. They also cut out most — if not all — processed foods.
By 2005, the farm was certified organic and the family has continued to work towards sustainability ever since.
Maggie eventually left for college in Michigan to study dance, where she then met her husband, Jeff Mastin. Although they loved their community and their jobs, they felt that something was calling them back to the farm.
In 2015, Maggie, Jeff, and their two daughters — 2 years old and 18 months old respectively — left their home in western Michigan and returned to Howard County.
"I swore I was never going to come back," Maggie said. "But after listening and praying with our community, we felt like God was calling us back here."
Today, Healthy Homestead — the official name of the business at R.C. Ripberger Farm — is a bustling little place at just about 100 acres, featuring 150 chickens, a flock of sheep, a few ducks and, of course, a herd of cattle. The family operates a small farm store, where patrons can purchase milk, eggs, cheeses and various other items throughout the week.
Maggie organizes the annual Summer Silo Series, which features local Hoosier musicians that perform on the base of an old silo for the public. This year, the series will feature Zach Day & Full Throttle on July 20, Hayley Costas Band and Incarnate on Aug. 17, The Hunts and Olivia Harmony on Sept. 8 and Spinster and Kassey King on Sept. 21.
A third house on the homestead has become an Airbnb, another form of income for the small farm.
Every morning, Neal goes out to tend to the flock and milk the cows, while the rest of the family gets ready for their other jobs. Due to the lack of income from the high price of running an organic farm, most of the family works at other jobs to support their dream.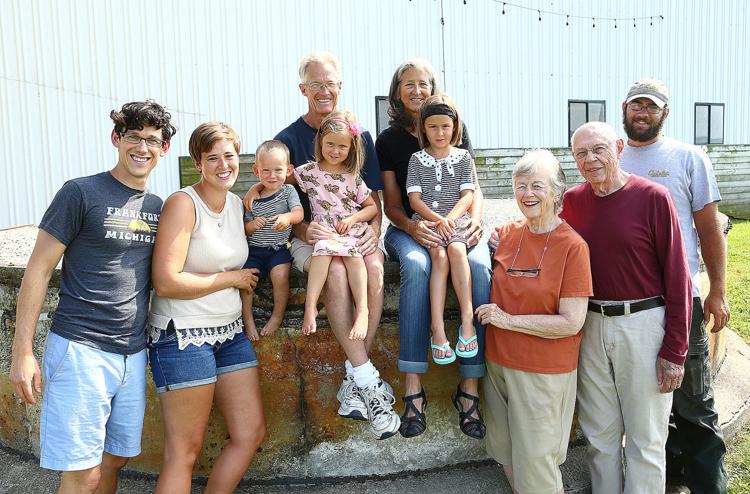 "We are trying to figure out how to use all the different resources we have," Maggie said. "We all have different passions — I agree with everything they are doing on the land, but it's not my full-time job. It's like, how do we bring all of those different talents together and function as a family supporting each other?"
Michele agreed.
"To say that we are sustainable is probably a false statement. Our goal is to be sustainable — it's a work in progress that we will have the rest of our lives," she said.
"The biggest goal is just raising food that is going to give us health," Neal added.
For more information about the R.C. Ripberger Farm, visit Healthy Homestead's Facebook page.