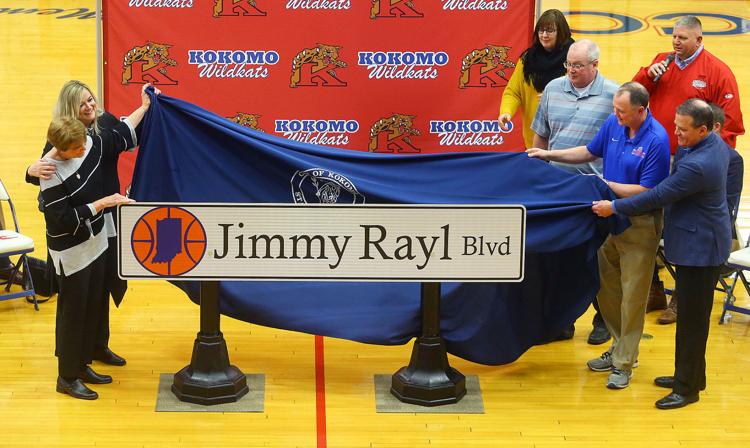 Kokomo basketball legend Jimmy Rayl was featured on a large banner hung a few years ago on the side of Memorial Gym, where in 1959 he scored more than 29 points per game, earning him the title of Mr. Basketball.
Jim "Jimbo" Rayl, his son, said that was one of the family's proudest moments before his dad passed away in January 2019 at the age of 77.
But on Thursday, that special distinction was eclipsed by a truly one-of-a-kind honor when city officials unveiled signage renaming a part of Superior Street as Jimmy Rayl Boulevard.
"We were so excited when they hung the large banner of him outside on the gym," Jim Rayl said. "But to have a street named after him is just over the top. What a great honor this is for dad and our family."
And there couldn't be a more appropriate street to rename in Jimmy Rayl's honor than Superior Street.
Rayl grew up on that street, where his small, five-room house had a basketball hoop in the driveway. After years of practicing his jump shot in the driveway, he made his way down Superior Street to Foster Park and honed his game even more during pick-up games.
By 1958, Rayl had a horde of devoted fans who packed into Memorial Gym, located on East Superior Street not far from his house, to watch the young basketball phenom set record-breaking scores.
And it was inside Memorial Gym on Thursday where a crowd packed inside to hear from Rayl's family, friends and former teammates from when he played for Indiana University and the Indiana Pacers during the team's inaugural season.
Dean Hockney, the publisher of the "Sports Journal" who emceed the event, said during Rayl's senior year playing at Memorial Gym, which opened 70 years ago, he was a true local hero.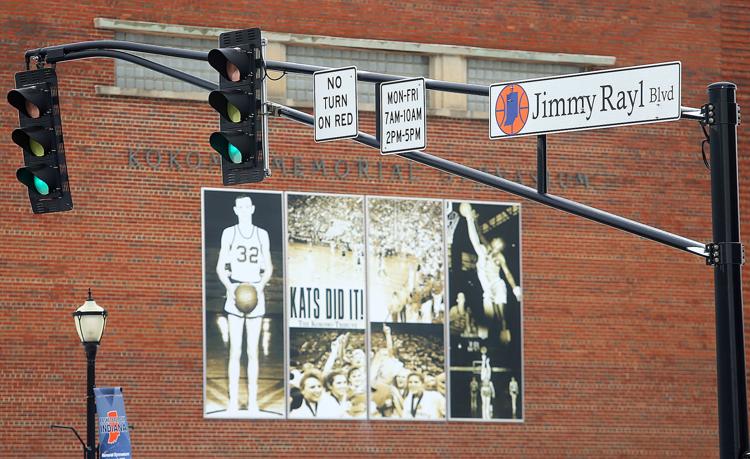 That year, he led Kokomo to the state championship game as one of the greatest long range shooters of his era. He finished his high school career with 1,632 points. And that came nearly 30 years before the 3-point line was implemented.
"He was the original star here at Kokomo's Memorial Gymnasium," Hockney said. "He played on this very floor, which hasn't been replaced since he was here."
During his time on the Wildkats, Rayl had earned the nickname "The Splendid Splinter" – an apt moniker considering he one of the skinniest players around, weighing just 145 pounds and standing at 6-foot-3-inches tall.
Chris Kauffman, assistant commissioner of the Indiana High School Athletic Association, said Rayl's epic senior year was cemented even more when he was awarded the Trester Mental Attitude Award.
"It's an award the IHSAA considers it's highest achievement, because it recognizes not only your talent for the sport, but for your service and support of your community," Kauffman said.
And Rayl's talent for the sport was undeniable. To his teammates at IU, it was truly stunning – and sometimes even a little annoying.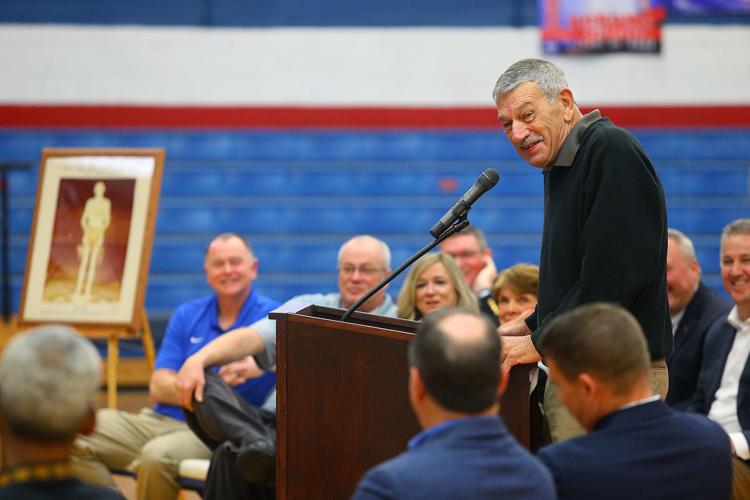 Tom Bolyard, who played with Rayl at IU, said his long-range jump shot was legendary.
But it was a different story during practices, when the coach would team up players to shoot free throws. Each player would shoot at least 100, and then stop after their first miss.
"No one wanted to be teamed up with Rayl," Bolyard said. "He'd hit 100, then 200, and hit 300 in a row without missing. You didn't want to get teamed up with him because, hell, you'd never make it to dinner."
That impeccable long-range shooting also blew the minds of his competitors.
Jerry Harkness, who played with Rayl on the Pacers, first encountered that jump shot during his college career when he played for the Loyola Ramblers and had to guard Rayl.
Before the game, a scout gave him a sheet showing where Rayl usually shot from on the court so he could study up on his opponent.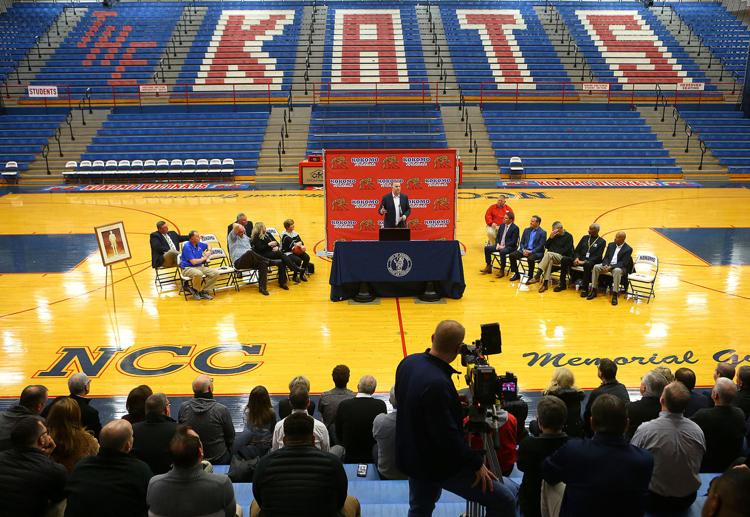 "All the shots he took were deep, really deep, almost to half court," Harkness said. "I said, 'This can't be right. He shoots out here?' I called the scout and he told me, 'I scouted him Jerry. That's where he shoots.' I thought, 'Oh goodness.'"
During his time at IU, Rayl was named All-Big Ten and All-American in 1962 and 1963. He established an IU record for the most points scored in a game when he scored 56 points in a game against Minnesota in 1962, and matched the feat again the next year. Today, he still holds that record.
Rayl was already a beloved basketball star by the time he joined the Pacers, where he ended up making the team's first 3-point shot during their inaugural year in 1967. By the end of the season, he was voted Most Popular Player by Pacers fans.
Mark Deal, Indiana University's assistant athletic director, told the crowd he was one of those fans. He said Rayl was his boyhood basketball hero and the one player he idolized while growing up in Hobart.
"Many times shooting in my driveway, I'd pretend to be Jimmy Rayl," Deal said. "I think many young Indiana kids in the late 1960s did the same. We wanted to emulate his beautiful shooting stroke."
Rayl was inducted into the Indiana Basketball Hall of Fame in 1989. He was one of only 15 players to be named to the IU All-Century team in 2000. He also was part of the Howard County Sports Hall of Fame's inaugural class.
But no accolade is more prominent or public than the signs placed at 20 intersections along Superior Street, from Apperson Way to Elliott Court, declaring it as Jimmy Rayl Boulevard.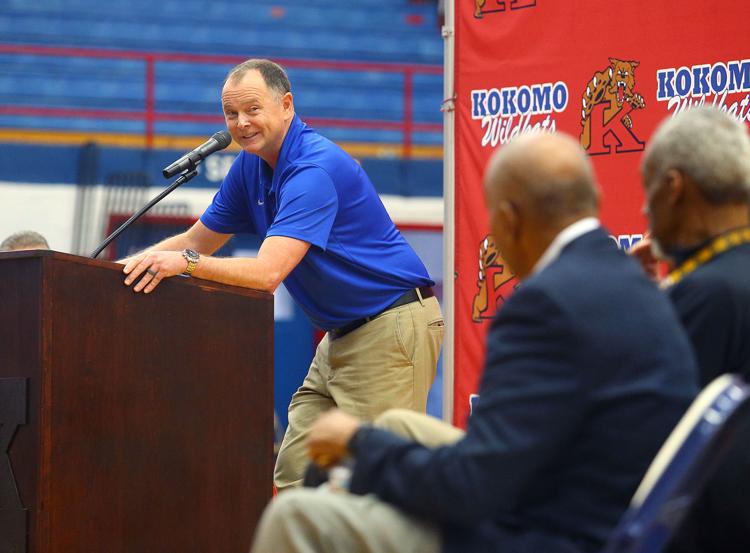 The honorary name change was made official after Kokomo Mayor Tyler Moore read a proclamation asking residents to "honor and celebrate 'The Splendid Splinter,' one of Indiana's Legends of Basketball."
"I ... proudly proclaim Superior Street, from Jimmy Rayl's boyhood home near Western Avenue, past Foster Park, down to Memorial Gymnasium, to be ceremonially renamed Jimmy Rayl Boulevard," Moore read from the proclamation.
That was followed by the unveiling of 7-foot street sign with the new name, which drew a standing ovation and raucous applause from the crowd.
Jim Rayl, his son, said its an honor beyond words, and one that is sure to keep his dad's memory alive for the generations who will one day come to watch the Wildkats play inside Memorial Gym, just like his dad did.
"So this season, during a game, when someone makes a deep 3-pointer, you can say they made that all the way from Jimmy Rayl Boulevard," he said.