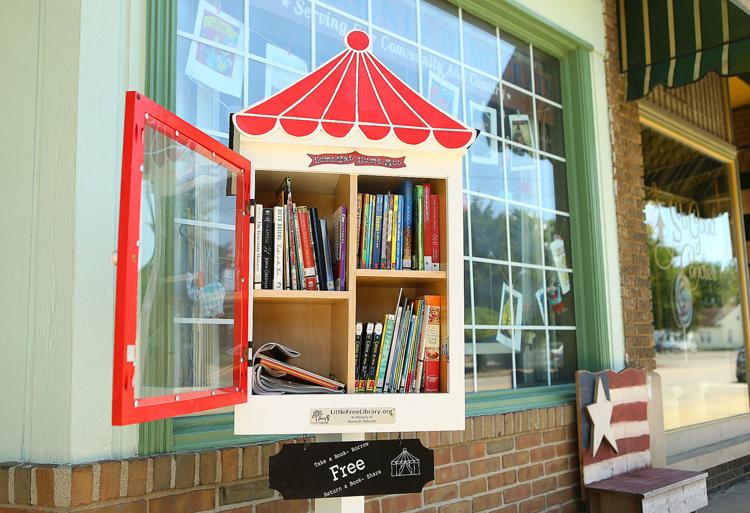 PERU – Jessica Chandler was left reeling in February when her mother was unexpectedly hit and killed by a car in Kokomo. But rather than drown in sadness, she decided to do something to honor her mom's legacy.
That's when she decided to open the first Little Free Library in Peru.
The idea is simple. There's a small wooden box located at 23 W. 3rd St. Inside are books that anyone can take, at any time, for free. Patrons are asked to return the book, or keep it and return a different title in its place for others to take.
The free library in Peru opened to the public on July 15, but the idea has been around since 2009. That's when a nonprofit formed to get Little Free Libraries in towns and cities all around the world. Today, there are more than 90,000 registered libraries in more than 90 countries.
But, Chandler said, her idea wasn't only to give people the chance to take home a book. She also wanted people to take home a memory – a memory of her mother, Sharon Edwards, who was killed after she stepped off a curb in a parking lot and hit by a vehicle.
Edwards was a life-long special educator who eventually became a school psychologist in Logansport. The 76-year-old was active in a slew of clubs and nonprofits in Peru, including the Miami County Democratic Women's Club, which maintains the free library.
Chandler, a Peru native who now lives and teaches in Ohio, said her mother's unexpected death was a heavy blow not only to the family, but the entire community. That's why she wanted to do something to remember her legacy in Peru.
"She had her hand in everything here," Chandler said. "When she was killed, you feel upset and confused and angry. For her friends and family, it was like, how do you fill that enormous void? ... How do you do something positive to remember her?"
And that's when Chandler had the idea to open a Little Free Library to celebrate her mother, who was a determined literacy advocate who worked to educate the area's children.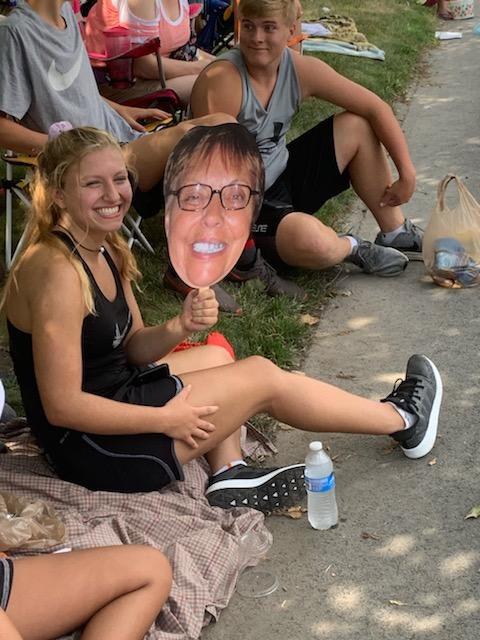 "She believed in literacy and access to literacy for all kids," she said. "Teaching wasn't an 8 a.m. to 4 p.m. job to her. It was an investment in the kids and their success beyond the one or two years she taught them."
Chandler said the Little Free Library is a creative way to carry on her mom's dedication to education and literacy in Peru. After all, research shows that one the most successful ways to improve children's ability to read is to increase their access to books, especially at home.
That's why Chandler plans to install at least two other free libraries in the city. She said one is already finished and will open sometime in September. The other one will likely open sometime next year.
Chandler said she wants to put them in parts of town, which may not have easy access to the public library, to encourage families and kids to pick up a book and give it a read.
"It's a way for anyone to come in and access a book or two," she said.
But Chandler is taking the free-book concept a step further to help the city's kids. On Aug. 10, the Miami County Democratic Women's Club will temporarily stock the library with free school supplies for any child who needs pencils, crayons, a backpack or other common school items.
"My mom would have loved that," Chandler said. "She was very creative, so we tried to do this as creatively as possible."
She said they are also considering picking a day and stocking the library with canned food and other nonperishable items to serve as a temporary food pantry.
"We're not going to stop with just having a library," Chandler said. "We're going to think of ways to use it to remember my mom and keep her selfless acts going."
The downtown free library opened during Peru's annual Circus City Festival. In honor of the event, the free library was stocked with circus-themed books such as "Water for Elephants" and "Circus in Winter," which was written by Peru author Cathy Day.
Chandler said once those titles are gone, she hopes people in the community will continue to provide high-interest books that kids and residents would actually want to read. So far, that hasn't been a problem, she said.
"We asked for books, and oh my goodness, the community has delivered," Chandler said.
Now, she hopes the initiative will continue to expand in Peru and get more people reading while carrying on the memory of her mother.
"We want for these libraries to grow and get cared for so people in the community will still be able to feel her presence here," Chandler said.